Bamidele Farinre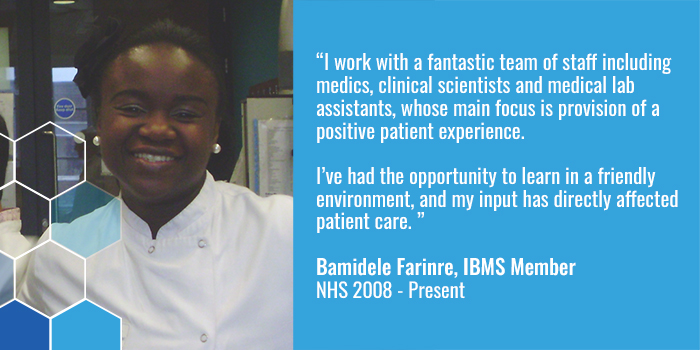 Bamidele began working in the NHS as an MLA in 2008. Here is her story.
My story in the NHS
My journey in the NHS started in Jan of 2008 when I began my career in healthcare as a medical lab assistant in the biochemistry department of Hammersmith Hospital Charing Cross.
I continued as an MLA at St Georges Hospital Tooting in the microbiology department where I gained most of my experience as a beginner scientist, rotating through sections of the lab. In June 2009 I secured a trainee BMS post in the microbiology and virology department of Great Ormond Street Hospital for children.
During the subsequent years of intense training, I completed my Specialist portfolio in virology, an MSc in clinical microbiology at Queen Mary University and the Higher Specialist diploma exams in virology. I have been developing my scientific and leadership skills over the years post registration and have steadily advanced in my career as a specialist in my field of practice.
Opportunities in the virology department
Highlights of my career include: I started in an era where traditional methods of detection were the gold standard. For example, cell culture where you have to grow the virus in other to determine the presence of infection.
I work with a fantastic team of staff including medics, clinical scientists and medical lab assistants whose main focus is provision of a positive patient experience. There are good opportunities to undertake courses and develop your skills and career.
I've had the opportunity to learn in a friendly environment, and my input has directly affected patient care. The virology department has always encouraged me to seek unique opportunities to broaden my experiences, which will allow me to offer the highest standards of care as I move into a senior position in the foreseeable future.
My working conditions vary extremely from day to day depending on which section of the lab I'm rotating in. My usual routine entails selecting and carrying out appropriate virology investigations on pathology samples such as blood specimens, Nasopharyngeal aspirate, eye and nose swabs, stool samples, CSFs etc, using molecular and serological techniques, unsupervised as requested by the clinical services or as determined by review of clinical details.
I take responsibility for the quality and accuracy of the results produced by following and adhering to standard operating procedures of the laboratory. The best bit of the job is when I'm able to produce diagnostic results in a timely fashion that enables prompt patient management.
At times there can be hiccups when routines are disrupted due to unforeseen circumstances, this can be nerve wrecking especially when you know clinicians are waiting on that particular result to diagnose a critically ill patient. One myth about my role is that it's boring; when in actual fact it isn't, no ordinary day is the same.
My advice to those entering the profession
I would encourage people considering my role or area of work to keep believing in their abilities, they can achieve whatever they put their mind to do, with the right resources and information, positive attitude and perseverance.
Don't be afraid to ask questions even if they sound stupid to you (you can only acquire knowledge when you seek it). Aim high and don't allow any outdated norms navigate you off course. I hope to continue developing my skills as a senior healthcare scientist.