Hayley Pincott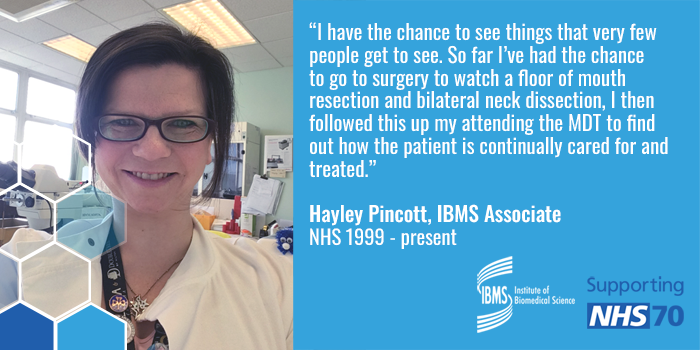 Hayley joined the NHS in 1999. Here is her story.
Life as an MLA
I started as a Medical Laboratory Assistant (MLA) in cellular pathology at Gloucester Royal Hospital in 1999. This role was voluntary so I when a permanent MLA post came up in biochemistry I decided to move departments. I stayed there for just under 3yrs. I work until 8pm and loved working the hours I did because it gave me the opportunity to experience certain duties that I wouldn't have carried out had I worked 9-5pm.
I then moved to specimen reception at University Hospital of Wales in Cardiff where I worked as an MLA for about 7yrs, during those 7ys I had the opportunity to rotate around various labs. I worked in the Antenatal Screening Wales department where we did the blood tests to screen for Downs Syndrome, I also rotated around to blood bank, and haematology/coagulation.
I really enjoyed my rotations as it was great to experience life in a lab and not just booking in specimens. I got taught so much on rotation and it just really strengthened my thoughts that I'd like to progress to become a BMS. In 2010 I started what was then UWIC to complete my Higher National Certificate (HNC) in Biomedical Science, it was during my HNC that I was fortunate enough to get an Associate Practitioner post in Cellular Pathology.
Sadly I had to leave due to family commitments but a couple of years later I applied for another Associate Practitioner post but this time in oral pathology and microbiology at the University Dental Hospital. I absolutely love my role and it's this passion for my job that has made me become a STEM Ambassador.
The opportunities in a specialist lab
I'm very lucky that I have the chance to work in a very specialist lab as we are the only dental hospital in the country so I have the chance to see things that very few people get to see. Also as it's a small lab with only a few employees I have so many opportunities and am completely supported in anything extra I'd like to carry out.
So far I've had the chance to go to surgery to watch a floor of mouth resection and bilateral neck dissection, I then followed this up my attending the Multi-Disciplinary Team (MDT) to find out how the patient is continually cared for and treated.
I feel very lucky to have found a career that I completely love and also find myself in a department where I'm consistently encouraged to experience as many things as possible and I feel very supported in my career.