Julie Russell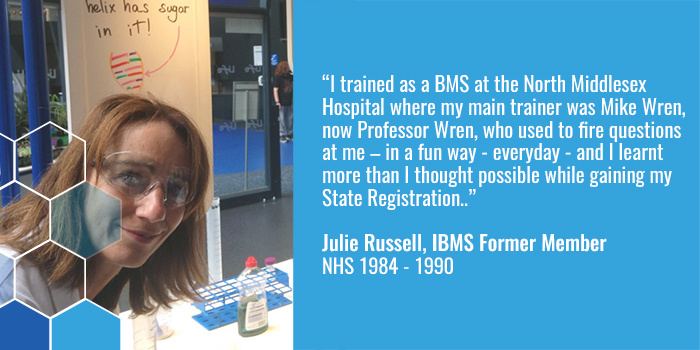 Julie began working in the NHS in 1984. Here is her story.
A great placement
I was born in Lytham St Annes in the 1960s to a mum from Bolton and a dad from Edinburgh, and was always proud of my 'mixed race' status. As a teenager in the 1970's I had no idea about a career, being more interested in fashion, makeup and boys, although I really enjoyed biology at school. That was considered a bit strange in my family – everyone else seemed to prefer history or English literature.
My decision to become a biomedical scientist was an easy one after I spent six months placement in 1983 in Ron Templeton's microbiology laboratory at Arrowe Park Hospital, Wirral, and loved the job. After I completed my degree in Applied Biology at Manchester Metropolitan University (Manchester Polytechnic) I 'got on my bike' and moved to London in 1984 because it was almost impossible to find jobs in the North West of England in Thatcher's 1980s Britain.
I trained as a BMS at the North Middlesex Hospital where my main trainer was Mike Wren, now Professor Wren, who used to fire questions at me – in a fun way - every day - and I learnt more than I thought possible while gaining my State Registration.
Still loving the work and learning so much, I decided to move to St Mary's Hospital, Paddington, in 1987 and this was the most poignant two years of my career when we worked with specimens from patients with AIDS. There was satellite laboratory in St Charles' Hospital, near Ladbroke Grove, where we would be seconded to on rotation to do the Category 3 specimens.
Caring for patients
The patients stayed on the Almroth Wright Ward and we sometimes saw them being taken out onto Praed St for 'fresh air'! They were all terribly ill and we received specimens that needed every single organism followed up, identified and antimicrobial susceptibilities, which was hugely interesting as a microbiologist but immensely sad as we saw that the patients, whose names we got to know very well, each died of this still little-understood infection.
I learnt about UKNEQAS specimens and the importance of treating them as 'real patient specimens' and in 1990 took the radical step of accepting a more senior post to set up a NEQAS scheme for food microbiology at the Central Public Health Laboratory in Colindale.
In the end, the scheme was launched outside of the NEQAS programme because it was a little removed from the clinical remit. Nevertheless, I spent 20 years working developing and then leading what are now Public Health England's food and water microbiology proficiency testing schemes.
Education
During that time I was supported in completing an MSc in the University of Surrey in 1993 and then a PhD with the University of Nottingham. Importantly I was supported when I decided to halt my PhD study in 1995 when I was expecting my son and felt that it would mean juggling one too many balls at that time.
In 2012 I became the Head of Culture Collections, and am very proud to be the first woman in more than 90 years to be responsible for the National Collection of Type Cultures – but that's another story!