President Prize Winners 2020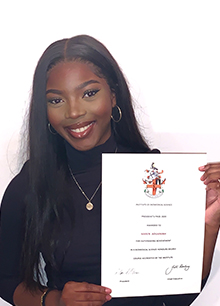 Karen Aduamah
University of Kent
Throughout her studies, Karen most enjoyed the analytical aspects of her degree. She particularly enjoyed the Bioinformatics and Genomics module in her final year where she was able to learn and implement bioinformatics methods in the analysis and modelling of protein structure.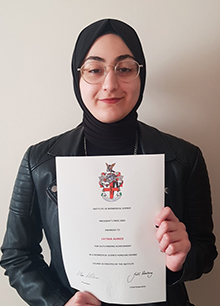 Fatima Ahmed
Kingston University
"Microbiology was an aspect of biomedical science that I really enjoyed and so I am currently doing an Msc at Queen Mary in Medical Microbiology. I'm hoping to be able to work in the biomedical research field after I've complete my masters and potentially a continue on doing a PhD if possible."
Rosie Atack
Nottingham Trent University
"I really enjoyed studying for my degree in Biomedical Science and found the whole subject fascinating. My final year project involved manipulating a python script to simulate the effects of different mutation rates on a fixed population of synthetic asexual organisms.

I decided I don't want to be a scientist, but I still want to work in the health field. I am currently studying for an MA in Health Humanities at UCL, where I am enjoying learning about non-medical aspects of health. In future I hope to build a career in public health or health policy."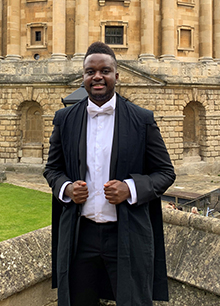 Mataka Banda
Keele University
"I mostly enjoyed the practical aspect of Biomedical Science and having the opportunity to complete a variety of assays and improve my laboratory technique. I was lucky enough to undertake my final year project at the Institute for Research in Molecular Medicine (INFORMM) at Universiti Sains Malaysia in the summer of 2019 - my project investigated the effects of a novel sirtuin inhibitor on kidney cancer. I am now currently studying an MSc in Radiation Biology at the University of Oxford and hope to successfully join the DPhil Oncology course at Oxford next year."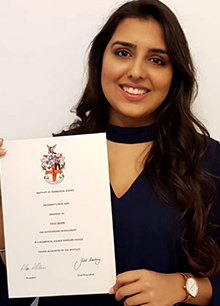 Pavi Brar
Roehampton University
"For me, the most enjoyable part of the degree programme was the dissertation module, for which I investigated 'the effect of cannabis use on short-term memory in young adults'. Currently, I am pursuing a MSc in Global Health at King's College London. I look forward to combining my Biomedical Science knowledge with public health and social policy, to help vulnerable communities in the post-Covid world."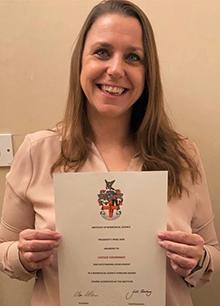 Lucille Cavanagh
University of Bedfordshire
"As a mature student I found my time at university mentoring younger students rewarding. The units I enjoyed the most were microbiology and immunology, my passion for microbiology was confirmed when I spent a few weeks work experience with a microbiologist at the Royal Veterinary College. The project I assisted on also inspired the subject for my dissertation; investigating whether the use of antibiotics in pets impacts multidrug resistant pathogen transfer to owners. When it came to my final year research project the choice for me was simple, I chose microbiology. The project was investigating the prevalence of Staphylococcus aureus in the University of Bedfordshire population.

I worked part-time in the veterinary sector while at University and took advantage of any work experience placements to gain as much practical experience as possible. I am currently working as an associate practitioner in a hospital microbiology laboratory, assisting with processing SARS-coV-2 swab tests. I am hoping this experience will assist me in securing a PhD studentship in the near future."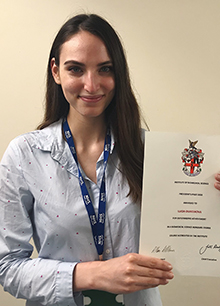 Lucia Durcekova
Robert Gordon University
"My course placed lots of importance on practical skills which benefited me when I undertook a 6-week multidisciplinary placement in Year 2 and a 14-week placement in Year 3 in Blood Transfusion and Medical Microbiology in Aberdeen Royal Infirmary, during which I completed the IBMS Registration Portfolio.
In addition, I enjoyed practising and improving my skills when I undertook a research project funded by Medical Research Scotland during my studies on the cardioprotective effects of cannabidiol, and then a final year project in which I evaluated the effectiveness of rejuvenating solutions on stored red blood cells. Now I work as a Biomedical Scientist in a Blood Sciences laboratory at Raigmore Hospital where I will commence working on the IBMS Specialist Portfolio soon, after which I would like to obtain a Master's degree to challenge and expand my knowledge of my discipline."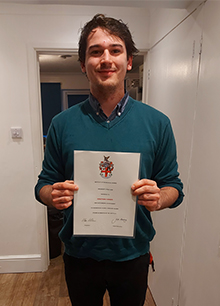 Jonathon Farmer
De Montfort University
"I completed my registration at Maidstone Hospital Microbiology, and currently work there on the enteric section. My dissertation was in the use of SMRI and statistical analysis to find common neurophysiological defects in Patients with ADHD. This just goes to show the board and rewarding remit of biomedical science."
Yustina George
University of Brighton
"Undertaking this degree really consolidated my decision to pursue a career in medicine as it combines my biomedical knowledge alongside the practical aspect of providing care and treatment to patients. As a result, I am currently undergoing medicine as a further degree at the university which is exciting for me as I have always known that is the path I would like to take and, although it took an extra 3 years, I have no regrets of studying this incredibly interesting degree as its provoked a high interest and respect for the field. I conducted my final dissertation entitled: "Investigating the insulin secretagogue potential of Tabernanthe Iboga compounds: epicatechin and epigallocatechin on bioengineered pancreatic ß islets". As part of this project, I thoroughly enjoyed having the opportunity to work in the tissue culture lab to grow, and culture the B islets using an RCCS bioreactor.
Further in vivo testing needs to be conducted to assess its potential efficacy as a novel insulin secretagogue for type 2 diabetes mellitus. I found being at the forefront of a potential novel therapy really intellectually stimulating and I would relish having the opportunity to do further research throughout my degree in medicine if the prospect arose."
Rebecca Kilham
Oxford Brookes University
"During my degree I completed a placement at UK Biocentre where I performed Sample Reformatting, Nucleic Acid Extraction, Quantification (using spectrophotometric absorbance and PicoGreen methods) and Normalisation to aid UK medical research.
Immediately after finishing my final year exams I returned to UK Biocentre (now one of the Lighthouse COVID-19 testing Labs). In the near future I would like to undertake a MSc in Genomic Medicine and Bioinformatics, eventually leading me to into Genetics Research."
Radha Lakha
University of Portsmouth
"A highlight of my biomedical degree included the completion of my final year project on the role of bone morphogenetic protein (BMP) and transforming growth factor beta (TGF-β) signalling in craniofacial vasculogenesis. My aim in the near future is to continue exploring my curiosity for Biomedical Science by completing postgraduate study."
Sian Leighton
York St John University
"Studying biomedical science at York St John University was an excellent experience which provided me with the specialised skills and knowledge needed for my future endeavours. I was fortunate enough to complete a year-long placement at York Hospital in the haematology and blood transfusion laboratories as part of my degree, which allowed me to complete my IBMS registration portfolio. This was a great opportunity as it gave me the chance to experience the day to day workings of a laboratory and further my practical skills and knowledge.
Currently, I am working as a quality control analyst at a pharmaceutical company which is allowing me draw in on all my knowledge both theory and practical, as well as GMP, health and safety and the importance of regulatory bodies."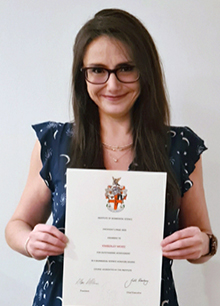 Kimberley McKee
University of the West of Scotland
"Having been inspired to have a more meaningful job returned to university to gain the qualifications required to pursue a career as a Biomedical Scientist. Being fortunate to be one of the students selected to undertake an integrated placement, I obtained my registration portfolio and now work as a Biomedical Scientist in a busy Biochemistry department in the QEUH Glasgow. I am working towards my specialist portfolio and proud to be part of the NHS, contributing at this challenging time."
Rachel Megarry
Ulster University
"I thoroughly enjoyed my degree at Ulster University and a particular highlight was my placement in Craigavon Area Hospital Cellular Pathology department. There I experienced all the background work that goes on for a cancer diagnosis and many other illnesses, and thanks to the support of the staff I successfully completed my IBMS Registration Portfolio. My time on placement inspired me to study medicine, something I had previously dismissed for myself, and I am now applying and interviewing for entry next year."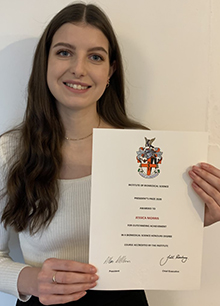 Jessica Morris
Staffordshire University
"I thoroughly enjoyed studying my BSc (Hons) Biomedical Science degree at Staffordshire University. Since finishing my degree, I am now working in the COVID-19 testing laboratories as an Associate Practitioner of Biomedical Sciences in an NHS Microbiology department.
In the future, I hope to continue working within the NHS and aspire to complete my IBMS registration portfolio in order to work as a Biomedical Scientist."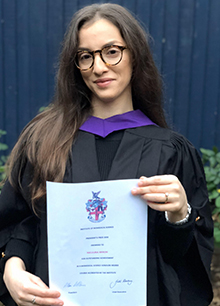 Niculina Miron
London Metropolitan University
Niculina was awarded a BSc with First Class Honours in Biomedical Science from London Metropolitan University in July 2020. The structure of the program and her final undergraduate project in the field of cancer, "Effect of the Sodium channel blocker on - Mexiletine on the migration of colon cancer cells", strengthened her interest in health and disease.
Being both a mother and a student during the Pandemic did not stop her desire to explore the field and continue as a Postgraduate student at the Faculty of Medicine, Imperial College London.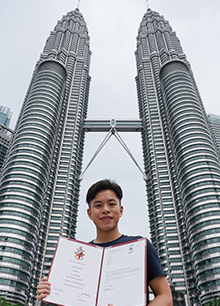 Tze Chang Ng
Queens University Belfast
"Queen's has given me one of the best years of my life. Not only the program affirmed my love for science, but it also provided me with opportunities and experiences I never imagine myself having as an international student from Malaysia. Notably, I became a research intern at the Royal College of Surgeons in Ireland, investigating the roles of long non-coding RNAs (lncRNAs) in regulating breast cancer micro-calcification. Grateful for the experience, the skills acquired benefitted me in my final year research project at Queen's where I studied genes potentially associated with asthma predispositions.

Currently, I am a research assistant at the University of Malaya (Malaysia) involved in Dengue research. My future plans include pursuing a research masters in epigenetics/genetics at the University of Otago, New Zealand. "

Harriet Powe
University of Surrey
"I was awarded the IBMS President's Prize at the University of Surrey, achieving a first class honours degree in BSc Biomedical Science. I really enjoyed the large variety of subjects covered during my degree, as well as the laboratory experience offered. As part of my degree, I completed a placement year at GSK where I developed an interest in immuno-oncology. I have recently started a new job as an Associate Scientist at GammaDelta Therapeutics, a small biotech company developing cancer immunotherapies."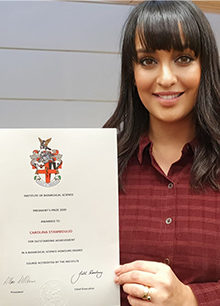 Carolina Stamboulid
Liverpool John Moores University
"I am looking forward to building a career in medical research and I am currently undertaking my doctoral training at The University of Manchester funded by the Medical Research Council (MRC DTP) where I am using zebrafish and 'omics technologies to investigate and characterise a recently identified neurodevelopmental disorder that causes microcephaly and craniofacial defects in children."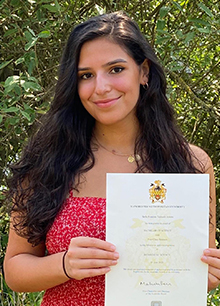 Sofia Rosanna Tedeschi-Atkins
Manchester Metropolitan University
"My time at Manchester Metropolitan University has been an enriching experience, where I have gained an in-depth knowledge of many aspects of biomedical science, from immunology to genetics, whilst also gaining practical skills in the laboratory.
During the programme, I thoroughly enjoyed the Blood Science and Haematology and Transfusion units. I took a particular interest in cardiovascular disease and therefore chose to study this area further in my third year, undertaking a research project focussing on the effect of cardiovascular biomarkers in monitoring cardiovascular disease risk in young adults. Moving forward, I will be applying for the NHS Scientist Training Programme specialising in Cardiac Physiology."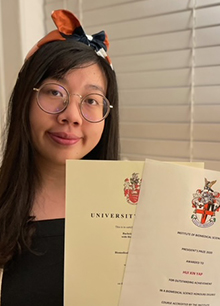 Giselle Yap
University of Essex
"What I really like about studying biomedical science is that it allows me to have a further understanding of human anatomy and physiology, and as a biomedical scientist, I am able to contribute to patient health and care. I undertook my placement year at Public Health England, Addenbrookes Hospital, where I worked as a trainee and gained so much experience in microbiological investigation, in addition to completing the registration portfolio.
Being a registered biomedical scientist with the HCPC, I am now working in Microbiology for the East Suffolk and North Essex Foundation Trust, based in Colchester and I am about to begin my specialist portfolio. The contribution of a biomedical scientist often goes unrecognised, but I am proud to be a biomedical scientist."