Lab Tours Blog
We love sharing the stories from Harvey's Gang Lab Tours, read about the latest tours here
Lucianos' tour at Broomfield Hospital Blood Sciences Department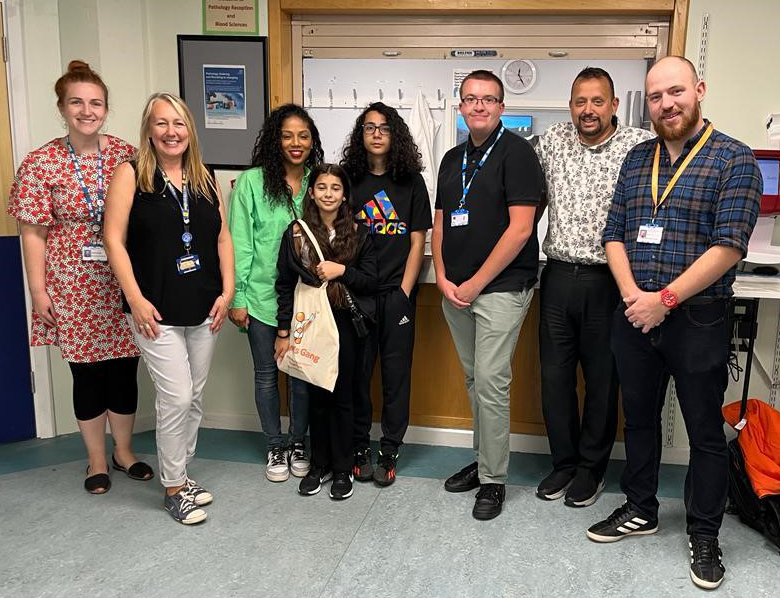 The Blood Sciences Team at Broomfield Hospital were happy to host a Harvey's Gang visit for a local youngster and his family on Friday.

They were given a tour of the Reception, Biochemistry and Haematology laboratories taking a look at what happens to the blood samples and getting up close to the analysers to see them working. They were able to centrifuge some samples to see how the blood separates prior to analysis, and look down a microscope to see the different cells and parasites in the blood. They also visited the phlebotomy department and sat in the chair where they would sit for having their blood taken.
The family reported back how much the visit was enjoyed, and that their son was feeling much more positive about his blood test now.

Leslie Cybichowski, Training and Health & Safety Lead
Following the tour Luciano's Dad wrote:
I reached out to Harvey's Gang as my child with ASD had sensory issues with needles and blood, but knew he really needed the test.

After almost losing hope , I found Harvey's Gang and the IBMS were so patient and understanding. They help to find a local hospital and pre sent their Superlab comics that had our son excited to go.

On the day, we met Lesley at Broomfield Hospital for the tour and even got to bring our daughter along. It was so educational and eye opening as our child is also an aspiring scientist. He is now really confident and positive on booking his blood test and he knows his blood is in safe care of top level scientists and professional health care people
Austin's tour at Kingston Hospital Blood Sciences Department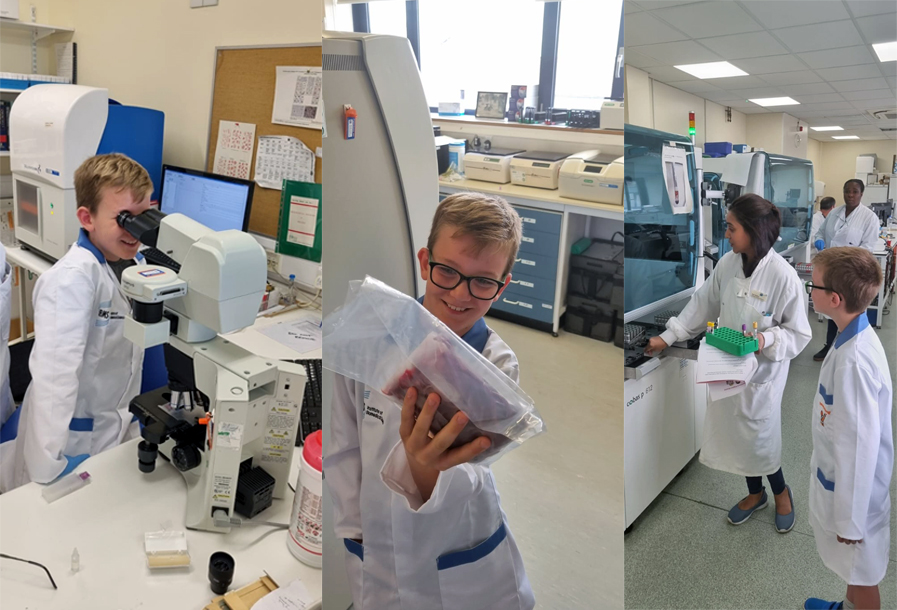 In May, Harvey's Gang was contacted by a patient's mum who wanted her son Austin to attend a tour at his local hospital laboratory to understand what was happening to his sister's blood tests.
At the time, no Harvey's Gang tours were running at Kingston Hospital. But after reaching out to IBMS members there, we were able to organise a tour, as the laboratory manager David McIntyre and his team were happy to help.
Following the tour mum, Celine, wrote:
I just wanted to say THANK YOU all so much for organising such a fantastic lab tour for Austin last week!

What can I say it was just absolutely brilliant! Austin was totally captivated and is still talking about it! It was such a great way of demonstrating to us all what happens to Mabel's bloods when they are taken and how the scientists do the different tests. He loved watching the machines at work and was super excited to have been able to help process some of the tests himself and use the microscope.

I know that you haven't run these tours before but from our perspective I would say it was a great success and would definitely recommend it for other families with children being treated at the hospital.

I just also wanted to say a massive thanks to Harvey's Gang and IBMS for your roles in getting this set up. It's been a scary and confusing time for us all and this put such a massive smile on Austin's face which has been amazing to see.
Jayden's tour at Dumfries and Galloway Royal Infirmary Blood Sciences department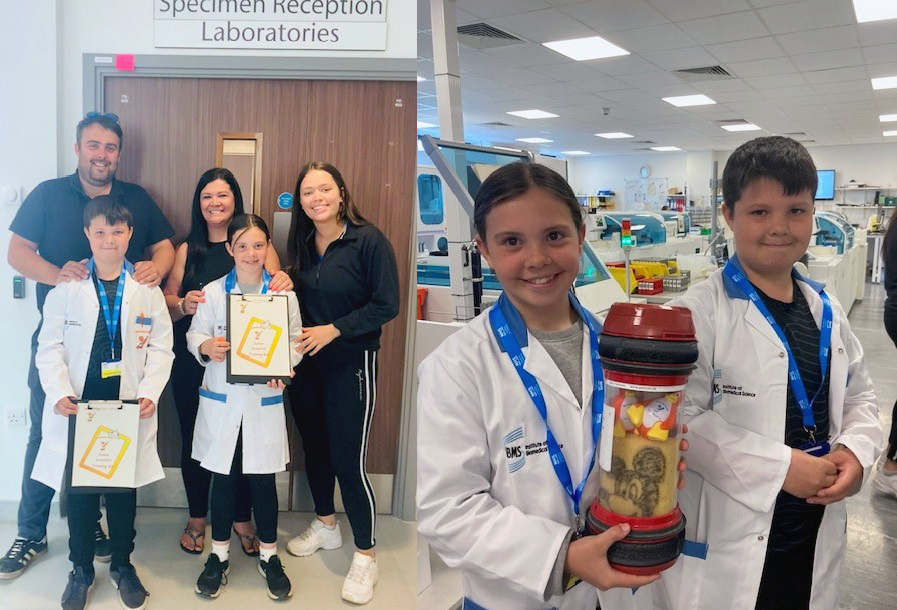 Gayle Johnstone writes:
Finally, after a long wait due to covid we were able to host our next Harvey's Gang tour at Dumfries and Galloway Royal Infirmary (DGRI) in the Blood Sciences department. We welcomed Jayden, his sister Emmi-Leah and mum, dad, Laura and Patrick. Jayden's paediatric nurse Ava attended too.
Jayden has Juvenile idiopathic arthritis (JIA) and receives monthly infusions for his treatment, as well as regular blood work. Jayden and Emmi were delighted with their lab coats and goodie bags!
As we toured the lab, I explained how we receive samples, how and where they are processed and turn around times for tests. They had fun filling in their I Spy activity sheets, doing colour changing experiments and looking down the microscope. The tour helped Jayden understand all the processes involved and he can now envisage where his bloods go.
His mum Laura said:
The tour has helped not only Jayden but all of us have a far better understanding of the process, which I'm certain will help us in the future
We can't wait to continue Harvey's gang tours at DGRI!