500 verifications undertaken by IBMS member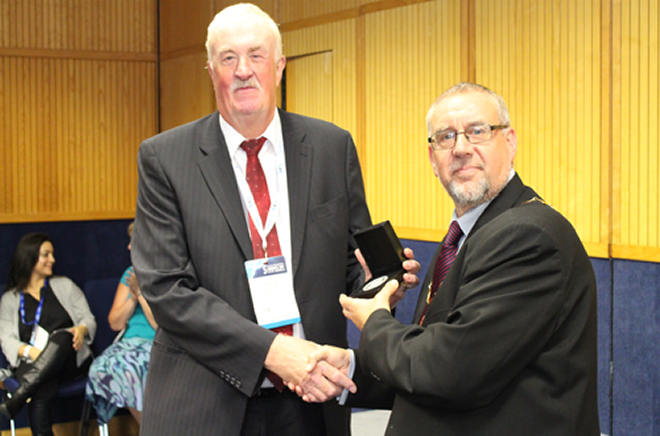 30 April 2018
IBMS member Geoff has completed 500 portfolio verifications
Geoffrey Trew was a Chief Biomedical Scientist based at George Eliot Hospital in Nuneaton. He was awarded the IBMS 50 year medal in 2016 for his continuous service (as pictured above) and has undertaken 500 training portfolio verifications on behalf of the institute.
Geoff kindly shared a few words about his experience.
My introduction to biomedical science
I was always interested in sciences in school. In 1966 I happened to speak to the Pathologist at Bronglais Hospital Aberystwyth where a new laboratory was being built and they were looking for students to train in pathology. I applied and was successful.
I had two role models, Mr John Clarke, Principle Lecturer at Llandaff Technical College and Mr Peter Rock, the head of my department. John introduced me to Lecturing and Training staff in general and Peter encouraged me to be an examiner.
My tips for portfolio verifiers and candidates
The candidates are going to be nervous, so I encourage them to relax. They have done the hard work, this is a chance for them to demonstrate their knowledge and experience.
For candidates, I'd recommend that whatever experiences you encounter, write them down in a reflective log. Be sure to review and annotate any relevant information you download or find in literature.
Visual aids help as well. Photographs, diagrams, tables, flowcharts in addition to your writing can make your portfolio easier to read. It can also help to reflect on visits to labs or meetings and find suitable evidence to cover all areas of the HCPC standards of proficiency. It can be a stressful process, and as the verifier, I want the candidate to feel as fully prepared as they can be.
My experience
I've really enjoyed meeting the different candidates and training officers over the years. It's a pleasure seeing candidates I have verified progressing through their careers and who are now training officers and department heads.
Being a portfolio verifier is a time commitment but a truly rewarding one and a role I cannot recommend enough. It allows the sharing of best practice, encourages consistency of standards and development of the candidate and the assessor. I find the process stimulating, especially as I am witnessing the changes in lab technology and I can reflect on those changes from when I started over 50 years ago.
It's very rewarding to think that I am helping future biomedical scientists reach the next step in their training. I have now carried out over 500 verifications visiting laboratories in the north, Manchester to Blackpool, a large number in Wales, south to Oxford and most of the hospitals in the Midlands. Over the years of carrying out these verifications, I have seen the high-quality training that has been achieved by the candidates and the training setups at all the hospitals I have visited.
It has been a very pleasing experience to carry out these verifications on behalf of the IBMS and I would encourage any enthusiastic would-be verifiers to approach the Institute and apply to join the pool. They will have the chance to help out candidates, make use of their knowledge and experience and receive the same excellent support from the IBMS as I have had over the years.
Back to news listing