A Look at Biomedical Science Day 2019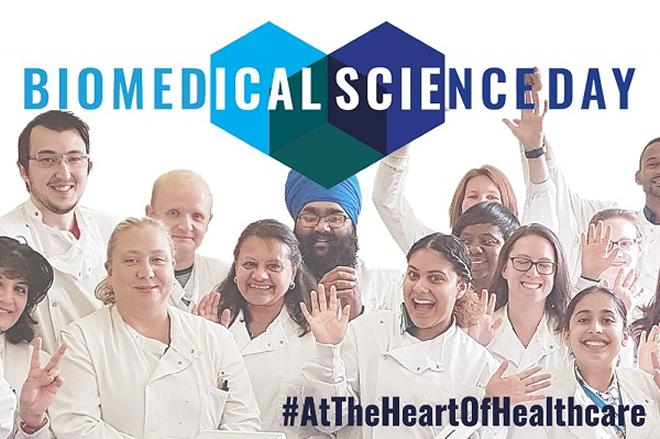 21 June 2019
A quick look at our most widely celebrated Biomedical Science Day yet
We have been overwhelmed by our members yet again. Biomedical Science Day 2019 was a huge success. Over 150 hospital and university laboratories took part in celebrations, each welcoming hundreds of visitors to learn about their role at the heart of healthcare.
On social media, we encouraged our members to use the hashtags #BiomedicalScienceDay2019 and #AtTheHeartOfHealthcare to promote their activities. On Twitter both hashtags trended all day and had an audience of over 2,250,000 users with over 6 million views of all Biomedical Science Day posts. Biomedical Science Day also earned the attention of some big Twitter accounts, including Guardian Healthcare, Behind Closed Doors' Dr Amir Khan, and Sarah Wollaston MP. On Facebook there were lots of messages of support from Trusts, charities and other healthcare pages and our online community were active and posting pictures of their events all day. On BBC Radio 2, DJ Zoe Ball – who has an average weekly audience of 9.05 million – also gave a shout out to biomedical scientists across the UK, as did BBC Radio Leeds and BBC Radio Jersey.

We have managed to compile a large amount of the photos and competition entries in our Facebook gallery (over 500 and counting). If you had your photo taken on the day it's likely you will have ended up there (or will do in the coming days).

We also announced our Champions of Biomedical Science: where a member from each region won a prize and award for showing dedication to the promotion, development and delivery of excellence in biomedical science.

Here is some of the media coverage from the day (let us know if you find any more: website@ibms.org):
BBC Radio 2
www.bbc.co.uk/sounds/play/m00061f6#t=1h54m32s
BBC Radio Leeds
https://www.bbc.co.uk/sounds/play/p07bwnk4#t=01h47m37s
BBC Radio Cumbria
https://www.bbc.co.uk/sounds/play/p07bjm57#t=00h53m15s
Cumbria TV
https://www.facebook.com/thatscumbria/videos/415718949020052/


Here are some of the most popular tweets from the day:
Here we go! We're all set for #BiomedicalScienceDay2019 here at MFT. Join us in the RMCH Atrium between 10am and 2pm today to find out about what we do @zonyajeffrey @GelenHeorge @IBMScience @bexwhitehouse80 #AtTheHeartOfHealthcare pic.twitter.com/RAENyGhCxQ

— Lab Medicine MFT (@LabMedicineMFT) June 20, 2019
Rebecca, Tom and Lisa are representing @GenomicsWales, @WalesGenePark and the All Wales Medical Genomics Service this #BiomedicalScienceDay2019 at University Hospital of Wales - the only host site in Wales. Great work team! https://t.co/icQ91CzAKV pic.twitter.com/Zuujy8xQ1i

— Genomics Partnership Wales (GPW) (@GenomicsWales) June 20, 2019



#BiomedicalScienceDay2019 stand in RVH @BelfastTrust. Why not visit us find out what happens to your sample, even take part in some yourself. Visit us at either RVH, BCH & RBHSC foyers. #AtTheHeartOfHealthcare @IBMScience @HSCBoard @hscpermsec @shaunaMcAuley6 @Carolin77889792 pic.twitter.com/oIn7Cnfn7g

— Glen McDowell (@glen_mcdowell) June 20, 2019
Celebration of Biomedical Science at UHB Heartlands Hospital representing pathology for Birmingham and Solihull #AtTheHeartOfHealthcare #BiomedicalScienceDay2019 #IBMS pic.twitter.com/p3TZPWsvfQ

— Chloeee (@littleford1998) June 20, 2019
Biomedical Scientist and Future Scientist! #biomedicalscienceday2019 #AtTheHeartOfHealthcare pic.twitter.com/KH1UOPL6x1

— Gayatri Chohan (@GayatriChohan) June 20, 2019
Fantastic stand with very useful information on display at #BiomedicalScienceDay2019 @BelfastTrust. Important to highlight that even the wrong application of a sample label can have a significant impact on getting a result. #gettingitrightfirsttime @IBMScience #SampleJourney pic.twitter.com/5LbAGuYglc

— Gareth McKeeman (@gcmckeeman) June 20, 2019
Biomedical science is at the heart of healthcare. There are 315 members of staff working in laboratory medicine also known as pathology, across the York and Scarborough sites with such a variety of highly skilled staff who contribute to patient care #BiomedicalScienceDay2019 pic.twitter.com/Vb7xPUmP86

— York Teaching NHS (@YorkTeachingNHS) June 20, 2019
Preview of the #BiomedicalScienceDay2019 cake competition at the Conquest Hospital #Hastings. Is that a Microtome? Judging will start soon with @DrAdrianBull #AtTheHeartOfHealthcare #cake pic.twitter.com/eSPscxtlfF

— ESHT_Pathology (@ESHT_Pathology) June 20, 2019
Mike has lead the placement programme at Colindale for the past 12 years. In that time, he has helped kick-start the career of 167 Biomedical science students (including me). #BiomedicalScienceDay2019 pic.twitter.com/gcbRndlLCU

— Hannah McGregor (@hannahm18) June 20, 2019
Take 2 as I missed out some ppl ????‍?? @IBMScience These lovely faces represent Biomedical Science across #NHSLothian ! Across our 4 hospitals we perform over 13 million tests per yr to the 800,000 population of Lothian & Scotland. #BiomedicalScienceDay2019 #AtTheHeartOfHealthcare pic.twitter.com/6qxw8FD3QQ

— Valerie (@VBocker) June 20, 2019
On #BiomedicalScienceDay a huge shout out to biomedical scientists and all lab staff who are working tonight #AtTheHeartOfHealthcare Thank you for all that you do ??

— IBMS CEO (@ibmsceo) June 20, 2019
We will be doing a more comprehensive round-up in next month's The Biomedical Scientist.
Thank you again to all our amazing members - you have done your profession proud!
Back to news listing