Activity fund round-up 2022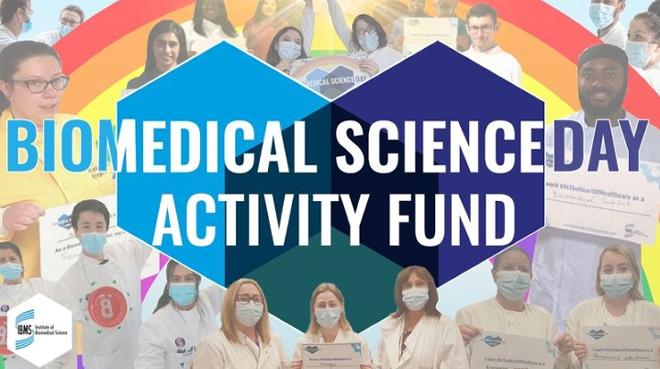 29 July 2022
Our activity fund recipients tell us the events they ran up and down the country during Biomedical Science Day 2022.
For #BiomedicalScienceDay2022, members could fully return to celebrating in-person; many public engagement events and laboratory tours took place up and down the country, and hundreds of members set up stands for the public and medical colleagues in hospital foyers. Additionally, celebrations continued enthusiastically online, with members able to follow along and engage via our social media channels.
With the profession more visible than ever following COVID-19, this year's celebrations focused on expanding upon our success to showcase the extensive breadth of knowledge and skills of the profession across a wide range of specialisms in Biomedical Science while rightly celebrating our members' hard work and contributions to society.
The fund provided grants of up to £500 for IBMS members to develop their biomedical science related activities and events.
The grants could have been used to support a range of activities and resources for experiments, exhibition space at careers events, marketing and communications materials, incentives and giveaways.
Activities aimed to raise public awareness of biomedical science and demonstrate the value of the profession and its role in the prevention, diagnosis and treatment of infections and disease.
We recognise that not all members were able to participate on the day and therefore grants may be used for activities up to 30th September 2022.
Biomedicine Society, University of Salford
Salford Biomedicine Society celebrated Biomedical Science Day in style, holding a day of events, including presentations, workshops and quizzes; activity funding went towards goodies, lab coats, resources and prizes.
Salford's Biomedicine society used their funding to hold an event which aimed to celebrate Biomedical Science Day and raise awareness of Biomedical Science careers to young people.
Students took part in competitions including a Pathology quiz. Prizes were awarded including Harvey's Gang goodies and lab coats!
Tahmina delivered a practical laboratory activity to teach the students how to interpret blood groups. The students were presented with a scenario where Shrek had been admitted into hospital for a surgery and the students needed to identify his blood group and determine whether he had MRSA.