Advanced Specialist Diploma in Histopathology Reporting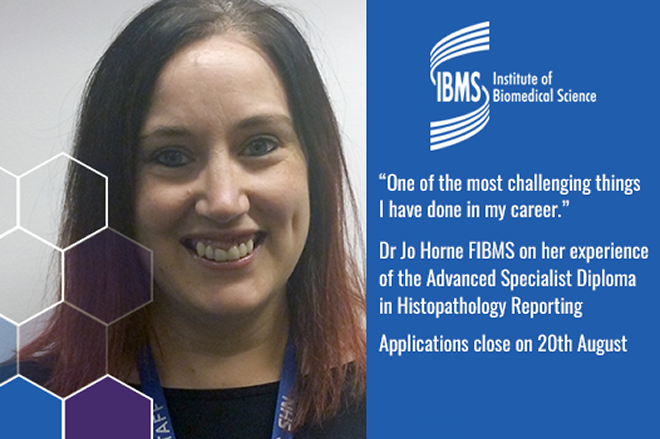 6 August 2018
Dr Jo Horne FIBMS looks back on completing one of the toughest biomedical science qualifications out there - the Advanced Specialist Diploma in Histopathology Reporting.
I have been an Advanced Practitioner in Histopathology, specialising in specimen dissection, for almost ten years, and in 2012 I was in the first group to begin training for the Advanced Specialist Diploma in Histopathology Reporting. I specialise in gastrointestinal and hepatobiliary histopathology, so the GI module was the obvious choice for me. In 2012 the only other option was gynae, but as of 2017, dermatopathology is also now an additional speciality that can be studied. The training is mainly on the job and is hard work. Training consists of four stages, over a minimum of four years, and is mirrored on training of medical histopathology trainees, with a portfolio to submit at every stage, plus two exams at the end of the first and third stages. In 2017 I completed my training, after a year developing my independent practice, and I will receive my final certificate at a RCPath ceremony next month, along with a number of other successful trainees. I am sure that it will be a very proud day, where we will cheer each other's success and reflect on just how far we have come over the last six years.
Those of us in the training programme have formed a support network, with lifelong friendships created. Some of us also now work with the RCPath and IBMS to support, develop and promote the qualification further. With the known workforce shortages in Histopathology, the development of reporting scientists who once qualified, can work alongside medical histopathologist colleagues at consultant level, is a timely and important area of development that pathology departments may now consider as part of workforce planning.

Having completed my training in 2017, I now formally work alongside medical consultant histopathologist colleagues as part of the GI team. My role includes independent GI specimen dissection, with an allocation of cases to report and a number of GI multidisciplinary team meetings to attend on behalf of histopathology. Like most other scientists who have completed training, I retain other roles alongside these new clinical ones, such as education and training responsibilities and leadership roles. The great thing about the reporting qualification is that roles can be moulded and developed around the specific service needs of each department. At a time of uncertainty, where networks are being formed and pathology departments require flexibility from experienced and expert staff with a varied skill set, as scientists we are the untapped resource of the future.

Although training to report histopathology specimens is one of the most challenging things I have done in my career, many of the barriers I have faced have been broken down, and I believe this will continue to be the case. To succeed, you will need drive and ambition, but most importantly support from your Trust and colleagues within your department. Increasingly, training is being planned as part of wider workforce planning, and trainees are being supported with a clear job plan and backfill for their existing positions. This is an important step to aid success. As one of the first trainees, I didn't have any back fill for my existing role, but I did have the support of my colleagues during training. This has been one of the biggest challenges of my career, but something that I am incredibly proud to have achieved. It has changed my career in ways I couldn't have imagined, providing me with amazing opportunities. I am privileged to work in my new role, and would highly recommend the reporting training programme to any ambitious biomedical scientist who wishes to further their career and contribute to histopathology service delivery in a different way to traditional routes.

Applications close on 20th August. For further information and how to apply click here.
Back to news listing