Alex's start in microbiology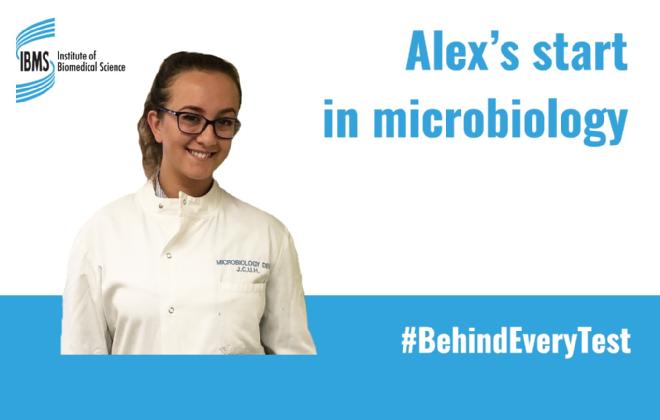 29 May 2020
We caught up with Alex Ellwood LIBMS who had only been working in microbiology for six months when the pandemic began
Alex Ellwood graduated from her IBMS accredited BSc (Hons) Biomedical Science at York St John's University in 2019. Having done a placement year, Alex secured a job in her training laboratory straight away, working in Microbiology. Six months later the pandemic hit and she was directly involved in COVID-19 testing. We caught up with Alex to find out how she went from student to front-line NHS worker:
What drew you to biomedical science as a subject and when did you know you wanted to join the profession?
I was drawn to Biomedical Science when I was about 16 - I always enjoyed maths and science and it actually started when I did a careers quiz which matched me to being a Biomedical Scientist, based on my strengths and interests. I researched it a bit more, studied hard at my A-levels (biology, chemistry and maths) and eventually managed to get in to York St John University to study Biomedical Science.


How has doing an IBMS accredited degree helped you?
One of the perks of studying Biomedical Science at York St John's is that the course is approved by the IBMS, meaning that I could go on to be HCPC registered and go to work in the NHS as a Biomedical Scientist. I feel like when you first start university and don't know what direction you want to go in, you really need to have as many doors open as possible - and by doing an IBMS accredited degree it just opened more doors in comparison to a non-accredited degree.


How did you go about securing your placement?
I decided in my second year that I wanted to go and do an NHS placement and work towards my registration portfolio - I still didn't know what career I wanted to go in to and therefore thought the placement would give me a good insight into what work went on in an NHS laboratory, as well as good experience and improve my skills. Doing the placement was only ever going to give me an advantage, even if I decided not to go on to work for the NHS.

At the University, Associate Head of Biosciences, Dr Sue Jones, has a network of laboratory contacts and helps to place students in York, Calderdale, Sheffield, Hull and Grimsby so that they can get experience of the NHS and complete their IBMS Registration Training Portfolios. I wanted to be closer to home in Middlesbrough and therefore I applied for a placement at James Cook Hospital. I had no idea how to get a placement so started off by emailing their careers team and volunteering team, hoping to get some information. They passed my information to the correct people and they got in touch with me regarding an interview. Long story short I got a placement in the microbiology laboratory.

What was it like starting out in a laboratory?
When starting my placement I had no idea what to expect. I had the transferable skills from the laboratory sessions at university, including pipetting skills and aseptic technique so it was just about putting them into practice in real life situations. My training at the placement laboratory was absolutely impeccable. I had several visits from the university to check how I was doing and Sue was always only an email away. I enjoyed my placement so much that I ended up doing my third year project there and decided that was the job I wanted to do.
A biomedical science degree gives you so many opportunities, and even if you don't know what career you want to go in to straight away that's totally fine as you can apply what you've learnt in the degree to so many different areas.
I have specialised in Microbiology - on a day to day basis we receive a variety of different patient samples from areas that medics think to be infected. We process the samples and try to culture any bacteria may be present within them. We then go on to identify any bacterial growth using a variety of different methods and analysers and perform antibiotic sensitivity testing so that we can provide the medics with suitable antibiotic options to treat the infection. I love the fact that each day is so varied. You never know what you're going to get and it's so hands on!
Due to coronavirus, we have shifted our knowledge and focus more towards virology. We are performing 24/7 testing for SARS-CoV-2 using a technique called PCR. It has been so interesting, yet scary, seeing how quickly and vastly it has spread, and it has been surreal to be right in the midst of the testing procedure.
Where do you see yourself in five years' time?
I am currently working towards my specialist portfolio and I am hoping in the next few years to complete a Master's in a microbiology area (I'm not sure on specifics yet) so that I can progress within the NHS laboratory setting.

We wish Alex all the best with her career and thank her for her contribution towards the pandemic response.
Back to news listing