Announcement: IBMS Chief Executive Jill Rodney is retiring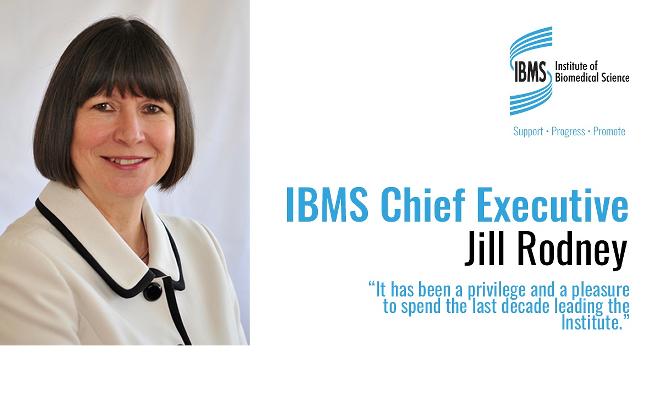 10 December 2020
After a decade leading the IBMS, Jill Rodney is retiring from her position as CEO
Jill issued this statement:
I have decided that after ten wonderful years at the Institute the time is right to retire from the IBMS and start a new and somewhat more leisurely chapter in my life – where I can take a step back from this world class professional body, and the astounding journey we have taken together, and watch as it continues on its mission to deliver the recognition and career advancement our members deserve.

It has been a privilege and a pleasure to spend the last decade leading the Institute in the promotion, advancement and celebration of all its members. Your vital work and expertise are the beating heart of healthcare services and research. Each IBMS member has a positive and measurable impact on this world, and this has made each and every working day of my time at the Institute hugely meaningful and rewarding.

This last year in particular has been an unforgettable experience as Covid-19 and the vital importance of testing has brought the Institute and the work of our members into the media spotlight and public eye in such a positive way. I believe that the Institute has stepped up to the plate, raised your profile and highlighted the central role you play, not just during these challenging times but every day of the year.

I am so proud of the profession and it has been my honour to work for you for the last ten years. Whilst I am sad to be leaving you, I will follow your progress closely. I know that the Institute and its members have much more to achieve and further to travel.

There are so many people to thank for their help on this journey and, if I try to list them, I am sure to miss someone. I will just say a huge thank you to current and past Presidents, Officers, Council members and my team, especially Nadine Rulliere, who have provided support, wit and wisdom throughout my time at IBMS.

When I leave the office for the last time, my sadness will be eclipsed by the happy memories of serving this wonderful organisation. I will miss you all.
Back to news listing