Announcing our new CEO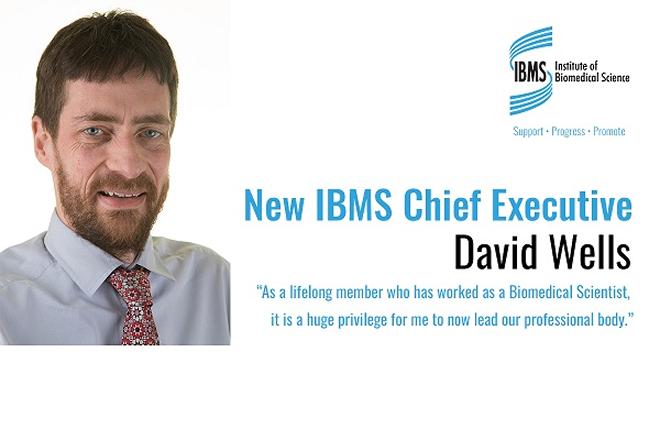 10 March 2021
Congratulations to David Wells who has been confirmed as the new IBMS Chief Executive

The IBMS is happy to announce the appointment of David Wells as our new Chief Executive from 1st June 2021.

As Head of Pathology at NHS England, David strove to embed pathology into the heart of healthcare by supporting the adoption of digital systems, while also influencing key national health policies and government-funded initiatives. His approach to the modernisation of the field was focused on ensuring the sustainability of pathology expertise for the future. He drove the type of unprecedented change in UK pathology that attracted global attention, especially due to his excellent work with networking and consolidation.

For the past year, David has been leading NHS England's testing response to COVID-19 - helping to boost the testing capability of the NHS from circa 200 tests per day to 140,000 tests per day. He has liaised with Ministers and senior health leaders as a subject matter expert and provided leadership for all of the 29 Pathology Networks, ensuring deployment of technology, staffing and IT resources into the NHS. He has also worked with senior leaders across the NHS, PHE, Test and Trace and the Department of Health and Social Care to inform strategy and policy to respond to the pandemic.


In his work with the Institute, David has been an IBMS Council Member for the London Region, chair of the Membership and Marketing Committee and deputy chair of the IBMS Special Advisory Group for Clinical Chemistry. He also represented the IBMS on NICE diagnostic advisory panels, and various national forums including as an observer on the Royal College of Pathologist Council and in the Parliamentary and Science committee.

Commenting on his appointment as IBMS Chief Executive, David said:
I am really excited to be joining the IBMS as Chief Executive. As a lifelong member who has worked as a Biomedical Scientist, it is a huge privilege for me to now lead our professional body. The last year has seen the profile of the IBMS and our profession raised to a level never seen before and I hope to build upon this - ensuring that our voice is consistently heard and that the Institute provides all the opportunities, support and guidance that our members need.

I would also like to take a moment to thank Jill Rodney, our outgoing Chief Executive, for all the great work she has done.

I am looking forward to working with IBMS President Allan Wilson, President Elect Debra Padgett and our Council and continuing to serve this fantastic profession.
IBMS President Allan Wilson will work alongside David over the next year. Allan commented:
I am delighted that David will be our new CEO. David brings a wealth of Pathology experience and expertise to this vital post and I look forward to working closely with him to deliver our strategy at this challenging time.
Back to news listing