Announcing the Harvey's Gang Teddy Contest winner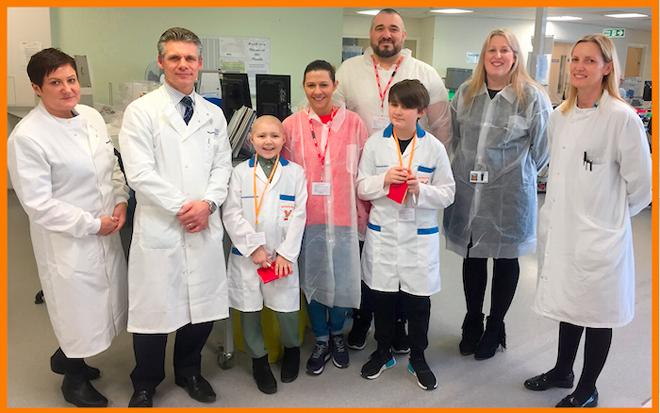 14 May 2021
Congratulations to Rebecca Whitehouse from Manchester University NHS Foundation Trust on winning our Harvey's Gang Teddy Contest!
Last month we put out a call for members to share Harvey's Gang stories for a chance to win the Teddy on April's cover of The Biomedical Scientist. A huge thank you to Rebecca and everyone who submitted for sharing their incredible Harvey's Gang stories and experiences!
The trustees of Harvey's Gang selected Rebecca's entry as the winner, saying it "encompassed everything that Harvey's Gang strives to achieve". They were blown away by all the participants with Harvey's Mum saying "WOW WOW WOW! These are amazing entries and each give a different perspective for a Harvey's Gang tour and because of that it is very difficult to choose a winner."
For her entry, Rebecca shared her experience touring Emilia, a young ALL patient, along with her parents and brother Billy around the lab - see her story below.
Rebecca responded to being chosen,
"The Harvey's Gang tours are a real pleasure to be a part of. We love showing our little VIP's where their samples go and how we analyse them. It's also a great opportunity for the parent's, siblings and patients to ask questions such as why does it take so long for the blood to be prepared? or how do you know that's the right result?. It also gives the laboratory teams an opportunity to talk to the patients and families. We've noticed when we have Harvey's Gang visits, there's a real lift in the staff morale ... We can't wait until we can start the tours up again once COVID-19 restrictions are relaxed, we will definitely get our next Harvey's Gang visitor to name the Teddy!"
Congrats Rebecca, we hope the teddy brings smiles to your Harvey's Gang tours in the future!
If you would like to get your laboratory involved in Harvey's Gangs tours or would even like to know how to best raise the issue with your line manager, please email Malcolm here: harveysgang@gmail.com
Rebecca shares her Harvey's Gang story
Rebecca Whitehouse from Manchester University NHS Foundation Trust submitted this wonderful poster sharing Harvey's Gang stories from the Division of Laboratory Medicine. Rebecca also shares Emilia's story visiting the lab with Harvey's Gang.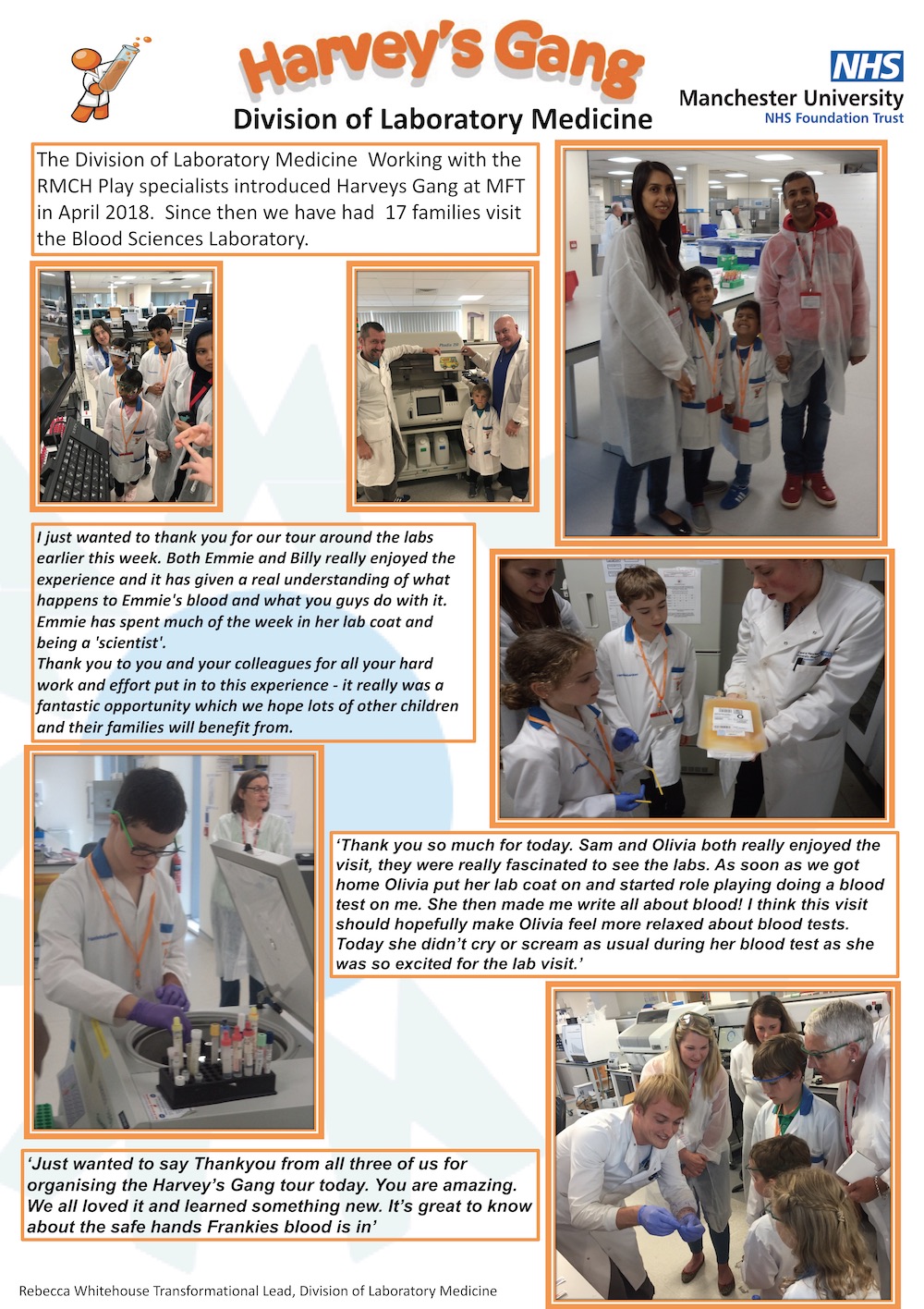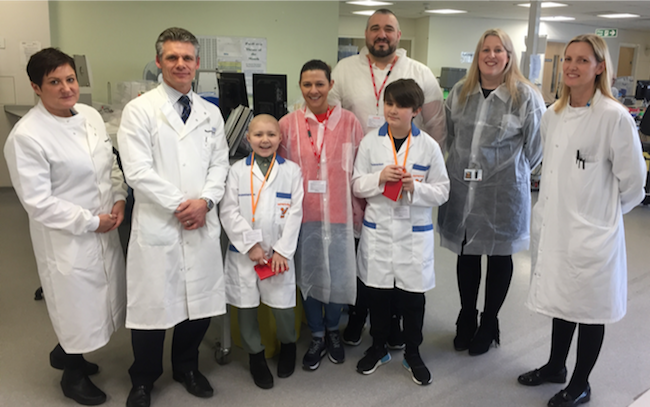 In April 2018 Emilia (Emmy) and her family, parents Eve and Steve and brother Billy, visited the Division of Laboratory Medicine. Emmy was diagnosed with ALL in September 2017 and has been on ward 84 for her treatment. Emmy wanted to know 'where her blood goes' and 'why does it take so long?' She also said she wanted to see the 'Neutrophils and platelets down the microscope.'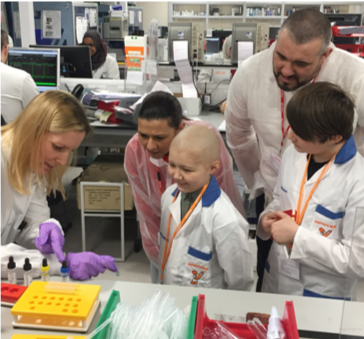 Emmy and Billy learned about blood groups and even guessed a few that they tested 'live'. They learned about blood products and got to see where and how the 'apple juice' (platelets) and bags of blood are stored. They also learned how we do a crossmatch and why sometimes, Emmy's blood might take longer than someone else's. Next, they saw the FBC machines and learned how they count the blood cells. The family spent some time in the morphology room and got to see blood films from a healthy patient and a blood film from a patient with ALL and asked lots of questions about different processes we have, including some around training and competencies of staff. Finally, Emmy and her brother left with a goody bag and got to keep their lab coats.
Back to news listing