Ask Alex: blog number 3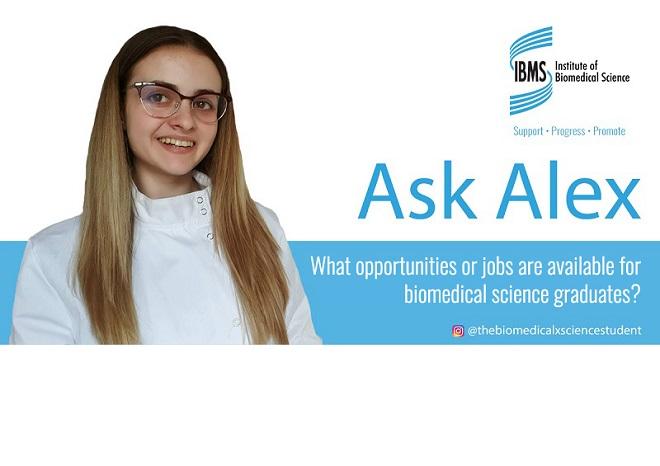 21 September 2022
In her third post Alex answers: What opportunities or jobs are available for biomedical science graduates?
There is a huge range of opportunities for an ambitious biomedical science graduate. Those who do not want to focus on being a Health and Care Professions Council (HCPC) registered biomedical scientist can also look into teaching and academia, drug testing, medicine, blood donation, veterinary diagnostics, food safety, the brewing industry, cancer screening, the armed forces, pharmaceutical research, journalism, sales and marketing, government advisory roles, and many more.

If you want to progress towards a career as a HCPC registered biomedical scientist, here are some positions you can research before graduation:


· Entry level
Medical Laboratory Assistant (MLA) and Assistant Practitioner (AP) positions do not usually require degrees in their essential criteria. However, modern healthcare laboratories have limited training resources and need their staff to hit the ground running. Until there is significant government investment in the workforce, many laboratories are finding that the best approach for them is to hire IBMS accredited graduates at MLA level and gradually train them up for biomedical scientist roles and positions.
Your new employer may be concerned about staff retention – as they will also need MLAs and APs in role long term – so you should be clear about your training hopes for the future (because your new manager may not want or be able to train you). On the positive side, the range of work MLAs and APs are undertaking is expanding and the roles are becoming more and more interesting. It's a great foundation for a career in biomedical science.
· Trainee Biomedical Scientist
This is the position that enables you to enter the laboratory with the full support of your laboratory manager and training officers to complete your IBMS Registration Training Portfolio and be awarded the IBMS Certificate of Competence. From there you can register with the HCPC as a biomedical scientist and legally begin practicing with the "biomedical scientist" title. Trainee positions are rare and highly competitive – so you have to prove that you are an exceptional candidate who deserves the training time and resources of the laboratory. This means an exemplary application and solid research into the laboratory's services before the interview.
Advertisements for trainee biomedical scientist roles can be found on the NHS jobs website or on regular job advertising platforms such as Indeed, TotalJobs or Reed.
· Biomedical Scientist
If you completed an IBMS accredited degree that had a placement year and you managed to complete your Registration Training Portfolio then you will receive your IBMS Certificate of Competence when you graduate and be put on the HCPC register as a biomedical scientist. Once on the register, you can apply directly for biomedical scientist roles in any specialism (though not specialist biomedical scientist roles – which usually require an IBMS Specialist Diploma).
The biomedical scientist role is where you will build the foundation of your career in biomedical science – so choose your specialism based on your interests. From here, there is no real limit to where your pathway through healthcare science could lead. Biomedical Scientists are increasingly undertaking advanced roles, including those that are shared with medically qualified pathologists.


*You can catch up with Alex on Instagram via @thebiomedicalxsciencestudent and DM her so she can answer your questions in future blog posts.
Back to news listing