Ask Alex: What experience "guarantees" a trainee position?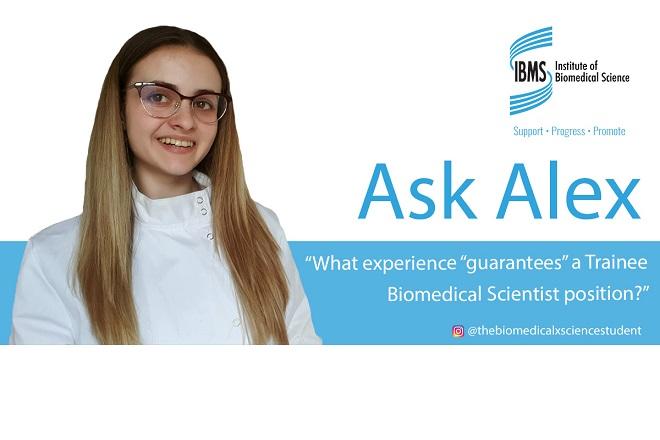 5 August 2022
"The Biomedical Science Student" Alex takes on your questions about studying, training and entering the profession
While there are no types of experience that 100% guarantee a trainee position in an IBMS accredited training laboratory, there are lots of experiences that can increase your skillset and your chances. The key is about making the work experience you do have transferable and valuable to a potential employer.

Here are examples of the work experience that I did in the build up to securing a trainee position and how each one helped me to match the person specification for an advertised Trainee Biomedical Scientist role.

Volunteering for Nightline/Samaritans

This is a position I went into because I was passionate about helping others. Previously, I had volunteered on an ambulance so this was an area of work I felt close to.

During my voluntary service, I developed some key skills: understanding the need for confidentiality, shift work resilience (working 12h shifts), active listening, and attention to detail. If you haven't considered this sort of work experience before then perhaps give it a try as it leads to essential laboratory skills.

Undertaking a summer research internship
After the first year of my IBMS accredited Biomedical Science degree, I secured a virology research internship. I got rejected by lots of other internship opportunities first but I was persistent and ended up emailing one of my lecturers, introducing myself and expressing my interest for undertaking some work experience. He invited me for a short interview and then offered me a 6-week position in the laboratory.

I think now looking back a few things helped me secure that position: (1) I expressed my interest early enough so that arrangements could be made in time (around 3 months before the internship started). (2) I spent time reading up on his research so I had a clear understanding of the work he did at interview. (3) I wrote a short and to the point email introducing myself, my interests, career path and aims. (4) I allowed full flexibility around his schedule so that I would not interrupt his main tasks by joining the laboratory.

The internship not only helped me increase my confidence in the laboratory but also developed my practical skills, communication and my ability to work independently. I had to be adaptable to the needs of the researcher and this was very useful when working in an NHS pathology laboratory.


Attending science exhibitions (and also volunteering if possible)

Not everything has to be hard work. You can develop skills while doing things that interest you. Nothing shows your dedication to developments in science more than getting directly involved with the annual Summer Science Exhibition organised by the Royal Society in London (or any similar exhibition).

I came across an opportunity to be part of the organising team by accident and this helped me develop my team work and organisational skills. Even just attending the exhibition itself gave me a deeper understanding of the history of science, and broadened the context for the efforts that contributed to everything we know and practice today.


Conclusion

There is not necessarily a need to seek out very specific work experience. We can only work with the opportunities that we get. However, when we do get the chance to work or volunteer, we should go into the experience openly and be willing to learn all that we can.

When we do this, and also keep our bigger goals and ambitions in mind, we can develop in useful ways and map our new skills onto the Personal Specifications of our most desired job roles. You just have to take the time to notice what you have learned, and then be able to communicate it well on an application and in an interview.
Back to news listing