Biomedical Science Day 2018 round-up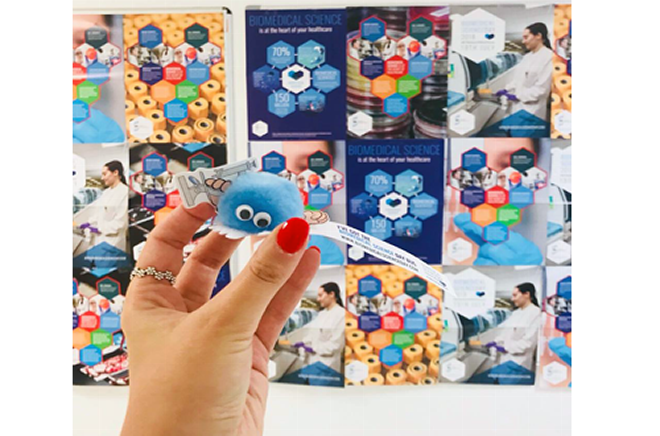 20 July 2018
Your Biomedical Science Day social media posts helped us reach an audience of over 1 million people!
19 July marked Biomedical Science Day. Now in its second year, this day of celebration saw over 200 hospital laboratories take part across the UK, promoting biomedical science to the public and informing the world of the vital role they play in healthcare.
The theme for this year was 'at the heart of healthcare' and biomedical science staff ' were encouraged to celebrate their profession.
Our event packs and online resources ensured that along with the public, hospital staff, including senior management, were invited to attend events that opened the doors to the laboratory. Whilst local press were informed and used our press release templates to write their news stories.
We encouraged our social media followers and other healthcare organisations to sign up to our Thunderclap message campaign and to use the hashtags #AtTheHeartOfHealthcare and #BiomedicalScienceDay2018. This ensured our messages were viewed far and wide with both hashtags trending on Twitter throughout the day and were seen by over 1 million people!
Some of the wonderful responses we received included:
NHS England tweeted:
Celebrating #BioMedicalScienceDay2018 and the #NHS #NHS70 https://t.co/hhvcdTDOEU

— NHS England (@NHSEngland) July 19, 2018
The Wellcome Trust tweeted:
Tomorrow is #BiomedicalScienceDay2018

Biomedical scientists are responsible for 70% of all diagnoses across the NHS, playing a vital role #AtTheHeartOfHealthcare, and yet many people are unaware of their work.

Here's how you can take part tomorrow ?? https://t.co/ipxxmHMySn pic.twitter.com/x6V4qP2bO3

— Wellcome Trust (@wellcometrust) July 18, 2018
The Guardian Healthcare Twitter account added:
Happy #BiomedicalScienceDay2018 to all the biomedical scientists out there! #AtTheHeartOfHealthcare

— Guardian Healthcare (@GdnHealthcare) July 19, 2018
Jo Martin, President of the Royal College of Pathologists tweeted:
#BiomedicalScienceDay2018 A day to celebrate and appreciate all our fabulous biomedical scientists! All of @RCPath sends our congratulations and our best wishes!@IBMScience @BSH @CSOSue

— Jo Martin (@JoMartin_path) July 19, 2018
Southwestern Pathology tweeted:
Final post for #BiomedicalScienceDay2018! pic.twitter.com/rw6yOMJudt

— SWLPathology (@SWLPathology) July 19, 2018
IBMS member Jo Horne also curated the University Hospital Southampton NHS Foundation Trust twitter account on the day. You can find her tweets in a twitter moment.
Another Twitter moment features tweets by IBMS member Caoimhe Quigley, who shared what her hospital trust did in a twitter thread.
What our members did
IBMS members across the world celebrated the day, many of which can be seen in our online Facebook gallery.
IBMS member Glen McDowell commented,
"Biomedical Science Day 2018 involved all Belfast Trust Labs and Northern Ireland Blood Transfusion Service in the Royal Victoria, Belfast City & Mater Infirmorum Hospitals. We hosted exhibits on both the Royal Victoria & Belfast City Hospital sites. There was plenty to see at our 'live labs' from being able to look down the microscopes to see chromosomes. We were also to allow people to screen for malignancy with our histo and cytology demonstrator slides, chromosome cut-outs for people to pair, awareness of blood collection and blood products, some simple biochemical analysis including urinalysis.
To fruity organs and DNA extraction from a banana amongst a few things at our sites. The exhibits also featured careers advice, leaflets and experiences from real life biomedical scientists from across an array of specialties, supporting both our local universities Queen's University Belfast and Ulster University. Belfast Trust was also privileged to welcome the IBMS president to our Belfast City Hospital site to see the stands and activities on #BiomedicalScienceDay2018. We had such an amazing experience and so much attention for the patients, staff and visitors, we really were blown away."
Lew Brown from the microbiology department at Hull Royal Infirmary said,
"We had a booth set up in our upstairs canteen giving out stickers badges and informing people of the hard work biomedical staff do. We also did our group photos and added the amount of patient samples we did last year to highlight just how important our department is to the hospital. Our total last year was 361,842."
Roshni Patel from Barking, Havering and Redbridge University Hospitals NHS Trust said,
"We had the most amazing day celebrating our profession and raising awareness for it. It was so heart-warming to hear so many stories from patients about the experience at our hospitals and how we played such a big part in helping to save their lives. It definitely put huge smiles on their faces as they got to meet the people behind closed doors that they never see and ours to finally be able to meet the people whom we are helping.

My most touching experience of the day was with a young boy aged just seven. His mum had seen our stand and said she would return with her son as it is something he would be interested in (at this stage I thought like many other visitors that day her son would either be going into college or university) to my surprise he was only seven, and the sweetest little boy.
Upon approaching the stand he told me that he wanted to be a scientist just like his daddy and could I please tell him more about what we do. We spent the best part of the next 15 minutes talking all about what we do in Pathology and he took away lots of information and goodies. Much to his and our excitement we have also organised for him to come back and visit the laboratory. We cannot wait to show him around and hopefully his spark and enthusiasm for our profession remains brightly lit."
Carol D'Souza from Westminster University said,
"We held a generic session with refreshments, to introduce the role of Biomedical Scientists and the training route, with an introduction to pathology and the different disciplines involved. We then followed up with laboratory sessions, including full blood counting with Horiba ABX Pentra and Sysmex XN, microscopy, normal blood cells, for all to view with explanations and hands-on help, then a display of sickle cell disease and testing, carried over from National School Science conference.
We also had a demonstration on IL chemistry analyser for various chemical analysis and the principles of test procedure and linked this with some current research being undertaken pre and post exercise, working with the sports & nutrition team. For all sessions there was opportunity to ask questions and good discussion were had throughout the day."
Naideen Forrest from NHS Fife shared,
"We had nursery groups along who loved being honorary scientists for the day with proper lab coats, lanyards and harry potter glasses. We made 110 honourary scientist ID badges for these visitors and they got to inoculate plates with poop (chocolate mousse) pee (apple juice) and pus (yoghurt).
We had microscopes set up with sealed slides to view and they had free oranges, apples, fruit juices, bags of sweeties and loads of freebies. We also invited along the infection control team with a brilliant stand and activities, they brought UVA hand machine and portable handwash stand. All in all, we think it was a truly successful day. My boss was so impressed that she has already said we must start planning for 2019!"
Biomedical scientist Sasha tweeted:
Took a break from portfolio work in the Microbiology labs to promote the @IBMScience #BiomedicalScienceDay2018 at Glan Clywd Hospital????‍?? #AtTheHeartofHealthcare #CardiffMet #HealthcareScience #InfectionScience #Placement @BCUHB pic.twitter.com/zksB3yD8CV

— Sacha (@_Sacha_B_) July 19, 2018
Emma Whitehouse added:
Andrology Open Day at @uhbtrust for @IBMScience #AtTheHeartOfHealthcare #BiomedicalScienceDay2018 pic.twitter.com/mzEGQG2mQO

— Emma Whitehouse (@ewhitehouse84) July 19, 2018
Our competitions are still running until 12pm Monday 23rd July, so keep those submissions coming in! We will announce the winners next week.
On behalf of the IBMS, we are thrilled that our members had such a fantastic time promoting biomedical science and are so passionate about what they do. We'll see you all again on the same day next year for #BiomedicalScienceDay2019!
Back to news listing