Biomedical Science Day 2020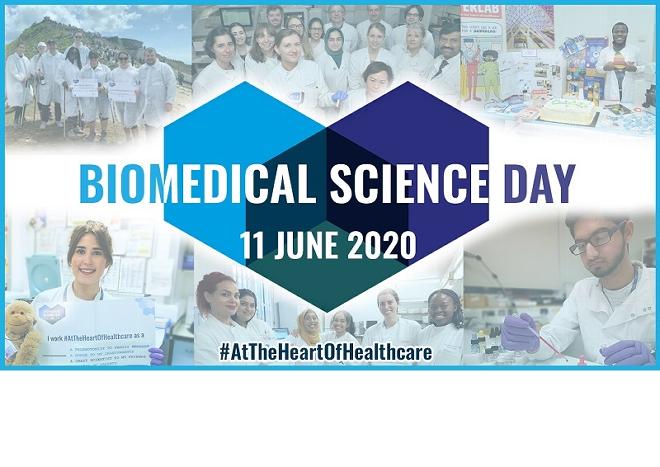 5 June 2020
Biomedical Science Day is more relevant than ever - but we will have to change how we celebrate our profession this year
We are pleased to announce that Biomedical Science Day 2020 will be taking place on Thursday 11th June as planned. However, we will have to make some changes to how we all promote the great work of the profession. Stands in foyers and laboratory tours are out - digital celebrations and communications are in!

The great thing about digital public engagement is that the potential reach of what you do is limitless - and what you do and how you do it can be more creative. Why give four people a laboratory tour when you can give your Trust's 4000 followers the same tour? If it's done in an interesting way you might even get a wider reach. Plus, you'll only have to do it once! You could spend all day on a public engagement stand and only get through to a handful of people but if you can make interesting content and get it signed off by your hospital or Trust's communications' teams you might be able to reach a much wider audience.

Social media can have huge benefits for teaching, CPD, communication and promoting the profession. These days, every phone is a camera and a video recorder, and there's always somebody in the lab with editing or Photoshop skills. Maybe there's that one person who has a big Instagram following, another who is very active in Facebook communities or someone who wants to be the next Tarantino? Whatever your skills - your department probably has more reach than you imagine.

It's worth remembering that we will probably still be in some stage of lockdown - so performing and uploading biomedical science activities that they can do with their children will be very welcome too. We have put some children's activity sheets together but let us know if you have seen any other good ones that our members should be aware of (communications@ibms.org).

Last year, over 150 hospital and university laboratories across the UK took part in celebrations, welcoming thousands of visitors to learn about the science at the heart of their healthcare. The hashtags #AtTheHeartOfHealthcare and #BiomedicalScienceDay2019 trended all throughout the day on social media gaining an audience of over 6 million people. So, let's put our thinking caps on and put our new Zoom skills to use!

We hope you will join us in making Biomedical Science Day a huge and positive contribution to the public's understanding of the biomedical science at the heart of healthcare.
Back to news listing