Biomedical Science Day 2020 competition winners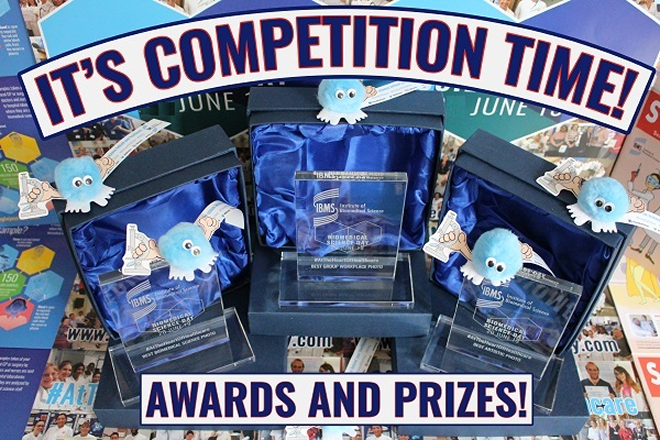 16 June 2020
Announcing the winning entries of our #AtTheHeartOfHealthcare competitions
The IBMS #AtTheHeartOfHealthcare competitions were a close run thing - with hundreds of entries from all across the UK. We hope you agree that the ten winners are wonderful entries that embody the spirit of the day.
#AtTheHeartOfHealthcare Biomedical Science Day competition winners


Best biomedical bake (best cake)

Clare Gardner's cake for the pathology team at Lancashire Teaching Hospitals - for everyone's dedication during the pandemic:

Best biomedical science video

Zonya Jeffrey's entry on behalf of Microbiology / Bacteriology at Manchester University NHS Foundation Trust and Public Health England - "Not All Superheroes Wear Capes":




Best biomedical science 'under the microscope' photo

A 'little birdie' told Marianne Langan to send in this picture of a prostate core:




Best biomedical science meme

Samantha Stredwick's at it again with her 'chest pain or pen drop?' meme (best meme two years in a row!):




Best artistic biomedical science photo

Caoimhe Quigley brightened up lots of people's day with this lovely shot:



Best (socially distanced) group photo with placard

Claire Daw's submission for the Microbiology Department in Jersey:




Best individual photo with placard

Adam Hawker who works in the bacteriology service for 10 hospitals in Greater Manchester:




Best (socially distanced) group workplace photo

Isla Abel's submission on behalf of microbiology (including virology), biochemistry, haematology and pathology at Aberdeen Royal Infirmary, NHS Grampian:




Best individual workplace photo

Kunalini Shanmuganathan with samples racked in NHS logo at St Mary's Hospital's Blood Sciences Department:




Best Biomedical Science Day drawing / painting / artwork

Jyotsna Dupaguntla from Microbiology at Northwest London Pathology submitted this amazing rangoli picture:



**WINNERS - PLEASE NOTE - as we are currently working remotely it will be a little while before we can send you your awards / prizes - but we'll be in touch!
Back to news listing