Biomedical Science Day competition winners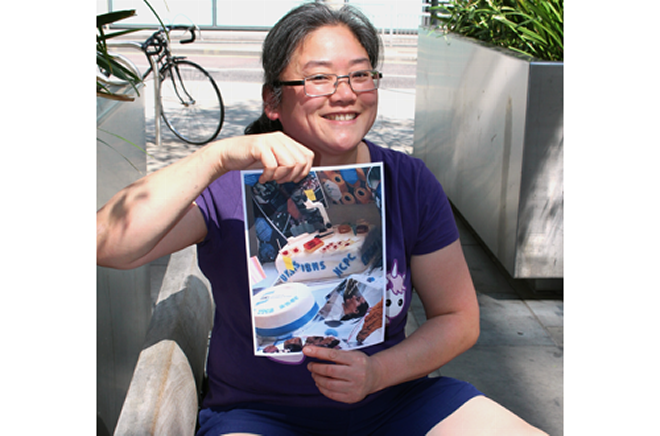 24 July 2018
This year we set 10 competitions for biomedical science professionals to show how they are at the heart of healthcare
We were inundated with hundreds of photos of workplaces, displays, biomedical science bakes and videos. The teamwork, creativity and heartfelt messages behind these entries caused heated debate amongst our judges. There were lots of brilliant and hilarious pictures but some stood out from the pack.
The winners are:
Biomedical Science Video
Kate Griffiths on behalf of Red Cell Immunohaematology at the Welsh Blood Service
Judges had a really tough call to make with a host of entries to our newest competition category. But they decided to go with the Welsh Blood Service's video showing what happens to donated blood and the process of the biomedical science staff involved in its journey.
Honourable mentions
Steve Michael Canete's "A day in the life of a biomedical scientist" was fantastic. The camera work in the first person was brilliant and was finished with some great editing.
Louise Mazzoni's "Blood Sample's Day Out" had the judges giggling throughout. With its brilliant use of humour and ingenuity, Louise has created a heart-warming rom-com for laboratory staff to enjoy!
Biomedical Bake-Off
Debbie Savage, Royal Glamorgan Hospital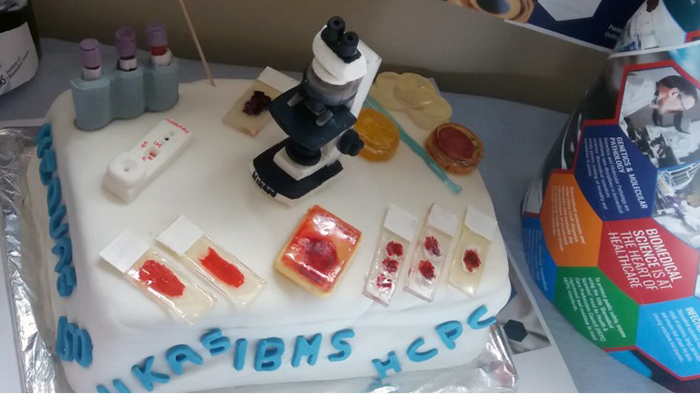 Our entries this year were judged by celebrity baker and biomedical scientist Yan, who starred in The Great British Bake Off last year. Yan said "I was impressed by Debbie's creation of a microscope made entirely of fondant icing, and her skilled sugar work in making the microscopic slides was amazing!"
Honourable mention
Tracey Jolliffe, Rabies Virus Cake
Yan was particularly impressed by this entry, as initially she had no idea what it was but was struck the complexity of the design and the skill needed to make this lemon sponge and raspberry jam cake.
She said, "That's no cake mould, some serious work went into this cake. It's amazing! It looks tasty and I've learned something."
Group Photo With Placards
Microbiology, Addenbrookes Hospital
The judges felt this picture was exceptional for two reasons. First, the team smiling for the camera with the quirky sideways glance of one of the staff members made it fun. On top of that, they used the placard and shared the fact their lab processes 1.2 million samples a year, which is incredible.
Group Workplace Photo
Blood Sciences, Western General Hospital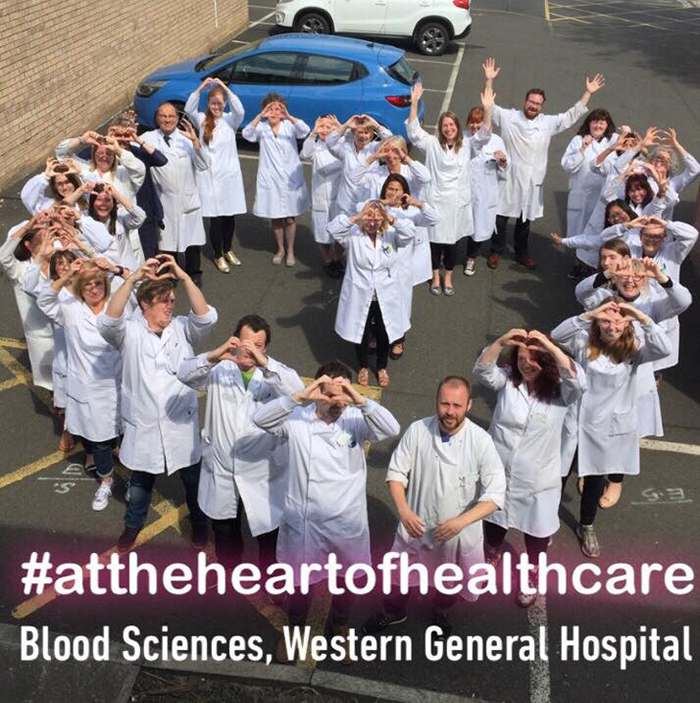 This is a fantastic photo, showing how a team can work together, even to form a heart! From the standing in formation to the smiling faces, the judges adored this pic.
Honourable mentions
Ceri Rooks' "IBMS" shot of the Welsh Blood Service
The judges were jumping up and down at this submission. This was a brilliant photo of the team members spelling out the IBMS and working together. We felt a little biased towards this one but couldn't help it. Teamwork at its best!
Louise Mazzoni's Blood Science does the Beatles at NHS Fife!
Who doesn't like the Beatles? The judges loved this classic take by Louise.
Biomedical Science Day Event Group
South West Acute Hospital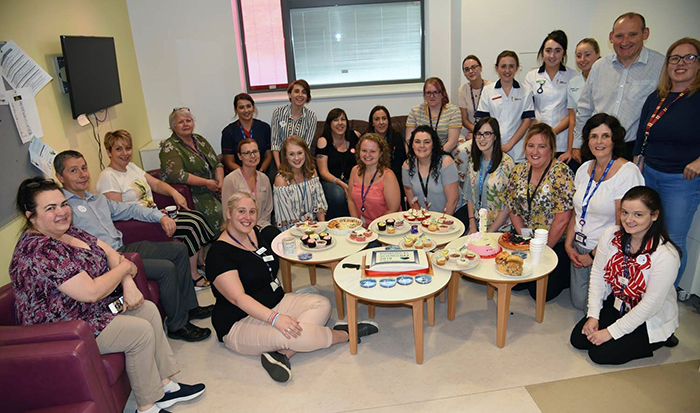 The judges were very impressed with this photo of the team. From the smiling faces and wearing the stickers to the tables of biomedical science bakes including Petri dishes, this was a great picture.
Best Display
Belfast City Hospital, Belfast Trust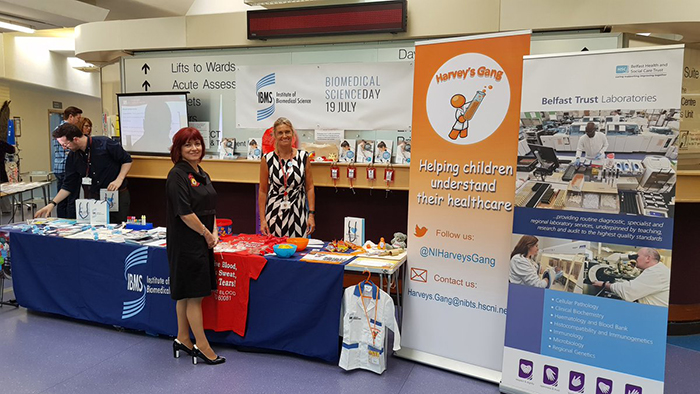 This stand had it all. It promoted Biomedical Science Day, Harvey's Gang charity and even our president Alison Geddis stopped by for the snap! The judges liked everything this display achieved.
Honourable mention
Leanne Milnes' "pin the part on Bart", Kings Mill Hospital
This was a brilliant activity and a really fun way to get children involved in learning about biomedical science.
Artistic Photo
The haematology team at Hull and East Yorkshire Hospitals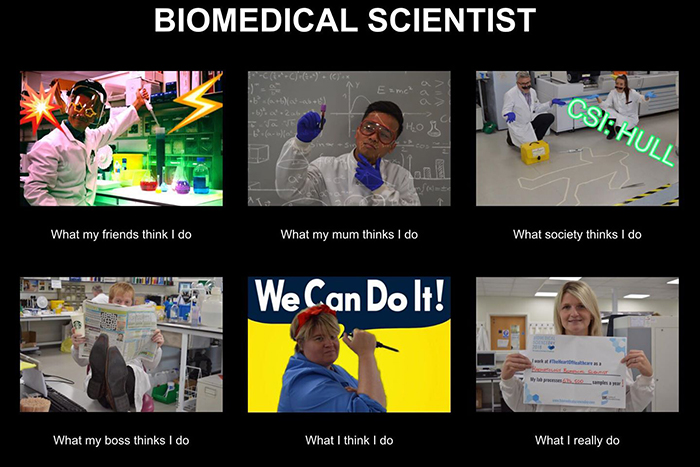 This picture won for so many reasons. It was funny, informative, a great meme, it shows the different team members in different activities and referred to great elements of pop culture (CSI and Rosie the Riveter). The judges loved this meme.
Honourable mention
Alan Montague
For the second year in a row, we were impressed by Alan's entry. As last year's artistic photo winner, we cannot wait to see what he produces next.
Biomedical Science Day Event Individual
Hayley Pincott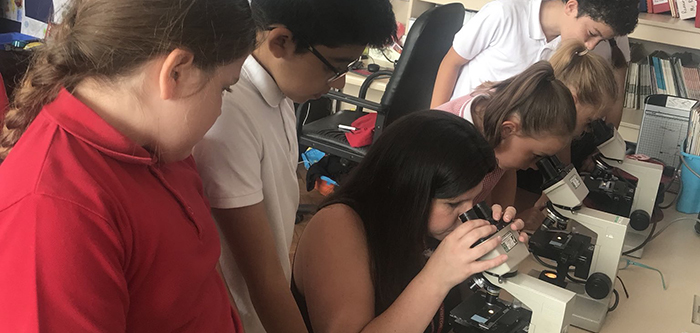 This is a great photo that shows how Hayley visited a local school and encouraged students to learn more about biomedical science. The judges found this photo inspiring, and hope that the children in this photo equally enjoyed looking into the microscope!
Individual Workplace Photo
Mei from University Hospital Southampton NHS Foundation Trust
The judges found this picture of Mei to be a great glimpse into the workday of a biomedical scientist. It's clear from the photo that the scientist is working and wearing appropriate safety clothing.
Individual Photo with Placard
Margaret Drury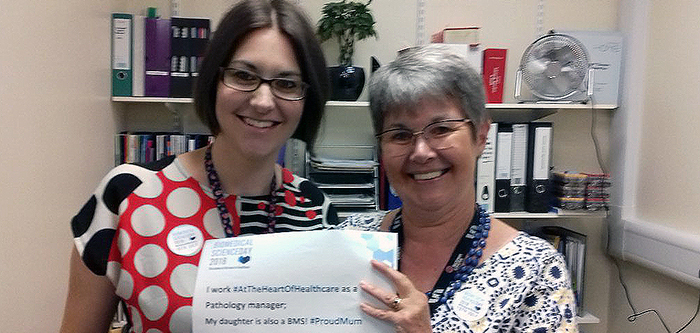 Sometimes we're treated to stories of family members encouraging each other to enter the profession, and this photo is no exception. Margaret's picture of herself and her daughter sharing a placard shows their professional roles and demonstrates that a passion for biomedical science is special, especially when shared between mother and daughter.
Special mentions
There were so many entries, there were too many to count. We'd like to give special mentions to Chris Chase for his fantastic picture of Beaker, Abby Nicholls for her adorable pics of her child reading The Biomedical Scientist magazine, as well as to all of our members and followers from all over the world, for sending us photos, videos and gifs, showing how they celebrated and promoted their roles in biomedical science.
We were thrilled to receive so many entries for these competitions and thank all the entrants for making Biomedical Science Day 2018 a huge success. We couldn't have done it without you.
To view all photo competition entries please visit our Biomedical Science Day Facebook gallery.
We look forward to Biomedical Science Day 2019! In the meantime, we're encouraging our members to take part in further opportunities throughout the year to promote biomedical science. Visit our public engagement page for further information and to get involved.
Back to news listing