Biomedical Science Day Competitions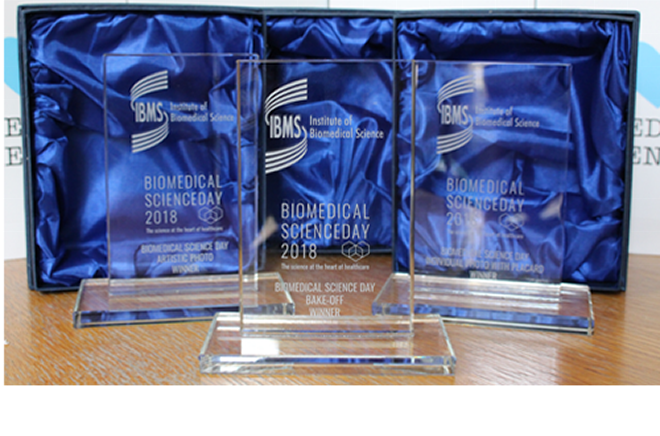 9 July 2018
IBMS members across the country are picking up their cameras to promote the profession and win awards
On 19th July, as part of our bid to raise awareness of the vital role of Biomedical Science in healthcare, the IBMS is running a series of competitions on Biomedical Science Day. We're encouraging biomedical science staff across the country to celebrate and showcase their workplaces and colleagues to the public. We'll be accepting individual selfies, group photos and artistic shots. For the bravest amongst the workforce, there is even a video competition – we're expecting sing-alongs and comedy shorts to be the flavour of the day.
Do you have what it takes to be crowned Biomedical Baker of the Year? Are you the arty one in the lab? Are you meticulous enough to make the best display in the country? Or do you all team together to make things happen? In all, there are ten awards to focus on:
Bake-Off (photos of your cakes judged by a celebrity baker!)
Best group photo with placards
Best group workplace photo
Best individual photo with placard
Best individual workplace photo
Best artistic photo
Best display
Best Biomedical Science Video
Best Event (individual)
Best Event (Group)
To enter, you will need to submit your photos to us via our Facebook page (@biomedicalscience) or tweet your picture to us (@IBMScience) using #AtTheHeartOfHealthcare or via email at website@ibms.org and we'll add it to our online gallery. For the video challenge, upload your video to YouTube and send the link to website@ibms.org.
The top photos (and video) from each category will receive a prize and award!
The deadline for submissions is Monday 23rd July at 12pm. All winners will be notified by Tuesday 24th July.
Please note:
Always make sure there are no confidential details visible whilst maintaining workplace health and safety regulations and ensure you have permission to take photos, from both your senior management and anyone appearing in them.
The IBMS may use any images you submit to us for marketing purposes including on our social media channels or website. It is your responsibility to obtain the agreement of all people present in your photos, by sending us your photo you are consenting to us using them for the reasons outlined above.
Back to news listing