Biomedical science staff raise funds for Harvey's Gang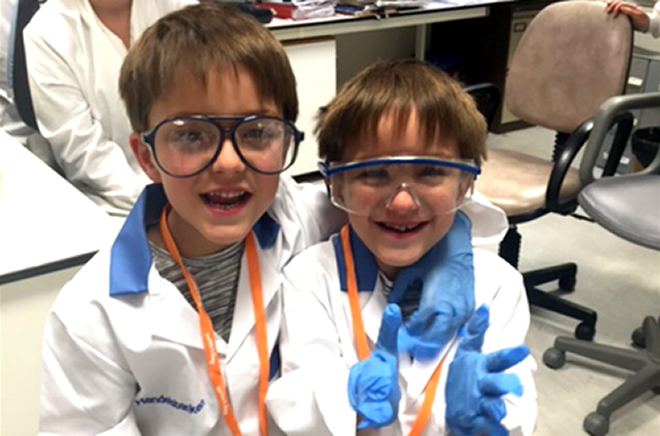 1 August 2018
Hospital laboratories across the UK raise money for young patients' charity
For Biomedical Science Day 2018, laboratory staff around the UK raised awareness of their vital role in healthcare. In the midst of these celebrations, many also took the time to educate the public and raise funds for Harvey's Gang.
Chief Biomedical Scientist Malcolm Robinson created the children's charity in the memory of Harvey 'Buster' Baldwin, who wanted to know what happened to his blood samples. Today this multi-award-winning charity provides laboratory tours for young patients in over 40 hospitals in the UK, with more being planned for this year.
In their own words
Staff who took part in Biomedical Science Day events for Harvey's Gang explain how they fundraised and promoted the charity.
Royal Infirmary of Edinburgh (RIE)
The RIE held a bake-off competition to raise money for Harvey's Gang.
IBMS member Valerie Bocker tweeted,
Our Sick Children's hospital in Edinburgh starts their #HarveysGang tours in August. They can't wait ?? Our #BiomedicalScienceBakeOff also raised over £70 for #HarveysGang this week. Word is spreading ??

— Valerie (@VBocker) July 21, 2018
IBMS member Ashley Graham said:
"We chose to fundraise for Harvey's Gang after learning more about the fantastic scheme, our colleagues at the Royal Hospital for Sick Children (RHSC) are now participating with the tours. We also hope to take part once the RHSC moves to the Royal Infirmary Site and continue their excellent work."
Northern Ireland Blood Transfusion Service and Belfast Trust
The Northern Ireland Blood Transfusion Service in partnership with local hospitals in the Belfast Trust have just launched Harvey's Gang in NI. Staff used Malcolm's recent successes as 'Biomedical Scientist of the Year' as well as winner of BBC The One Show's 'Children and Young Persons NHS 70 Patient's Award' to raise awareness of Harvey's Gang with as wide an audience as possible.

IBMS member Giselle McKeown said,
"I was proud to be asked to give a lunchtime seminar on Harvey's Gang as part of our programme based on 'A patient I'll never forget,' which was well attended by a large number of staff and visitors. Following from this talk I have received a number of further enquiries about Harvey's Gang tours.
A colleague and I have toured schools and colleges throughout Northern Ireland introducing Harvey's Gang to our youngest audience (5-15yrs) through a number of interactive assemblies. The children can view a Harvey's Gang tour, try on some lab coats and get to handle some 'furry' blood cells. The feedback from this has been overwhelming both from schools and from parents. From this success, we have more school visits booked for September!
On a personal note, this is one of the most rewarding projects I have had the pleasure to be involved in during my career."
IBMS member Shauna McAuley tweeted:
Thanks to @GiselleMcKeown and @NIHarveysGang for talking about #HarveysGang under the 'a patient I will never forget' lectures held as part of our #BiomedicalScienceDay2018 celebrations at #BelfastTrustLabs @IBMScience. Absolutely putting the patient #AtTheHeartOfHealthcare ? pic.twitter.com/VUeOL4p1MV

— Shauna McAuley (@shaunaMcAuley6) July 21, 2018
POCT team at Addenbrooke's Hospital in Cambridge
Organised by IBMS member Veronica Carridice, the biomedical scientists at Addenbrooke's Hospital worked to raise awareness of the different disciplines within biomedical science.
IBMS member Michelle Lineham said,
"The Point of Care Testing Team held a cake sale, selling cakes the team had made and also donated cakes from other members of pathology.
The event was very popular and attracted a lot of interest and attention from the public and other healthcare workers, who asked about the profession, point of care testing and also the Harvey's Gang charity. With this and a raffle held by Pathology, we were able to raise £300 for Harvey's Gang which our team were extremely pleased with."
University Hospital Southampton NHS Foundation Trust
The University Hospital Southampton NHS Foundation Trust also took part, raising money for Harvey's Gang.
On Biomedical Science Day Lead Healthcare Scientist Jo Horne curated her local Trust's twitter account.
This is Michael, who is a member of Harvey's Gang. He christened our cake sale and was thrilled with our stand! He's here with Bijal, who works in Chemistry, and Karen, who works in Immunology. Biomedical Science really is #AtTheHeartOfHealthcare #BiomedicalScienceDay2018 ?? pic.twitter.com/B6YODmLlQe

— UHS NHS FT (@UHSFT) July 19, 2018
Dr Karen Smith, Senior Clinical Scientist said,
"We held a bake sale fundraiser for Harvey's Gang at the front entrance of our hospital. We had donated cakes from lots of staff within and outside of the biomedical science team – lots of which had a fun science theme!
By coincidence, one of our first visitors to the stand was a Harvey's Gang member, Michael, who was the first member of Harvey's Gang to visit the labs here at Southampton. He was really excited to see the pictures we had of his visit to our stand. We also had lots of Biomedical Science information and a "pipette race" for anyone interested in giving pipetting a try!"
Bring Harvey's Gang to your lab
Want to bring Harvey's Gang to your hospital? Complete our online Harvey's Gang form for more information.
Back to news listing