Celebrating Biomedical Scientist of the Year 2021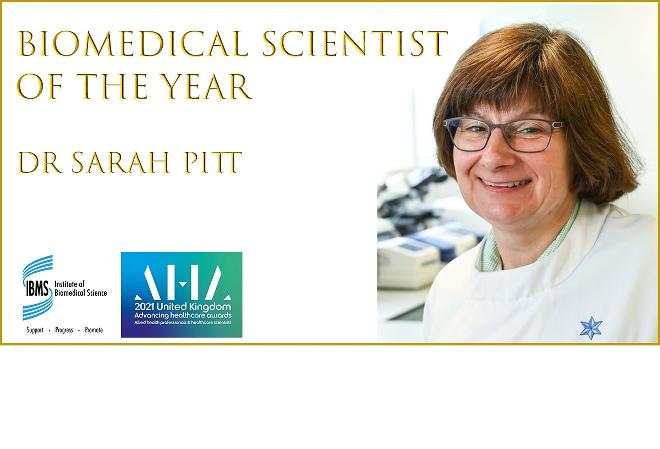 24 May 2021
Congratulations to Dr Sarah Pitt who is the Advancing Healthcare Awards' Biomedical Scientist of the Year 2021

During the pandemic, Sarah has gone above and beyond to represent the knowledge and expertise of the profession for the benefit of the public. She has been the IBMS' leading expert in virology - sharing fact-checked, professional and scientific information about COVID-19 on behalf of IBMS members and the biomedical science profession. She is now a trusted expert and favoured interviewee by many organisations such as the BBC. This is due to her professional expertise, measured responses and reassuring pragmatism.

In her professional life, Sarah is an agent for continuous positive change in scientific healthcare education, improving teaching and assessment practices. She was instrumental in the development and launch of her University's Healthcare Science Practitioner Degree Apprenticeship, in response to local NHS training needs.

In her research, Sarah is looking into the antimicrobial properties of snails and molluscs. Her study has found that the ordinary brown garden snail Cornu aspersum (Helix aspersa) contains an antimicrobial protein called aspernin in its mucus and outlines how it could be used to develop novel, clinically useful antibacterial treatments. It is envisaged as being used in combination therapies with existing antibiotics, in the form of a cream for deep wound infections and an aerosol to treat respiratory infections – providing improved treatments and practices for medical practitioners.

She is one of many outstanding biomedical scientists who has taken on the huge responsibility of keeping the public updated with the facts about COVID-19 during what was already an incredibly busy time. She is a great example to all in her field and somebody who truly deserves this accolade.

Dr Sarah Pitt commented on her win:
I would like to thank the people who nominated me for this award and supported the application. I was surprised to be shortlisted and feel stunned, but delighted to have won. All IBMS members and everyone at the IBMS have changed their working practices in response to the COVID-19 pandemic. We have all been called on to react quickly to the rapidly changing situation with SARS-CoV-2 and we have all found skills and talents that we did not know we had. In my case, I have been happy to try to explain virology, epidemiology, diagnostic testing and how vaccines work to general audiences. I hope I have represented the profession well and helped to raise the profile of diagnostic laboratory work. I would like to thank all the colleagues who have helped and encouraged me, particularly those I work with on IBMS matters, as well as the staff and students at the university. I hope to use the news about this award to convince even more people that biomedical science is a valuable profession!

IBMS President Professor Allan Wilson, who introduced the nominees at the Advancing Healthcare Awards, commented:
I would like to congratulate Sarah on her richly deserved award on Friday. Through her media work, Sarah has been tireless in her support of the role of biomedical scientists during the pandemic and there is absolutely no doubt that she has contributed hugely to raising the profile of the vital work carried out in laboratories across the UK. Congratulations Sarah!

The IBMS would also like to congratulate the highly commended Dr Gary Reynolds for his contribution to the profession and also Donna Morris, Trainee Biomedical Scientist at Princess Alexandra Hospital NHS Trust, who won the NHS Employers Award for outstanding contribution by an AHP, healthcare science apprentice, support worker or technician.

More on Dr Sarah Pitt's research:
https://www.ibms.org/resources/news/snailed-it/

Youtube playlist of some of Sarah's interviews over the course of the pandemic:

https://www.youtube.com/watch?v=umJyiruDvpU&list=PLsCkaDgH8buhIZSXtWbgdb5szeRND8xTY

In our podcast, Dr Sarah Pitt chats to Rob & Jordan about what's it's been like to be an expert in the media spotlight throughout the pandemic and explains the science behind COVID-19 vaccines:

https://www.ibms.org/cpd/cpd/ibmspod-episode-2/
Back to news listing