IBMS member wins Biomedical Scientist of the Year award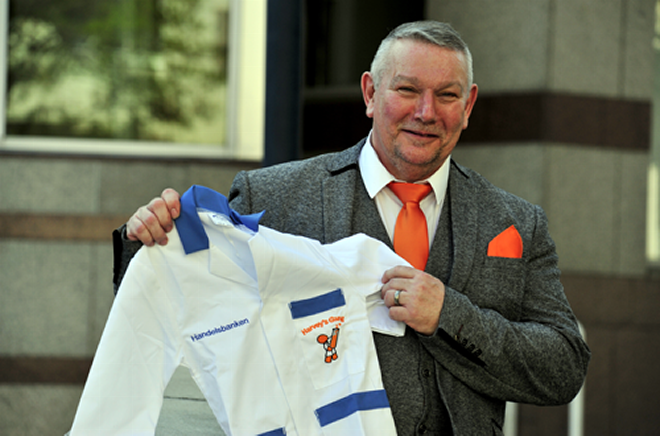 1 May 2018
Meet Malcolm, the founder of Harvey's Gang
This year IBMS members were among the shortlisted nominees and winners at the 12th annual Advancing Healthcare Awards. Held on 20th April in London, the awards recognised healthcare professionals from around the UK and awarded their innovations and contributions to improving patient care.
Amongst the winners was IBMS member Malcolm Robinson, Chief Biomedical Scientist at Worthing Hospital and founder of Harvey's Gang, the children's charity which takes young patients on laboratory tours to show what happens to their blood samples.
Malcolm was inspired by Harvey Buster Baldwin, a six-year-old patient suffering from leukaemia. During his treatment, Harvey expressed an interest in what happened to his blood sample. Malcolm took Harvey on a tour of the lab and was moved by the boy's curiosity. In honour of Harvey's memory, Malcolm set up Harvey's Gang charity, which now conducts laboratory tours for children at hospitals across the UK.
Malcolm was awarded the Health Services Laboratories Award for Biomedical Scientist of the Year. Additionally, he was also presented with the Overall Winner Award and given a standing ovation from his peers.

On winning the awards, Malcolm said
"I am truly amazed and honoured to be Biomedical Scientist of the Year; this means so much to me and will help a huge amount for the continued growth of Harvey's Gang.

Then to be named overall winner reduced me to tears. I was overwhelmed. There are such amazing things happening in healthcare, especially by Allied Professionals and to be recognised as their overall winner is truly magnificent. I am humbled and honoured and this will expand Harvey's Gang from the current 38 live sites to 70 in this year of NHS70 and then to all children's healthcare."
IBMS President Alison Geddis commented
"I am delighted for Malcolm to be recognised for his hard work. His dedication and commitment to biomedical science and his charity work are outstanding."
The IBMS is very proud of Malcolm and wish to congratulate him on this outstanding achievement.
Back to news listing