Biomedical scientists celebrate NHS70 at No. 10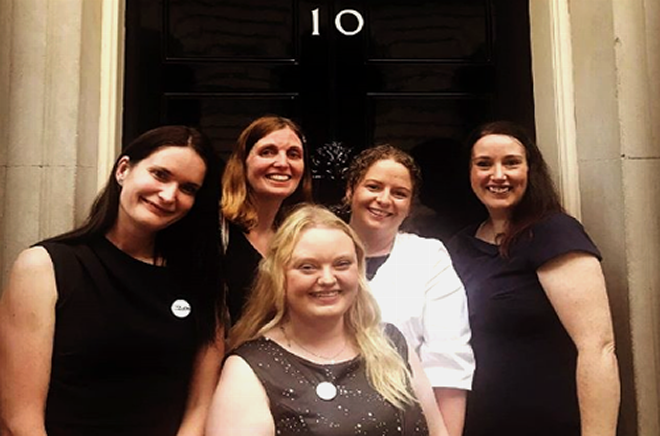 6 July 2018
IBMS member Jo Horne was invited to visit 10 Downing Street as a CSO WISE Fellow
It's not every day a biomedical scientist is invited by the Prime Minister to have drinks at No. 10, but that's just what happened to IBMS member Jo Horne. In her own words, Jo said,
"On Friday evening I received an e-mail invitation from the Prime Minister inviting me to a drinks reception at 10 Downing Street to celebrate the 70th anniversary of the NHS.
It was unexpected and I contacted the other CSO WISE Fellows who told me they had also received an invitation. We attended a CSO WISE 'Onwards and Upwards' meeting in London yesterday and were told that we had been nominated to attend.
Myself, Michelle Foster, Zoe Clarke and Lisa Ayers walked to Downing Street and joined lots of other excited people from all parts of the NHS and from all over the UK."
Michelle tweeted,
Celebrating 70 years of NHS @hornej13 @ZoeClarke77 @LisaAyers12345 @catherinemross @thewisecampaign #csowise @BAAudiology pic.twitter.com/rGoZn5wr9w

— Michelle (@michellerfoster) July 4, 2018
Once their IDs and invitations were checked, Jo added, "we then went through airport-style security before being allowed to proceed down Downing Street to No.10. The door was open and the policeman welcomed us in. We were then led into the garden, past Michael Gove (there for a meeting!) and given an NHS70 badge. Within minutes it started to rain and we were directed indoors and upstairs.
We were lucky enough to be shown the room and chairs where the Prime Minister greets foreign Heads of State. Next time I see it on the TV I will remember that moment! We spent the rest of the evening together, chatting amongst ourselves and with lots of other NHS colleagues."
Meeting the Health Secretary
Jo added, "After a while, we noticed that Jeremy Hunt had come into the room, and after a few minutes he joined our group and introduced himself. We told him about the CSO WISE Fellowship and the work of biomedical scientists and discussed the importance of scientists within the NHS, and how science underpins everything the NHS does.
We also told him of the importance of biomedical science and how healthcare scientists contribute to 80% of clinical decisions, whilst making up 5% of the workforce. We were told that each of us was representing approximately 8000 of the 1.7 million staff in the NHS."
The power of a 2-minute conversation
Jo said, "After a few minutes Theresa May arrived and was stood about a foot away from me, smiling and making eye contact with us all. Jeremy gave a short speech - in his first sentence he described the importance of the workforce to the NHS and included scientists in the list of people mentioned. The power of a 2-minute conversation 10 minutes earlier!
Theresa then gave a speech to celebrate the NHS and its achievements over the last 70 years. Afterwards, colleagues with more than 40 years' service were awarded badges, we then collected our belongings and left the building where we were allowed to spend as long as we wanted taking photographs of ourselves and the famous black door. After a while, we went our separate ways and I wandered back to Waterloo reflecting on what had just happened.
IBMS member Chloe Lockwood was also invited to this event. She tweeted:
Happy Birthday NHS! Very proud to represent Healthcare Scientists and Biomedical Scientists at Downing Street last night #NHS70 @hornej13 @michellerfoster @ZoeClarke77 @LisaAyers12345 pic.twitter.com/YeZcP41Ksv

— Chloe Lockwood (@chloelockwood1) July 5, 2018
Jo concluded, "What an experience. Something I never thought I would experience in my lifetime."
Back to news listing