Biomedical scientists share NHS70 celebrations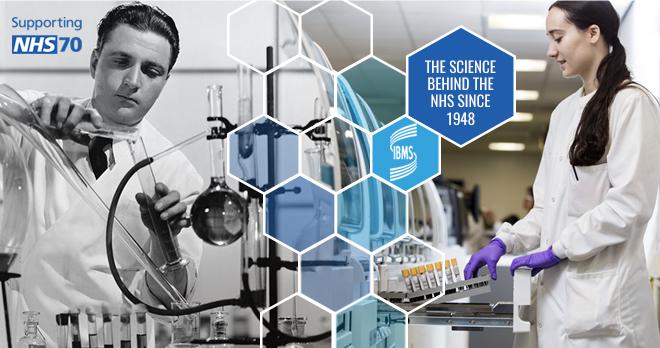 6 July 2018
Our members posted on social media how they celebrated NHS70
This year marks the 70th anniversary of the founding of the NHS. Established in 1948, this public healthcare system has been one of the hallmarks of British culture, providing free healthcare for all.
Across the UK, IBMS members took to Twitter to share their celebrations of NHS70, using the hashtag #NHS70. Here are some of our favourites.
Some members showed their support:
Almost 30 years since I started life in the NHS as a trainee Biomedical Scientist. After a few career changes, so happy to be back as part of this great organisation with its wonderful people. Happy 70th, NHS!#NHS70

— Lisa Emery (@LisaEmNHS) July 5, 2018
Worked 21 of those 70 years in the NHS and what an amazing organisation that deservedly needs to be celebrated and respected ??#NHS70 #HappyBirthdayNHS #BiomedicalScience @BucksHealthcare pic.twitter.com/xeXMrPlPQN

— Claire Marshall (@gleni77) July 5, 2018
Happy birthday to the NHS and shout out to my parents for 30+ years of service saving lives through the art of biomedical science #HappyBirthdayNHS

— Ailsa Duckworth (@ailsaduck) July 5, 2018
Proud to work as a Biomedical Scientist in the NHS #NHS70 @GreatOrmondSt Amazing people and amazing work. #BiomedicalScience #HealthcareScience #WISE

— Lisa Amy Mennie (@lamennie) July 5, 2018
As a previous patient and now employee, Happy 70th NHS #loveournhs #nhs #pathology #BiomedicalScience #laboratory

— Hayley Pincott (@HayleyPincott) July 5, 2018
#NHS70 So proud to have been part of this. Me over 30 years ago as a Medical Laboratory Scientific Officer (now known as Biomedical Scientist) with the very glamorous Fiona Fullerton. pic.twitter.com/iuatd2OWP7

— Valerie Graham (@valgraham41) July 6, 2018
IBMS member Gayantri visited the Science Museum's superbugs exhibit. Gayantri commented,
"I celebrated the NHS turning 70 by reflecting on my 10 years' service and visiting the National Science museum in London, I wanted to see the "Superbugs" exhibition, however was disappointed that there were no photos of Biomedical Scientists and the vital work they do!"
10 years ago I graduated and got a permanent position in the NHS and I've been here ever since! Childhood dream of working in a hospital completed! #NHS70 #BiomedicalScience #HappyBirthdayNHS

— Gayatri Chohan (@GayatriChohan) July 5, 2018
I was really disappointed that there was not a photo of a Biomedical Scientist in the Superbugs exhibition at The National Science museum......Now there is! #BiomedicalScience #IBMS pic.twitter.com/L5LZxA28AM

— Gayatri Chohan (@GayatriChohan) July 5, 2018
Other members like Yolanda celebrated with cake:
My cake in celebration of the NHS 70th birthday. So proud of the work my colleagues put in everyday for this service. Particularly my fellow colleagues in pathology, working tirelessly to help the NHS. @MKHospital #nhs #nhsbirthday #biomedicalscience #nhs70 pic.twitter.com/R5ESqA6Ae4

— Yolanda Potter (@Yolanda_Potter) July 5, 2018
And the staff at the IBMS held a tea party to raise money for charity:
To celebrate #NHS70 we held an #IBMS NHS7Tea party! pic.twitter.com/9VfnSQcAgv

— IBMS (@IBMScience) July 5, 2018
Some members organised stands and held games with fuzzy microbes to promote biomedical science and the NHS, like Dr Sara Smith, lecturer at the University of Wolverhampton:
Stall all set up ? #scifest #AtTheHeartOfHealthcare @IBMScience Come and test your skills pic.twitter.com/3lZUpV4hpz

— Dr Sara Smith (@Sara2Smith) July 6, 2018
And some like IBMS member Jo Horne celebrated by visiting no. 10 Downing Street.
Very proud moment. Representing Healthcare Scientists, Biomedical Science, Cellular Pathology and @UHS_HCS at an #NHS70 celebration #CSOWISE #UHS #HealthcareScience https://t.co/dSm0Qybq4E

— Jo Horne (@hornej13) July 4, 2018
We are delighted to help raise the profile of biomedical scientists and show the valuable work they do in the NHS.
Back to news listing