Biomedical scientists win at CSO Awards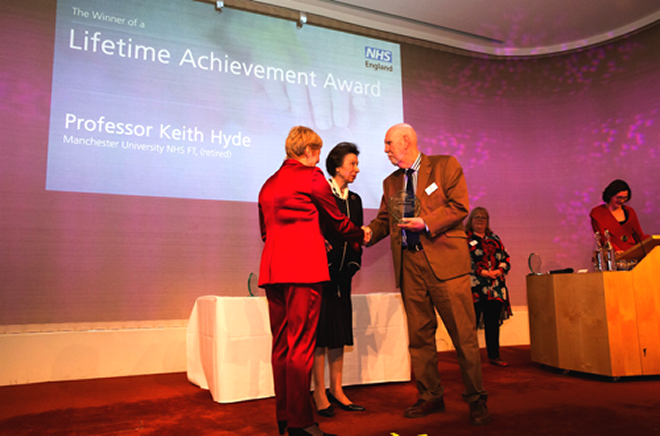 5 April 2018
IBMS members were amongst the winners at this year's CSO Awards
5 March marked the beginning of the two day Chief Scientific Officer (CSO) conference. That evening saw the Chief Scientific Officer's 2018 Healthcare Science Awards, held in the presence of HRH Princess Anne, The Princess Royal.
The awards were introduced by Professor Sue Hill OBE, Chief Scientific Officer, and celebrated the contributions of healthcare scientists to the NHS and the broader healthcare system. Hosted by Vivienne Parry OBE, the awards saw numerous IBMS members shortlisted and win some of the prize categories.
IBMS members who were shortlisted include:
Emma James, Point-of-Care Testing Team Leader, Manchester University Foundation Trust
Malcolm Robinson, Chief BMS Blood Transfusion, Western Sussex Hospitals NHS Foundation Trust
The IBMS members who received awards that night are:
Keith Hyde, Emeritus Professor of Haematology & Healthcare Sciences at Manchester Metropolitan University, winner of the Lifetime Achievement Award
Chloe Lockwood, Biomedical Scientist in Histopathology at St James University Hospital, winner of the Rising Star Award
Ian Davies, lecturer in biomedical science at Staffordshire University, winner of the Excellence in Education Delivery Award
Keith said, "As a life member of the IBMS and having left school with 4 GCSEs, it has been a privilege to serve for 53 years in the public sector, including 50 years in the NHS. Young members of the IBMS should think 'if he can do it, so can I."
Chloe added, "The awards are an excellent way for showcasing and recognising the work that healthcare scientists do in the NHS. It was an honour to be invited to the ceremony, share the evening with brilliant people, and an even bigger honour to receive the award! It was a great experience to represent Biomedical Scientists across the NHS and Leeds Teaching Hospitals along with all the other nominees and award winners."
Ian commented, "It was really great to see so many biomedical scientists nominated and winning awards. I'm delighted that our innovative approach to education has been recognised by NHS England's Chief Scientific Officer, Professor Sue Hill; this course has been developed through our close connections with NHS partners and this award recognises our pioneering approach to developing the next generation of Biomedical Scientists. Her Royal Highness was interested to hear of our work to widen participation in Higher Education through degree apprenticeships."
We would like to congratulate all the nominees, shortlisted candidates and winners on their success.
Back to news listing