BJBS going for Gold Open Access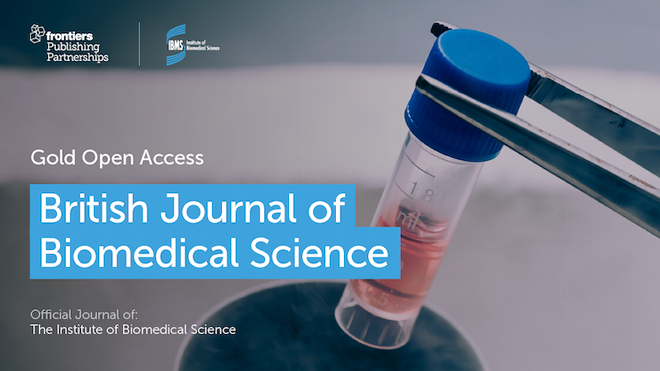 29 July 2021
After one of its most impactful years yet, BJBS will be moving to gold open access with our new publishing partner, Frontiers.
We are thrilled to announce that our journal, the British Journal of Biomedical Science (BJBS), will be moving to gold open access with Frontiers publishing from January 1, 2022. BJBS's move to gold open access will coincide with its 20th anniversary of publication.
Frontiers is an award-winning open science platform and leading open access scholarly publisher that has published over 200,000 rigorously certified research articles by leading academics since 2007. Frontiers also brings a vast experience of transitioning society journals to open access publishing.
Dr. Frederick Fenter, Chief Executive Editor at Frontiers, commented:
For over 100 years the IBMS has led the biomedical science community in developing and promoting innovation and excellence in biomedical science and healthcare. Frontiers welcomes the IBMS and the British Journal of Biomedical Science to this important new publishing partnership, which will bring the advantages of full Open Access to biomedical scientists across the globe.
The news of BJBS moving to open access with Frontiers comes after the journal has had one of its most impactful years to date. BJBS's impact factor grew from 2.712 in 2019 to 3.829 in 2020 - now ranking 6th out of 29 journals in the Medical Laboratory Technology JCR category. The growing value of the journal is reflective of the incredible work that has gone into it by both members and editorial staff.
IBMS Chief Executive Officer David Wells commented on this news for BJBS:
We believe this will be a big and exciting step for the journal as research publishing is increasingly becoming open access. Therefore, it is right that the IBMS should support this as our members will benefit from having greater access to read about the latest biomedical research and being able to publish theirs more easily.
From 2022, all new articles in BJBS will be immediately and permanently available to access freely, thus strengthening the journal's position as a leader for innovative advances in biomedical science. By ensuring easy and inexpensive routes to publication and access, the IBMS will continue to support the professional growth of its members and biomedical scientists around the globe.
We look forward to seeing the continued growth and support of BJBS as we transition to Frontiers open access next year.
Visit here for more information on our new partnership with Frontiers

Back to news listing