IBMS member wins Amazing Individual Award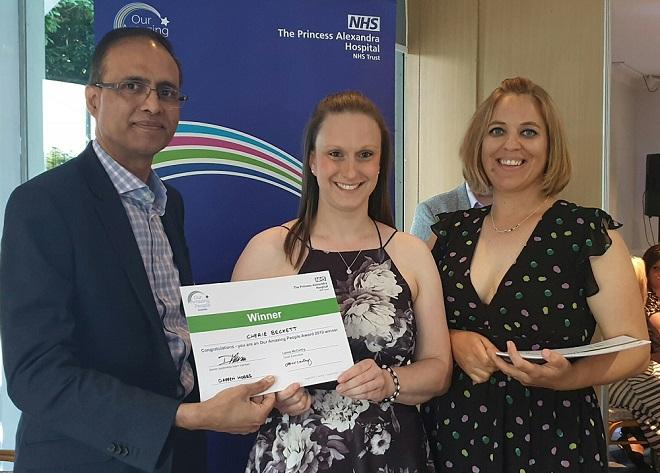 11 July 2019
IBMS Licentiate Cherie Beckett wins the Amazing Individual Award from the Princess Alexandra Hospital NHS Trust
This week, the Princess Alexandra Hospital NHS Trust held their annual Amazing People Awards to recognise staff members who deserve recognition for the amazing work they do.
Cherie Beckett was nominated for her work to raise the profile of biomedical sciences by working with the IBMS to create #IBMSChat, and her work with the children's charity Harvey's Gang, to help young people understand what happens when their sample reaches the laboratory.
Cherie shared her experience:
"Some time ago, I remember receiving an email from the communications department in the hospital where I work, asking for nominations for its "Amazing People Awards". Following the closing date, I thought no more about it. Then out of the blue, I received an email inviting me, as a nominee of an award, to the awards ceremony for our directorate; Cancer, Cardiology and Clinical Support.

I felt that with the hundreds of nominations that had been received across the hospital, coupled with the fact that I work in an often-hidden department, that it was nice just to be nominated and to enjoy the moment.

It was brilliant to hear of the winners and their stories, shining a light on those who have stood out in the seven categories (including; responsible, respectful, caring, committed, unsung hero, amazing team and amazing individual).

It was only when he began introducing the 'biography' for the winner that began, "the winner of this award started working for the Trust in November 2010 as a Medical Laboratory Assistant in Microbiology", that it clicked! I felt the eyes of my colleagues around me look towards me and all I could think to myself was "don't cry, don't cry, don't cry!" I felt literally bowled over to receive such an award.

I started at the very bottom, with no degree and no experience, but through sheer determination and motivation, and a huge amount of support from Princess Alexandra, I have been able to progress and hope to continue to do so.

I am still processing the fact that someone noticed me and was kind enough to put my name forward, but also that the judging committee felt me worthy of this achievement. It has truly humbled me."

Dr Shico Visuvanathan, Director of Infection Prevention and Control at Princess Alexandra Hospital, said:

"I was delighted and not at all surprised that Cherie was awarded the Amazing Individual award for our Health group at the Princess Alexandra Hospital NHS Trust. Cherie is a biomedical scientist of exceptional dedication who has worked many late evenings and weekends on her own accord to tie up all matters relating to any task she has been asked to do.

Many clinicians who contact Cherie then cease to contact anyone else, as Cherie provides them with all the support they need. If she does not know the answer, she will seek the answer from the Consultant staff or her senior colleagues, reliably feedback to the clinicians and give them the answer with clarity and confidence. She will not take risks as she has the welfare of patients foremost in her mind. I know she will continue to raise the profile of BMS staff across the hospital setting and indeed the NHS. I wish Cherie every success and know she will reach great heights in her chosen field."

Cherie also shared with her Twitter followers about her achievement:
Here at the @TeamCCCS @NHSHarlow Amazing People Awards & look what this Biomedical Scientist just won!!!! The Amazing Individual Award! I'm shaking & oooops nearly cried happy tears! Thank you so much to whoever nominated me! Bursting with pride! pic.twitter.com/4SMx1tllYl

— Cherie Beckett (@CDBeckett) July 5, 2019
On behalf of the IBMS, we wish Cherie warm congratulations.

Pictured above from Left to right: Dr. Sri Redla (Associate Medical Director for Cancer, Cardiology and Clinical Support (CCCS), Cherie Beckett, and Joanne Ward (Associate Director of Nursing for CCCS).
Back to news listing