Clinical information on pathology requests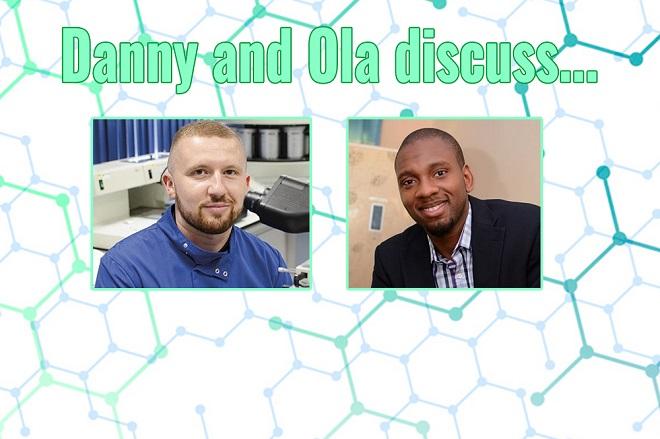 19 March 2019
Clinical information: the importance of providing relevant and adequate clinical information with pathology requests
By Danny Gaskin (@danieltgaskin) & Ola Yahaya (@molayahaya)
In the laboratory, we often receive phone calls from our clinical colleagues with questions about decisions we have made that might affect their patient's care. For example, enquiries about why we have rejected a sample or why we were unable to provide a particular result due to a pre-analytical or technical error.
In this series of short articles, we try to address some of the most common questions we are confronted with. Our aim is to educate the wider workforce in a way that is simple to understand, about the decisions we make in the laboratory, with the hope that with a greater understanding the number of avoidable errors will be reduced.
In this article, we explore the importance of providing clear clinical information with pathology requests and how it might influence the laboratory approach
Insufficient clinical information provided by the requesting clinician to the laboratory may compromise patient care by making the diagnosis and monitoring of diseases impossible, difficult or delayed. For us (Biomedical Scientists) to perform effectively and efficiently, we must be provided with adequate clinical information that is relevant to the patient's situation. In this regard, we are going to provide you with the rationale for supplying adequate clinical information with laboratory requests and hopefully, after reading, you will agree with us that adequate clinical information is essential for safety, efficiency, performance and effectiveness of medical laboratory services.
Health and safety
Having sufficient clinical information will enable us to apply the correct safety precautions when handling, processing and storing specimens. Clinical staff requesting pathology investigations should provide appropriate information such as relevant clinical presentation, significant medical history, clinically relevant lifestyle information (e.g. history of intravenous drug use) and in some cases, recent travel history. For example, if a patient is known or suspected to potentially carry a human pathogen, specimens collected from that patient should be handled with appropriate level of precaution, including warning labels that clearly highlight the sample is of particular high risk and using the correct laboratory containment, especially for procedures that require 'open air' processing or the propagation of microorganisms. If later during the course of patient management, additional information which may have implications for the safety of laboratory personnel, becomes available, that information should be disseminated to the laboratory immediately, so that the appropriate precautionary steps are taken. In order to minimise risk of exposure and potential infection of all staff involved in patient care, it is important that adequate, relevant clinical information is provided [1].
Effective patient care
One of our aims in the pathology department is to provide accurate and complete data to support the diagnoses of patient conditions in a timely manner, and in a way that is understandable and useful to clinical staff charged with patient care. The relevance and adequacy of clinical information that accompanies laboratory requests can determine the selection and range of investigational strategies, thereby determining the clinical usefulness of the scientific advice that we provide. For example, within the histopathology laboratory, the approach we adopt in specimen processing usually relies on the specific clinical information that we receive, consequently, the resolution of the patient's problem will depend on the interpretation of the examination report that we produce, it is therefore essential that each specimen is accompanied by an adequate description of what it represents, including relevant clinical history [2].
Patient safety
Keeping our patients safe to the best of our abilities is at the very essence of everything that we do, regardless of our role. With respect to blood transfusion, certain groups of patients are particularly at risk of developing transfusion-associated graft-versus-host disease (TA-GvHD). Although rare, TA-GvHD is usually fatal. It is a complication of transfusion where the engraftment of transfused viable and immunocompetent donor lymphocytes causes subsequent damage to recipient tissues because they are perceived as 'foreign' by the engrafted lymphocytes. Patients who are at most risk include, but not limited to those who are diagnosed with Hodgkin Lymphoma or those who are receiving certain purine analogue therapy. This disease can be prevented by using radiation-treated (irradiated) blood products for transfusion [3]. Therefore, when blood products are requested for transfusion, it is essential that we are provided with the relevant clinical information that will enable us to supply the appropriate specially required blood products. In some organisations, the laboratory information management system (LIMS) is independent of the patient information management system (PIMS) used in the clinical setting, and so unless this information is communicated to us by the clinical team, this could be (and has been) missed. In 2017, there were 87 cases where patients did not receive the required irradiated blood products. Seventy-seven (88.5%) of these cases were due to errors that occurred in the clinical areas while the remainder 10 occurred in the laboratory [4].
Quality assurance
In order for us (the pathology department) to demonstrate our compliance with defined standards and best laboratory practices, we must ensure that the requests, for which we provide reports, are accompanied by the relevant information which will enable us to perform tests and interpret results appropriately. Relevant clinical information is part of the minimum data set that is required before a request is accepted for processing. This is also linked to health and safety precautions because in laboratories where specimens are sorted and processed based on the clinical information, incomplete details can lead to specimens being processed with inadequate safety precautions. By accepting a request which does not meet the minimum data set requirements, we are not being compliant with relevant areas of accreditation standards, underscoring our ability to give you Total Quality Assurance for the services that we provide [5].
Cost effectiveness
For pathology service providers, inadequate clinical information can lead to unnecessary additional workload because it decreases confidence in decisions to authorise or validate initial test results. For instance, without the availability of the clinical information such as 'patient is receiving anticoagulant therapy', the laboratory staff could be performing unnecessary additional tests to investigate prolonged coagulation times. This is likely to waste resources (bench time, reagents and consumables) and increase turnaround times.
We appreciate that under the time pressures that are a consequence of the current healthcare climate and workforce challenges, clinicians are often very busy and have to deal with a lot of data from a variety of sources and usually have to summarise this information, but we fear that in a bid to achieve this, some pathology-relevant information is compromised. At this point, you may be wondering 'why don't you just ring the clinical area and ask for additional details?' Well, we do this, and from our experience, the clinician who ordered the test is, at the time of the phone call, usually no longer available in the clinical area.
Case Study
We're sure that at some point you have seen at least one or two of the above. How does poor or inadequate clinical information affect your role?
We invite you to share this article amongst your colleagues and welcome your comments and questions.
By Danny Gaskin (@danieltgaskin) and Ola Yahaya (@molayahaya) - Biomedical Scientists at Furness General Hospital, Haematology and Transfusion laboratory (University Hospitals of Morecambe Bay NHS Foundation Trust)
References
1. Health and Safety Executive (2011). Provision of key clinical information on laboratory specimen request forms. HID 5-2011. http://www.hse.gov.uk/safetybulletins/clinicalinformation.htm
2. Zemlin AE, Nutt L, Burgess LJ, et al. Potential for medical error: Incorrectly completed request forms for thyroid function tests limit pathologists' advice to clinicians. S Afr Med J. 2009;99(9):668–671
3. British Society for Haematology (2012). Guidelines on the use of irradiated blood components prepared by the British Committee for Standards in Haematology blood transfusion task force. https://doi.org/10.1111/j.1365-2141.2010.08444.x
4. Serious Hazards of Transfusion (SHOT). (2017). Annual SHOT Report. Available: https://www.shotuk.org/wp-content/uploads/myimages/SHOT-Report-2017-WEB-Final-v4-25-9-18.pdf. Last accessed 3rd Mar 2019.
5. United Kingdom Accreditation Service. Medical Laboratory Accreditation (ISO 15189). https://www.ukas.com/services/accreditation-services/medical-laboratory-accreditation-iso-15189/
Back to news listing