Congress Exhibition winners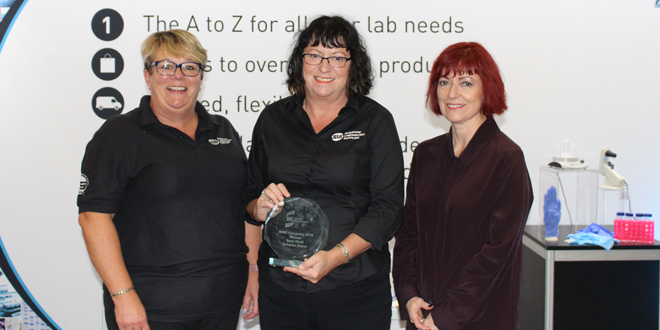 7 October 2019
CellPath and Scientific Laboratory Supplies win this year's Congress exhibition prizes
Every two years at IBMS Congress, healthcare laboratory science companies take part in the trade exhibition, which showcases the latest technology available for biomedical science.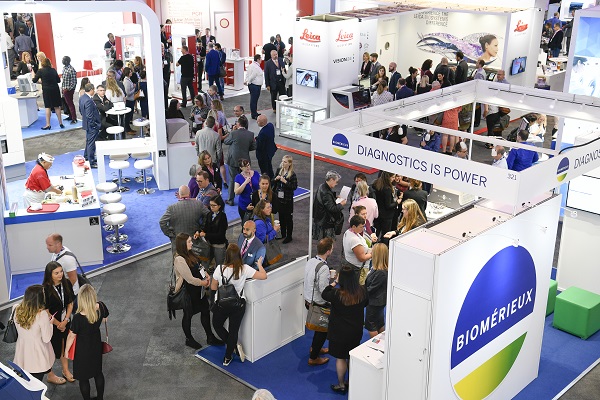 A panel of judges including IBMS President Alison Geddis, Chief Executive Jill Rodney and the Company Members Liaison Group Chairman Mark Reed are present for the opening of the exhibition on Monday morning. Surveying over 140 stands across the International Convention Centre, the judges assess each stand based on its appearance and the welcome visitors receive from the exhibitors.
This year's winners included Best Stand, won by CellPath, and Best Shell Scheme, won by Scientific Laboratory Supplies.
Best Stand – CellPath
CellPath is a UK based independent company attuned to the needs of Cellular Pathology, specialising in the manufacture and worldwide supply of products, consumables and services to the Histopathology and Cytology markets.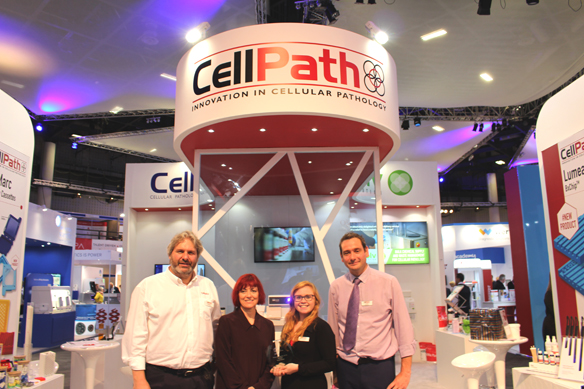 With IBMS being the largest Biomedical Science exhibition in the UK, CellPath has been a regular exhibitor over the years.
Tim Davies, Marketing Manager at Cell Path, explained more:
"The event allows us to showcase some of our latest products, with interest we get from delegates on our stand growing each year. This year was no different, where we were able to launch the new LUMEA BxChip™, as well as display some of our CellTec equipment prototypes due to launch early next year.
This is the first time we have won the best stand award, and it was great to hear that the decision form the judges was unanimous. The stand design was fantastic, allowing hands-on demonstrations. This, coupled with the enthusiasm and welcoming approach of our employees working on the stand lead to the award being presented to CellPath."
Best Shell Scheme - Scientific Laboratory Supplies (SLS)
Scientific Laboratory Supplies (SLS) is the UK's largest independent supplier of laboratory equipment, consumables and chemicals to the laboratory market.
In only their second time exhibiting at congress they received the prestigious accolade of winning best stand. Winning best shell scheme can be attributed to their engagement with visitors by having a hole in one competition where entrees had the chance to win £50 Amazon vouchers. This proved to be incredibly popular with people queuing up to have a go.
SLS recognise the importance of Congress in the Biomedical Scientist's calendar. It enables them to discuss their laboratory needs and applications with key personnel at SLS whilst enjoying a welcome break from their very packed schedule. Exhibiting at Congress is vital for SLS to keep in touch with their customers and potential new ones ensuring they can best serve the needs of the Biomedical Scientist.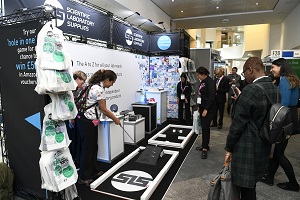 Peter Chapman, Managing Director, SLS, on hearing about the award said "The IBMS Congress is an important event for SLS, providing us with an ideal opportunity to meet with so many customers in such a short period of time.
Our focus as a business is on customer service and we have always tried to break the mould by engaging with customers in different ways and it is great to see that this approach has been rewarded with the allocation of this award. We very much look forward to raising the bar yet again at the next IBMS Congress".
IBMS President Alison Geddis commented,
"The exhibition halls were wonderful this year, with all the newest healthcare laboratory technologies on display. Before choosing our winners we looked at every stand and assessed the quality of the information, the design and interactive elements and, most importantly, the approachability and knowledge of the exhibitors. We were bowled over by the friendly, well-informed staff on both of the winning stands."
Back to news listing