Coronavirus Test Devices Approval - call out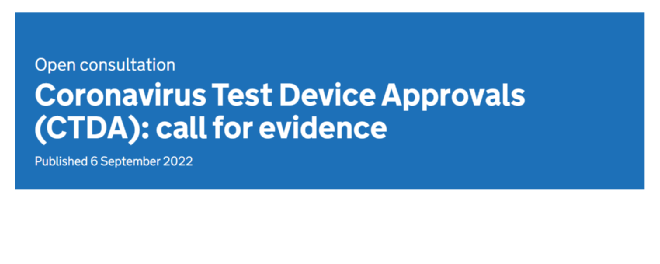 12 September 2022
UK Government has made a call out for evidence on the Coronavirus Test Device Approval process

On 28 July 2021, legislation came into force which introduced validation for antigen and molecular coronavirus (COVID-19) detection tests. The statutory instrument made under the Medicines and Medical Devices Act 2021 requires antigen and molecular COVID-19 tests to undergo mandatory desktop review to assess their performance before being put into service, supplied, and permitted for sale on the UK market.
This call for evidence aims to support the Government's understanding of the impact the Coronavirus Test Device Approval (CTDA) process has had on the wider internal market, individual business and trade flow of antigen and molecular COVID-19 detection tests.
This will support the wider statutory review of the policy that will be reported on by 31 December 2022.
The call for evidence aims to obtain specific evidence in relation to businesses operating in the COVID-19 diagnostics market.
The UK Government are seeking evidence and opinions on the following areas:
costs for individual businesses involved in the domestic COVID-19 test kit sector
scale and nature of domestic COVID-19 test kit activity, including manufacturing and trading
scale and nature of activities abroad which are integral to our existing domestic COVID-19 test kit supply and market
the direction of the COVID-19 test kit market
how the CTDA objectives have been met and if they could be met more efficiently in future


*The IBMS will be submitting evidence on our members' behalf - and has forwarded all relevant information to our Company Members
Back to news listing