Could you be Biomedical Scientist of the Year?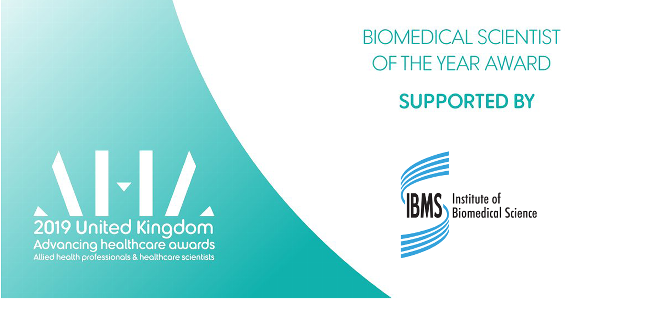 7 January 2019
Nominate yourself or a colleague for the Biomedical Scientist of the Year AHAward
For this year's Advancing Healthcare Awards (AHA) the IBMS is sponsoring the Biomedical Scientist of the Year category. The award recognises an exceptional biomedical scientist who has used their skills and expertise to advance practice in an innovative and impactful way, making a real difference to patients' lives and inspiring those around them.
To apply for this award, nominees must hold HCPC registration and be a practising biomedical scientist based in the UK. Self-nominations are accepted, and you can nominate your colleagues or encourage them to nominate themselves. The AHAwards website offers more information about the awards, including a guide on writing a winning entry.
Nominees for the Biomedical Scientist of the Year must be able to demonstrate leadership and teamwork, measurable achievements and an impact on patient care.
The deadline for submissions close Monday 14 January 2019. Successful candidates will be contacted in January and a celebration lunch and awards ceremony will be held Friday 12 April 2019.
If you have any queries about the awards, please contact Rachael at Chamberlain Dunn.
Back to news listing