Cytology staff win Team of the Month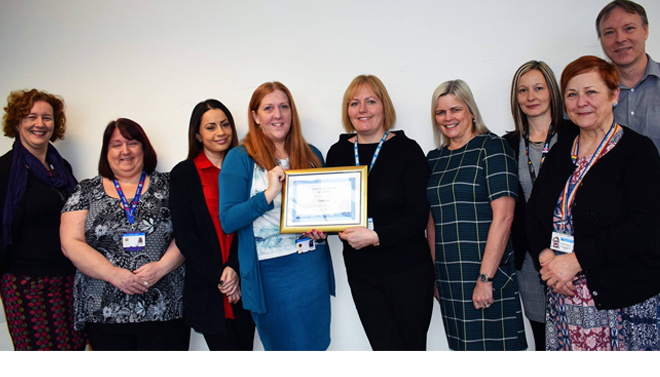 7 February 2019
The cytology team at University Hospitals of North Midlands NHS Trust (UHNM) awarded Team of the Month for their fast service
The 36 person cytology team at UHNM have worked above and beyond the normal call of duty for their patients, maintaining the department's turnaround times for cervical screening results within 2 weeks, when many laboratories across England are struggling to provide results within 4 weeks.
IBMS Fellow Sarah Fish is a Lead Biomedical Scientist in cytology at Royal Stoke University Hospital said:
"Thirty-six people make up the cytology team, including healthcare science support workers, medical lab assistants, associate practitioners, cytoscreeners, failsafe officers, biomedical scientists, advanced practitioners and pathologists.
We provide the service to women across three counties, covering up to 100,000 specimens per annum. From receiving the sample to ensuring women are referred to colposcopy, to checking they attended and following them up.
We usually have a decline in specimens towards the Christmas period, but the amount we were receiving remained the same at roughly 400 per day – this is usually down to 250 per day by Christmas. We noticed the amount was not decreasing by mid-November.
The increase came at a really busy time as everyone was gearing up for the festivities – but of course, we're very glad that more patients are taking up the screening.
It's a 10-day lab turnaround target to ensure women receive their results within 14 days of having their sample taken at the GP surgery. We were already maintaining this but would have struggled if staff hadn't worked above and beyond as many had annual leave booked to tie in with the usual dip in expected workload.
Team members cancelled annual leave, worked long days and even came in on weekends - all at a time when they really should have been out shopping!
All the staff on the team have one main focus - the patient. Providing a quick turnaround time for results reduces anxiety for patients and also enables quick referral to colposcopy for those who need treatment.
I'm immensely proud to lead a team with such motivation, determination and team spirit – they're all such a friendly bunch too!"
In recognition of their dedication and service, the team was awarded Team of the Month by the hospital trust.
Helen Ashley, Director of Strategy and Performance, said:
"We really thank the team for their commitment to the service and for going the extra mile over the very busy holiday period. It's easy to forget the importance of the work of services that aren't delivering direct patient care, but this demonstrates the enormous difference their work ethic and determination can make."
Back to news listing