David Wells makes The Pathologist's Power List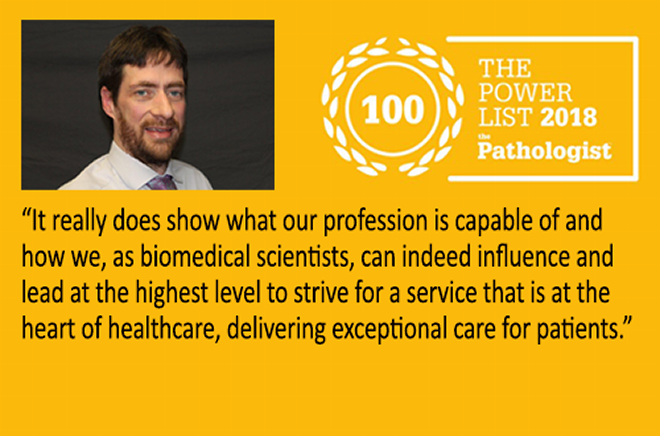 20 September 2018
IBMS Council Member David Wells has taken a spot on this year's Power List
This year David Wells CSci FIBMS, Head of Pathology Services Consolidation with NHS Improvement, has been nominated and accepted onto The Pathologist's Power List. Each year The Pathologist magazine celebrates by showcasing some of the most talented professionals in the field by producing The Power List.
In addition to being an IBMS Fellow, David is an IBMS council member for the London Region and is deputy chair of the IBMS Special Advisory Group for Clinical Chemistry and of the Membership and Marketing Committee. David has also represented the IBMS on NICE diagnostic advisory panels, and various national forums including as an observer on the Royal College of Pathologist Council and in the Parliamentary and Science committee.
David commented,
"It is genuinely humbling to be recognised in this way, and to be included in the list with such eminent leaders in pathology worldwide. It really does show what our profession is capable of and how we, as Biomedical Scientists, can indeed influence and lead at the highest level to strive for a service that is at the heart of healthcare, delivering exceptional care for patients."
We wish David our warmest congratulations on this great achievement.
Back to news listing