Education in the Pandemic - IBMSpod Ep 6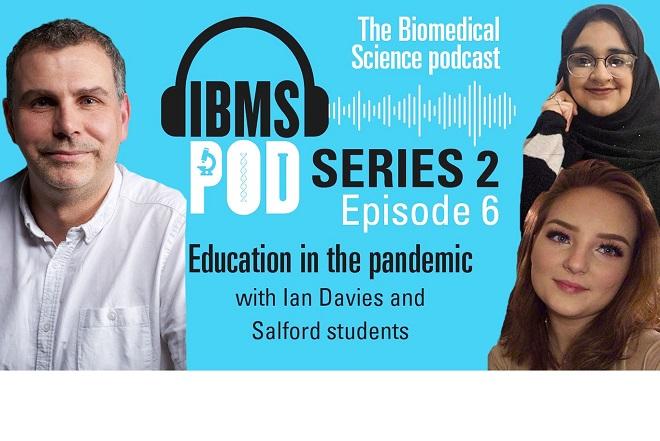 14 April 2021
In April's edition of IBMSpod, we catch up with senior lecturer at Staffordshire University Ian Davies to ask how the pandemic has affected the next generation of Biomedical Scientists.
Episode 6 of our new podcast series takes a snapshot of the educational landscape during Covid and beyond; we hear from award-winning lecturer Ian Davies and Biomedical Science students at the University of Salford Caitlin Owen & Nadia Patel, who created a new Biomedicine magazine during the lockdown.
The Pandemic and Education with Ian Davies
In a year like no other, academic Biomedical Scientists have responded on multiple fronts to ensure teaching & learning for students could continue despite the shutdowns.
IBMS Fellow Ian Davies worked in clinical practice for 20 years before transitioning to academia. In his time as a lecturer, he's created a new degree apprenticeship in Healthcare Science designed to deliver an agile workforce equipped for practical lab-based work and academic study, going on to win a place on the Pathology Power List 2020.
As the pandemic took hold last spring, Ian and his team faced the challenges of supporting 70 apprentice students in clinical placements and assisting with the diagnostic response. In the midst of this, Ian also fully adapted the Biomedical Science course to ensure learning and practical classes could still take place - adopting a 'blended learning' style that combines both remote learning with essential face-to-face laboratory classes.
It's easy to underestimate how challenging it has been for students; some couldn't even access course materials - so we had to be proactive in reaching out. We delivered a blended learning approach - combining online, teams meetings, one-to-ones and practical work when safe to do so.
He reflects on his career journey, from laboratory manager to lecturer, revealing a passion for teaching, before explaining the pressures teaching staff have faced amid the situation - from balancing the transition to remote working with home-schooling to communicating with the media. He explains what the team has done to ensure students can catch up and what educational models and pedagogies he envisages will emerge post-pandemic.
Finally, Ian faced this month's quick-fire question round with Rob - how will he fare?
LabLife with Caitlin Owen & Nadia Patel
IBMS eStudents Caitlin Owen and Nadia Patel are the co-editors of a new Biomedicine magazine created by students at the University of Salford during the lockdown in November.
They chat to us about the project, including where the idea originated from and how the project helped combat social isolation and loneliness. Later, Caitlin talks to us about her article for the magazine on animal agriculture and disease spread and Nadia explains her story focusing on the technologies behind the Covid vaccine.
We were stuck at home and wanted to find a way of expanding our skills in the online environment. The science-based magazine was designed to discuss topics in Biomedicine, but it also strengthened our student community and helped us make friends while we couldn't socialise.
How to listen
To listen to any of our podcasts, series 1 and 2, as well as subscribe to future episodes, visit:
Episode outline
0:26 - IBMS News
2:40 - Feature Interview with academic Biomedical Scientist Ian Davies
2:40 - Section 1: Ian's journey in Biomedical Science: From Laboratory to Lecture theatre
15:15 - Section 2: Covid & Education: What's the past year been like as an educator? How has the pandemic interfered with the learning experience & what has been put in place to ensure students can catch up on any essential training missed? Where now for Biomedical Science Education - what model will emerge post-pandemic?
28:25: Quick-fire round
30:10: Lablife with Caitlin Owen & Nadia Patel - two students from the University of Salford who co-edit the university's new Biomedicine magazine.
Links to further resources
IBMS News:
Feature Interview with Ian Davies:
LabLife with Caitlin Owen & Nadia Patel:
Back to news listing