Facemasks & lockdown lifting - IBMSPod Ep.7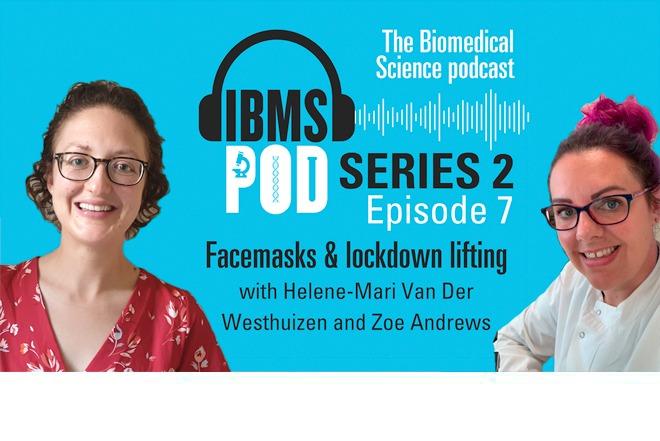 10 May 2021
In May's IBMSPod, infectious disease expert at Oxford University Helene-Mari van der Westhuizen joins us to discuss the use of face masks as lockdown lifts.
In Episode 7 of IBMSpod, Helene-Mari van der Westhuizen joined us to explore how face masks have taken off across the world in response to Covid-19. We examined how these simple pieces of cloth, which are known to reduce transmission of Covid-19, have become social and political symbols. We also considered how their usage will continue as the UK exits lockdown.
This month's LabLife features Guernsey-based Healthcare Assistant Zoe Andrews who spoke to us about what life has been like since lockdown ended on the channel island in March.
Facemasks & lockdown lifting - with Helene-Mari van der Westhuizen
As the UK gradually withdraws from a lengthy national shutdown, attention has shifted to what new normal will emerge post-pandemic.
Will behaviours such as social distancing, frequent cleaning & handwashing continue even if no longer mandatory?
Mask wearing has been one of the most controversial and polarising of the control measures against Covid-19; the practice became politicised and provokes a range of social, political and ethical meanings in people,
Helene-Mari van der Westhuizen is a medical doctor and expert in infectious disease control and public health currently undertaking a DPhil at the University of Oxford. Determined to end the TB epidemic in South Africa (the country's leading cause of death) - her work focuses on containing the disease's spread in rural South Africa.
Helene-Mari has studied infection control measures from a social science perspective and has translated her findings to the COVID-19 pandemic, contributing to evidence reviews, international guideline development and media engagement around the use of masks by the public.
Masks have become much more socially acceptable. To me, it would make sense to wear a mask if I am getting onto a crowded tube in winter. It will become an individual decision, but I think we will see people feeling comfortable enough to continue using masks.
Helene-Mari joined us from an airport quarantine hotel where she has spent eight days in isolation after a recent field trip to South Africa. She chatted to us about the experience of hotel quarantine and discussed the work she's been doing to lower TB rates - including overcoming stigma towards facemask wearing.
The conversation then moved onto mask-wearing and infection control measures in the UK and around the world. She explained how social, political and personal meanings attached to face mask wearing combined with growing scientific evidence for their efficacy have led to them becoming the norm. We then chatted about the future of mask-wearing, the importance of adequate ventilation and the 'CO2 gorillas' ensuring indoor public spaces are well-ventilated.
In the quick-fire round, we asked Helene-Mari to answer three quick-fire questions, including what she sees as the most significant threat to global public health aside from Covid-19.
LabLife with Zoe Andrews
Zoe Andrews is a trainee Biomedical Scientist in Microbiology; she has been a Healthcare Assitant at the Princess Elizabeth Hospital in Guernsey throughout the pandemic. She told us what island life has been like since all restrictions ended in March. She also explained the challenges her lab faced being the island's only testing service and chatted about her experiences setting up Harvey's gang tours on the island.
When lockdown lifted, you still saw people with masks, but not everybody. More recently, it's like nothing ever happened - the only thing that makes you think it did happen was hand sanitiser in Boots and the yellow tape on the floor to queue.
How to listen
To listen to any of our podcasts, series 1 and 2, as well as subscribe to future episodes, visit:
Episode outline
0:52 – IBMS News
2:23 – Feature Interview with Helene-Mari van der Westhuizen
2:25 - Section 1: Containing TB transmission in South Africa and Hotel Quarantine – including an introduction to Helene-Mari, her work reducing TB transmission in rural South Africa, her experience isolating in an airport quarantine hotel.
12:47 – Section 2: Face masks and infection control measure: journey to the mainstream & post-pandemic norms - including how face masks have taken off in the UK; the most effective face masks, face mask use in the future and CO2 gorillas.
28:36 – Quick-fire round: most important measure to prevent Covid transmission; largest threat to global health aside from Covid-19; the first thing she will do when leaving quarantine hotel.
28:06 – LabLife with Zoe Andrews
Links to further resources
IBMS News:
Feature interview with Helene-Mari van der Westhuizen:
LabLife with Zoe Andrews:
Back to news listing