Games and hidden microbes for Biomedical Science Day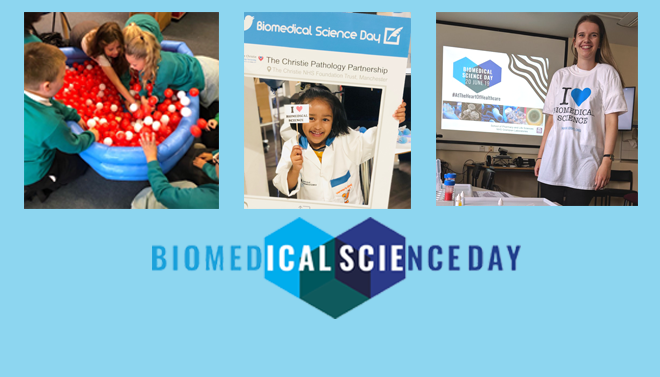 28 June 2019
A round-up of our members' events across the UK, held to celebrate Biomedical Science Day
This month saw the third annual Biomedical Science Day celebration. Now a nationally recognised awareness day, hundreds of hospitals across the world took part in celebrating and promoting the roles of laboratory staff in healthcare.
Many of our members took over their trusts' Twitter accounts, held baking competitions, raised money for charity and were even in the media.
Northern Ireland
IBMS Chief Executive Jill Rodney visited the hospitals at Belfast Health and Social Care Trust to take part in the activities.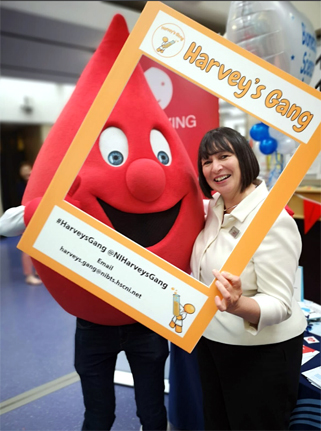 She commented,
"It was a fantastic day with activities taking place across all the hospitals. I was delighted to be part of a VIP tour of the 'new' labs in the Institute of Pathology and to hear of the history of the building and its connections with pathology. We were very fortunate to have the Permanent Secretary for Health for Northern Ireland, Richard Pengelly and three Members of the Legislative Assembly (MLA)s Paula Bradley, Fra McCann and Michael McBride, the DOH Northern Ireland Chief Medical Officer, join us on the tour, along with key senior staff from the Trust, to showcase the work of biomedical scientists in Northern Ireland.
The foyer displays in all three hospitals attracted great interest from both the public and staff. There were some wonderful games on display for the visitors, including a jigsaw puzzle highlighting the importance of handwashing in fighting infection, explaining tissue typing for organ transplants, isolating the DNA of strawberries and a chance to meet Buddy Blood Spot. There was something for everyone and the enthusiasm of staff was unbelievable. It was certainly a day to celebrate the contribution that biomedical science makes to patients' lives.
Perhaps the most touching event was at the Sick Children's Hospital when they closed down festivities to the public so that a group of immunocompromised children from the wards could visit the stands and participate in the fun – a real reminder that we never forget that behind every sample is a patient relying on our expertise. I had a wonderful day and, like the staff, can't wait to do it all again next year."
Shauna McAuley MIBMS tweeted:
#BiomedicalScienceDay2019 at #BelfastTrustLabs,we had 7 labs, NIBTS and Harvey's Gang represented, took over 3 hospital foyer sites and had IBMS CEO, Jill Rodney, Blood Buddy & some politicians drop by! A contender for best display, count us in @IBMScience #AtTheHeartOfHealthcare pic.twitter.com/nupPwghEid

— Shauna McAuley (@shaunaMcAuley6) June 23, 2019
Wales
IBMS Associate Hayley Pincott and her colleagues held workshops for classes in KS2 at local primary school Ysgol Gymraeg Nant Caerau. She said,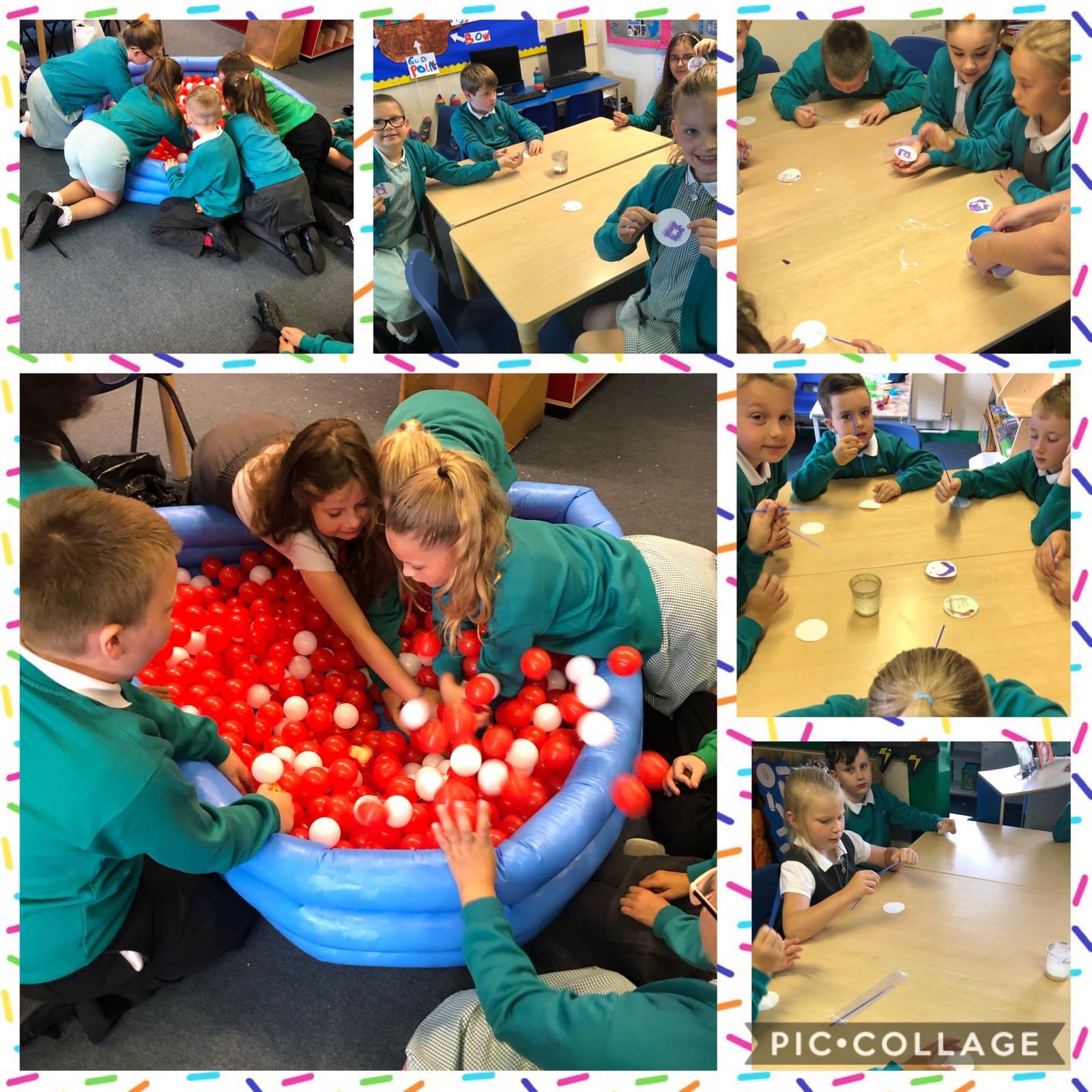 "I arrived in the morning to work with Yr 3 and I had planned an activity that I have developed with Microscientists, a public engagement group I'm involved with, where the pupils jump in a ball pit which represents blood. Their job is to be white blood cells and try to find the hidden microbes and clear the infection. This was such a fun activity that everybody got involved in and it then gave me a chance to discuss microbes. When the practical activities were done we then streaked some glue on a disc of paper and covered it in sand to show what a cultured plate looks like.
The next class was with Yr 4 where we had a hands-on activity to demonstrate blood grouping, the pupils pipette different coloured water into each other and we recorded the results to find the universal donor and recipient. I planned a craft activity where the pupils made their own blood bag and could choose which blood group they wanted their blood to be. Many chose AB as they could have any blood group donated to them, this was quite rewarding that I managed to get the message across.
I just wanted to say a huge thank you for your support on helping us to deliver an incredible day yesterday. It was a massive success, the stand we had was really popular, and the feedback we had from the students was really positive. We all had an amazing day and had lovely comment back from our invited guests."
England
In Manchester, Tahmina Hussain MIBMS was a recipient of the Albert Norman Biomedical Science Day Activity Fund.
She commented,
"We celebrated biomedical science day at The Christie Pathology Partnership last week and put the funding you provided to good use!
At our stand, we had a hand inspection kit for checking handwashing techniques, a microscope for looking at a blood film for hairy cell leukaemia, urine dipstick analysis using false urine for detecting diabetes. We used the funds for buying badges, keyrings, balloons, bake off equipment, our selfie frame, vouchers for prizes etc. Lots of visitors were very interested and keen to learn about what we do and overall the event was a brilliant success!
It's lovely to meet the patient behind the samples we are processing. It is extremely satisfying work and uses all the very latest technologies, working methods and diagnostic techniques to ultimately deliver better outcomes for our patients. The Christie is one of the UK's leading reference centres specialising in cancer detection and treatment and knowing our work is changing the lives of patients on a daily basis makes it a wonderful place to work."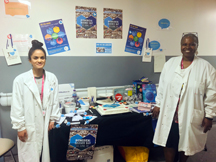 Ann Maloney FIBMS from Lewisham and Greenwich NHS Trust said,
"We had a lot of interest from staff members and members of the public, it was an excellent day. Our free raffle was won by a lady called Vicky who works in the hospital Radiology department. The Trust's communication department visited the stall and took photos which were put on the Trust's platforms - Twitter, Instagram and Facebook. Thank you again for the funding from the Albert Norman Trust Fund."
Scotland
Rebecca Wright LIBMS, Anna Lindahl MIBMS and the teams from Aberdeen Royal Infirmary and Robert Gordon University hosted IBMS Deputy Chief Executive Sarah May and teamed up to provide demonstrations for visiting school children about biomedical science. These activities included microscopy of blood films and a blood cell 'fishing' game, as well as demonstrating rapid diagnostic dipsticks, and simulated faecal samples.
Rebecca tweeted:
#BiomedicalScienceDay2019 at @RGUPALS is on! Celebrating biomedical science #AtTheHeartOfHealthcare pic.twitter.com/w1rfBHWzcO

— Rebecca Wright (@RebeccaOWright) June 20, 2019
We are so proud of all of our members for taking part in this great day of celebrations. We can't wait until #BiomedicalScienceDay2020!
Back to news listing