Healthcare Science Week 2020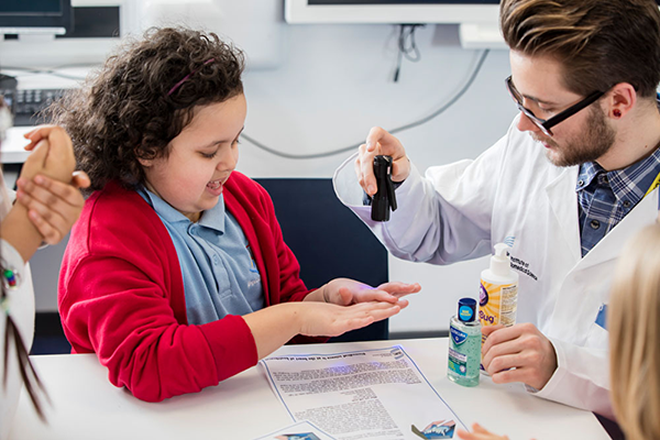 9 March 2020
What are your plans for Healthcare Science Week?
March 6th-15th is Healthcare Science Week, a week-long celebration by scientists across the UK to promote the different disciplines in science.
With IBMS members regularly taking part in these activities, we encourage you to join in the fun and hold laboratory tours and host events to promote how biomedical scientists are at the heart of healthcare.
How you can take part
You can run activities, give talks, write blogs and speak to visitors to promote your role. If you're looking for ideas, see our new activity sheets for doing educational activities with children. From magnetic cereal to DNA beads, you won't struggle for exciting things to do with visitors.
Gain inspiration from our members
Last year IBMS members Annie Cook and Bethan Philips ran a canteen stand and organised lab tours to promote the healthcare scientists working in blood sciences within the Berkshire and Surrey Pathology Services network. Annie said,
"This was a great opportunity to join forces with healthcare scientists from across the service to promote our work across all areas of the hospital. We had really great engagement from staff throughout the hospital and were able to raise awareness of the roles of healthcare scientists, who are often overlooked and rarely given any recognition for the essential roles they have across our hospitals.
As a Biomedical Scientist and trainee on the Scientist Training Programme (STP), I was eager to raise awareness of the variety of roles of healthcare scientists within the blood sciences lab. It was really encouraging to receive so much positive engagement from staff, which has even led to some education requests from certain ward groups particularly relating to pre-analytical effects on blood samples.
Overall this event was a great success experience for all involved and I look forward to promoting the work of our healthcare scientists again next year!"
Videos and comics for your stands

The IBMS released three sample journey videos to promote the role of different biomedical science disciplines. Featuring stories of urine, blood, and tissue samples, viewers can learn about the different roles biomedical scientists play in patients' healthcare.
We also produced our first ever comic, SuperLab, which follows the story of a child's sample in the laboratory and educates young people about the science at the heart of healthcare.
Be sure to order your promotional items
If you wish to order promotional items for a public engagement event, we encourage you to request your items very soon. We ask our members to give us five days' advance notice of their events in the UK (10 days' notice for overseas events) so we can prepare and ship their items in time.
To order your items, log into the IBMS website and complete the online typeform. We also provide free downloadable posters and leaflets for non-members.
The Healthcare Science Week website has an activity toolkit and fun posters to help scientists get inspired for the week. You can follow the weeklong events on Twitter using the hashtag #HCSweek20 and #WeHCScientists and use them to promote your events.
If you're planning events for Healthcare Science Week, contact us at pe@ibms.org and we may cover your event in a news story.

Other sites

Our friends over at RCPath have also been in touch to say that they have some fun resources and activity sheets that you might like to have a look at.
Back to news listing