Group B Strep screening will save newborn lives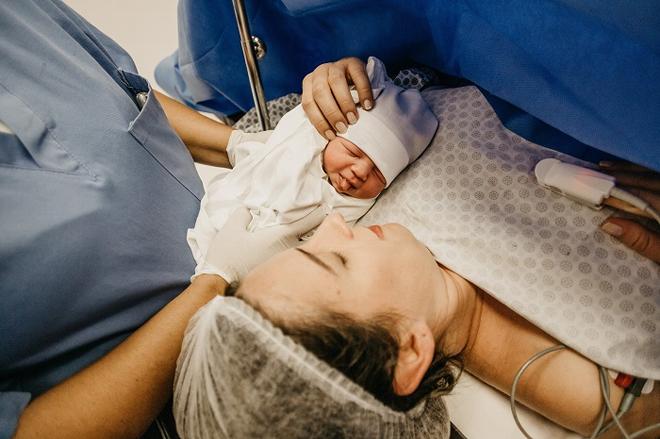 28 November 2019
The importance of introducing routine screening for Group B Strep
Last month we were pleased to hear that the Health Minister Nadine Dorries had announced that Group B Strep prevention was one of her top five key priorities on taking office. As a health service issue with testing that directly impacts the working lives of our members, we were impelled to take another look at this infection that affects so many parents, pregnancies and babies. This time, IBMS Member Claire Hill and IBMS Fellow Monika Stuczen from Medical Wire and Equipment Co. Ltd (MWE), a company involved in developing a swab-based device for the direct collection and rapid processing of screening specimens, give their perspective on the importance of introducing routine screening:

Every year large number of babies suffer from life threatening Group B Streptococcus (Group B Strep) infections. The first many parents hear of Group B Strep is when their baby is fighting for its life in the Special Care Baby Unit. Group B Strep is bacteria, which colonises the vagina and rectum of about 20-30% of pregnant women and can be transmitted from mother to baby before or during labour. Approximately one in four people in UK are likely carriers of Group B Strep bacteria, which produces no symptoms. It is the main cause of septicaemia and pneumonia in newborn babies. Nearly 10% of babies affected by this infection do not survive and those who recover can develop long term problems such as deafness, brain damage and problems with movements and co-ordination. Group B Strep also causes stillbirth and contributes to Britain's high number of babies who die in the womb. A study published in 2011 by the Lancet, demonstrated that the UK is one of the poorest performing countries in tackling stillbirth and came 33rd in a large table of 35 similarly developed countries, with 4000 babies dying in the last stages of pregnancy.

In order to prevent infection, antibiotics can be given to women during labour or to babies after birth. This infection can be identified by an inexpensive and simple microbiological screening test, carried out in the last weeks of pregnancy (at 35-37 weeks gestation). The test involves taking a swab from the vagina and rectum. Unfortunately, routine screening for Group B Strep has not been implemented in UK despite strong evidence from other countries where the screening policy is in place, suggesting that the number of Group B Strep infections in newborn babies has fallen significantly (in USA by over 80%, in Spain by 86%, in Australia by 82% and in France by 71%).

On 1st November 2019 the promising news was announced by Health Minister Nadine Dorries that ethical approval has been given for a £2.8m trial to prevent Group B Strep infections in newborn babies. The trial founded by National Institute for Health and Research (NIHR) will involve 80 hospitals in England, Wales and Scotland with at least 320,000 women taking part. The aim of the trial is to investigate the effectiveness of two different tests and compare them with standard care: Enrichment Culture Medium (ECM) test at 35 to 37 weeks of pregnancy and a "bedside test" at the start of the labour.

R&D and QC Laboratory Manager at Medical Wire and Equipment Co. Ltd (MWE) Monika Stuczen said:
"We feel that prevention of early onset Group B Strep is best served by better detection methods. It has been proven that when direct agar plating is used without using selective enrichment broth as many as 50% of women who are Group B Strep positive have false negative culture results. Using selective enrichment broth increases the method selectivity by 60-90% (CDC guidelines). Therefore, we feel it is possible to prevent more cases of Group B Strep by optimising specimen collection and processing procedures.

In response to this position, the team in the R&D laboratory at MWE developed Sigma Group B Strep™, a swab-based device for the direct collection and rapid processing of screening specimens for Group B Strep. It helps tackle the issue of false negative Group B Strep results by enriching the growth of any Group B Strep present in the patient's sample. The device enriches the sample from the moment it is taken, while inhibiting any growth of other bacteria such as E. coli which would normally be expected in such specimens. This in turn guarantees accuracy, ensures true positive results and safeguards better outcomes for patients - both mother and child."
Since 2000, the number of Group B Strep infections in newborn babies under 3 months old in the UK and Ireland has risen by 31%. Even with the best medical care provided, about 1 in 10 babies with a Group B Strep infection die and up to half of those who recover from Group B Strep meningitis suffer long term problems.

The number of Group B Strep infections and resultant deaths & disabilities among newborn babies will double within the next three decades if current trends continue. During 2012, the UK National Screening Committee looked at the evidence published since 2008 regarding the introduction of routine testing for Group B Strep for all pregnant women. Sadly, they decided against its introduction at the end of the year. It was a devastating decision for parents, health professionals and all people involved in preparing the case. Although, in December 2012 it was agreed that steps would be taken to ensure health professionals would be able to access the "gold standard" tests for Group B Strep carried in NHS labs it is still not a reality in many hospitals and most future parents are not aware of the scale of the problem.

Women are rarely told about Group B Strep by their health professionals and even more rarely offered testing for it. The more women who receive treatment, the more newborn lives will be saved in the future. The more women who talk about it and request tests, the more health professionals will start screening pregnant women. Hopefully, the new trial announced in 80 hospitals across Great Britain will lead to the introduction of the routine screening. We would like to see every pregnant women in the UK screened for Group B Strep on the NHS, as it is a routine part of antenatal care in many countries such as Australia, Argentina, Belgium, Canada, Czech Republic, France, Germany, Hong Kong, Italy, Kenya, Poland, Spain, Slovenia, Switzerland and the USA.
References:
Health Protection Agency. Pyogenic and non-pyogenic streptococcal bacteraemia. England, Wales and Northern Ireland (series online). Commun Dis Rep Wkly/ Health Protection Report 2012.
Daniels J, Pattison H, Roberts T, Edwards E, Milner P et al. Rapid testing for group B streptococcus during labour: a test accuracy study with evaluation of acceptability and cost- effectiveness. Health Technol Assess 2009; 13(42).
Vergnano S, Embleton N, Collinson A, Menson E, Russell AB, Heath P. Missed opportunities for preventing group B streptococcus infection. Arch Dis Child Fetal Neonatal Ed 2010; 95(1).
NHS Choices. What are the risks of Group B Strep (group B streptococcus) infection during pregnancy? 29-11-2011. 6-6-2012.
Mullan Z, Horton R. Bringing stillbirths out of the shadows. Lancet 2011; 377(9774):1291-12
O'Sullivan CP, Lamagni T, Patel D, Efstratiou A, Cunney R, Meehan M, Ladhani S, Reynolds AJ, Campbell R, Dohetry L, Boyle M, Kapatai G, Chalker V, Lindsay D, Smith A, Davies E, Jones CE, Heath PT. Group B streptococcal disease in UK and Irish infants younger than 90 days, 2014-15: a prospective surveillance study. The Lancet Infectious Disease. Vol 19, issue 1, p83-90. January 2019.
Heath PT, Balfour G, Weisner AM, Efstratiou A, Lamagni TL, Tighe H, O'Connell LA, Cafferkey M, Verlander NQ, Nicoll A, McCartney AC; PHLS Group B Streptococcus Working Group. Group B streptococcal disease in UK and Irish infants younger than 90 days. Lancet. 2004 Jan 24;363(9405):292-4.
Back to news listing