Honorary doctorate awarded to IBMS Fellow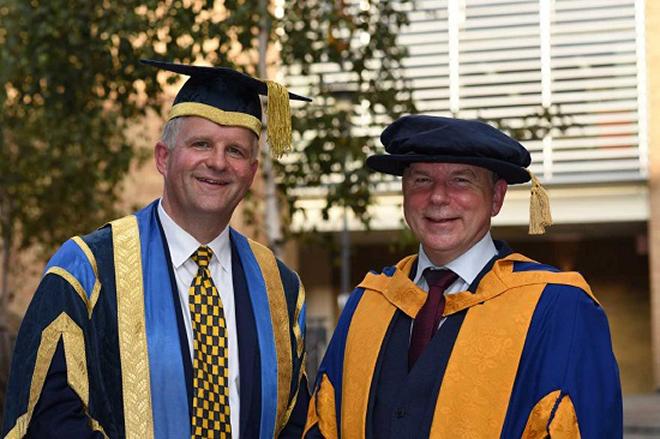 5 November 2018
IBMS Fellow Neil Bentley OBE has been awarded a doctorate by Anglia Ruskin University
Leaders inspire us. They motivate us to handle all the problems that come our way. This is never more important when the stakes are high, when lives depend upon a team being able to work competently and efficiently.
IBMS Fellow Neil Bentley OBE is one such leader. His efforts have been recognised by his alma mater Anglia Ruskin, who have awarded him an honorary doctorate at their autumn graduation ceremony.
Neil is Head of Technical Services at the National Infection Service at Public Health England. He completed his MSc at Portsmouth University in 1995 and his MBA at Anglia Ruskin in 2009. He started his career in 1983 within the Royal Army Medical Corps and subsequently joined Public Health England (PHE) in 1997. Throughout his career, Neil has worked within microbiology and public health providing technical and scientific support for diagnostic services. In 2014, he travelled to Sierra Leone to set up and provide laboratory support services during the Ebola epidemic.
As the lead person to organise the set up of three containment level-4 laboratories across the country and a team of 50 laboratory staff to manage, Neil also acted as the liaison between the Sierra Leone and British governments, working to deliver safe public health messages to the public and support his teams.
He said,
"When we first got to Sierra Leone, there was a lot of pressure to get the labs up and running quickly. The standard turnaround times for Ebola testing was five to seven days. Thanks to the hardworking team we brought the turnaround time within the laboratory to within 8 hours from sample receipt.
But if you don't get samples, you can't turn them around. We spent time training people at holding centres, teaching them how to label samples correctly and to make sure they were transported quickly and safely. We could see the impact it had on patients, and it saved lives as we got the total turnaround time from sample collection to result reporting to within 24 hours."
For his efforts, Neil was awarded an OBE for Services to Public Health in the Queen's New Year Honours for 2016.
Neil has also worked closely with the science departments at Anglia Ruskin University, supporting their biomedical science programmes. He is currently working with the university to develop programmes to help Local African universities deliver public health messages in Sudan, Botswana and Ethiopia, such as how to wash hands properly, and how to prepare meat safely in the home.
Neil's hard work and leadership was recognised this year by Anglia Ruskin in their graduation ceremony, where he received an honorary doctorate of public health.
Neil said,
"It's a great honour to receive it. I'm glad to promote where we are in the profession. Biomedical scientists work quietly and in the background but we do help save lives. This is all down to us working as an effective team, and I'm very grateful to be part of that team, and while I accept this honour, I do so as being part of that team and I thank them all of their hard work."
We wish Neil our warmest congratulations on receiving this award.
Pictured: Vice Chancellor of Anglia Ruskin University, Professor Iain Martin (L) and Neil Bentley OBE (R).
Back to news listing