IBMS agrees to sponsor Harvey's Gang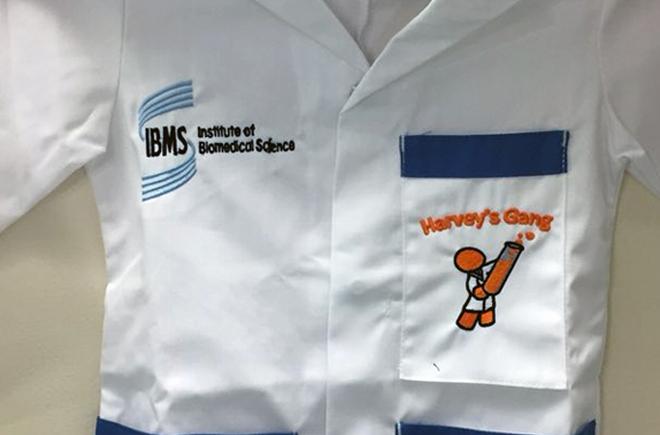 10 May 2018
A deal to supply the lab coats will enable the charity to help more young patients
The IBMS has agreed a sponsorship deal with Harvey's Gang. The funds will be used to supply mini lab coats for laboratory tours that are taking place in NHS hospital laboratories across the UK. There are currently 38 NHS hospital trusts undertaking Harvey's Gang tours, with the aim of reaching 70 this year to coincide with NHS 70 celebrations.
IBMS member Malcolm Robinson is Chief Biomedical Scientist at Worthing Hospital. In 2014 Malcolm was asked by the children's ward to take 6-year-old patient Harvey 'Buster' Baldwin, who suffered from leukaemia, for a tour of his laboratory. Harvey was keen to know what was happening to his blood samples.
Sadly, Harvey passed away a year later and it was at his funeral, whilst seeing a photo of the tour, that Malcolm became aware just how much the tour had meant to him. Malcolm set up more tours with his hospital for other young patients and established Harvey's Gang as a charity, named in his honour.
Harvey's Gang tours are free for hospitals to sign up to. Every Harvey's Gang patient is given a mini lab coat to wear on their tour which they can take home after along with a goody bag made up of freebies donated from other sponsors.
Upon receiving the lab coats Malcolm said:
"I am so very pleased that the IBMS has very kindly agreed to sponsor our new Harvey's Gang little white coats. This will help enable Harvey's Gang continues to grow and expand, to ultimately be part of the Children's Healthcare pathway and will help us try to reach 70 NHS Trusts this year."
IBMS President Alison Geddis commented:
"I am delighted to announce this sponsorship deal with Harvey's Gang. The tours are an amazing opportunity for laboratories to open up their doors and showcase the vital work of biomedical science.

I have seen on first-hand the hard work and effort Malcolm puts into Harvey's Gang and we hope that through our sponsorship we can help them reach their goal."
If you would like more details on how your laboratory can sign up for Harvey's Gang tours please email website@ibms.org
Back to news listing