IBMS Fellow runs Manchester and London Marathons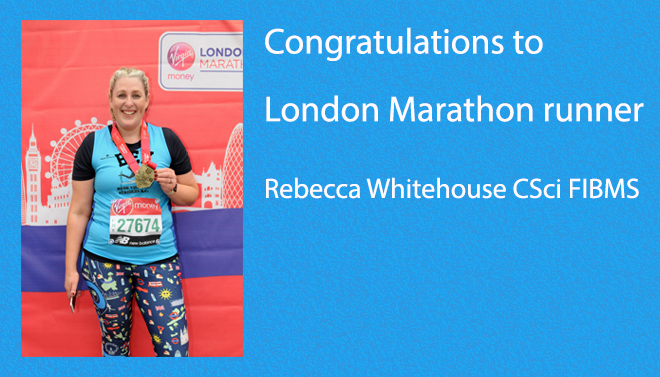 16 May 2019
Rebecca Whitehouse CSci FIBMS shares a few tips on training for a marathon
Transformational Lead by day and runner by night, IBMS Fellow Rebecca Whitehouse finished her fourth marathon to date. This past month has seen her finish the Greater Manchester marathon followed by the London Marathon for the third time. She is also preparing for the Great Manchester run on 19 May.
Rebecca answered a few questions on training, running, and running marathons.
Tell us about your training. Have you always been a runner?
I've been running since around 2009. I used to hate it but I visited London in 2010 to watch the London Marathon and I was in total awe of all the runners. My first proper race was the Great North Run and I thought nothing would beat the support 'up north'. I first ran London in 2012 and I was blown away by the support on route. After having two children, I returned to Marathon running in 2017 and ran London again.
I run to keep fit. I run to be social (I'm a member of a running club). I run when I need time to think and clear my head and I also run to inspire and encourage my two little girls to keep active.
I try to run three times a week, twice with the running club and then once on my own. During marathon training, I have a training plan with the club and that helps build up my training and motivation too. It's really nice to have the support of others spurring you on.
Training is hard for London or any spring marathon. You have to get up on a cold Sunday morning in the middle of winter and convince yourself you will do the long run on your schedule, every week!
For this year's marathon, I started training in December 2018. The Critical Care unit at Manchester University NHS Foundation Trust (MFT) was taking part in the December Marcothon which involved running for 25 mins or 3 miles every day in December.
This was the push I needed to kick-start my training. I use music to keep motivated, and listening to Radio X and podcasts have kept me going through the training this year. I also track my runs on Strava so I can compare them to previous runs and see how I'm improving (or not!). I'm not a quick runner, more of a plodder so I have to be prepared for being out for a while.
I run with a running club, the Hyde Village Striders. Group runs make it much easier as talking to others and having a giggle makes it more enjoyable but it's difficult to arrange long runs with others when you have a busy job and two children, you just have to fit it in.
I don't have a special diet perse; I just try to eat a bit healthier in the lead up to the race and then lots of pasta right before.
Were you running for a cause at the London Marathon?
Yes, I was running for Leukaemia Care. I run the Harveys Gang scheme at MFT alongside the RMCH (Royal Manchester Children's Hospital) play specialists so I see the effects leukaemia has on patients every day.
In 2015, my Dad fell ill suddenly and was diagnosed with Acute Promyelocytic Leukaemia. Thanks to the teams involved in his care and treatment at Hull University Teaching Hospitals NHS Trust, especially at the Castle Hill Hospital site, my dad has recovered. However, a friend of mine recently lost her mum to Acute Myeloid Leukaemia.
This charity means a lot to me so this year, after winning my London Marathon place through a virgin money giving competition, I decided to set myself the challenge of running two marathons in a month. I completed the Manchester Marathon on April 7th and followed it with London on April 28th.
The London Marathon. How was it?
Amazing. There's nothing else like it. There is so much support from beginning to end you feel so enthused, it's a fantastic feeling. The crowd is behind you every step of the way and they're cheering, it really helps keep you going.
I ran for Leukaemia Care and tried to raise £500 for it, but I haven't quite reached my goal. It was tough at the halfway point, you reach a block mentally where you're tired and you think to yourself, can I do it? But then your training kicks in and you hear the crowd cheering for you and it's so motivating. Plus it helps to have little mantras to say to push yourself.
In terms of races, the only one that came close was the Great North Run. The crowd pulls you along when you're struggling and you're so well supported. I love it.
When's the next race? Any advice?
My next race is the Great Manchester Run on 19 May. It's 10k, and there's more than 650 of us from the hospital running in the NHS Blue Wave. It should be really fun; I'm already looking forward to it!
When you run, you've got to do it for yourself. It's your race. I find running helps keep my mind and body healthy. My advice would be, don't make excuses, just put your trainers on and go. A good place to start is your local park run.

The IBMS wishes Rebecca congratulations on running the London Marathon and good luck for her next race.
If you would like to donate to sponsor Rebecca, see her donation webpage.
Back to news listing