IBMS Fellow wins at CPD Awards 2021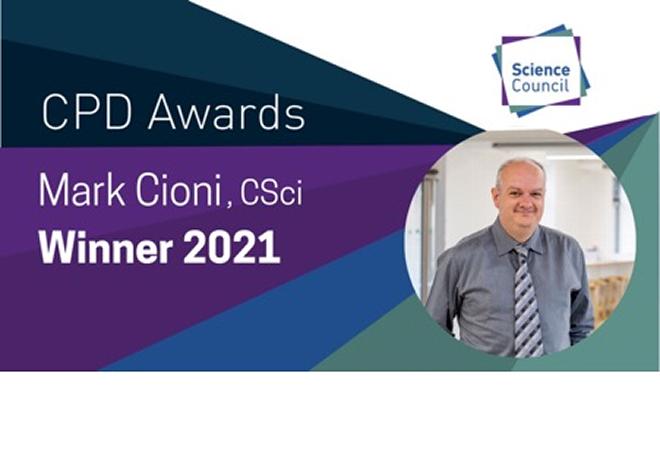 10 November 2021
The Science Council has announced that Mark Cioni FIBMS has won the CPD award in the Chartered Scientist (CSci) category.
Two IBMS members have been recognised for their outstanding record of continuous professional development at the Science Council's CPD awards:
Mark Cioni CSci – Winner
Victoria Moyse CSci – Commendation
IBMS Professional Support Services Manager Christian Burt commented:
"As part of the IBMS Science Council licence requirements, the IBMS must annually CPD review 2.5% of our Chartered Scientist registrants. Mark Cioni and Victoria Moyse were CPD reviewed in 2020 and they returned excellent submissions.
The CPD assessment team, therefore, signposted to the Science Council CPD awards to make a self-nomination. I am delighted that the Science Council CPD judging team agreed that both had sent first-class CPD audit submissions that demonstrated clear reflection and learning outcomes from the activities undertaken.
As the outright winner, Mark articulated the application of learning to a new role and the importance of GIRFT. The assessment team noted his extraordinary level of detail within Sections 3 and 4 of the CPD review over the audit period.
Victoria completed a wide range of activities and reflected upon those in great depth. Although this has been a difficult year in biomedical science, Victoria also clearly embraced her professional roles with the IBMS."
Well done to both on being a credit to their professional body, with this award and commendation fully deserved."
Mark Cioni CSci, Winner
Mark has been a Senior Lecturer in Biomedical Science at Nottingham for over 3 threes, following a 22-year career in NHS microbiology labs as a Biomedical Scientist.
Following the news of his win, he told the IBMS:
"It was a huge honour to be informed that I had won the Chartered Scientist registration category award for 2021. Reflecting on the award, I concluded that the key to my success was thinking laterally about what CPD was and making sure that I logged it.
As registered Biomedical Scientists, we are used to the concept of having to maintain our portfolio to evidence our development and knowledge of the current topics affecting our profession. Attending specific events or undertaking qualifications are good sources of CPD, but there is a lot more to it than that. Try to think about your everyday interactions with your colleagues and service users; how often do you give advice or show someone how to do something? Even your morning commute to work can turn into a CPD opportunity (it's incredible what you can learn from listening to the radio that you can add to your portfolio).

Yes, CPD takes work, and the more opportunities you grasp to gain CPD may mean the more work you have to do. But at the end of the day, you will become a more informed professional. You will get a sense of achievement from what you learn and how you can use your knowledge to help others. Others will benefit from your experience and, you never know, you too may be lucky to have your efforts rewarded by your professional body."
Watch Mark's video for the Science Council:
Victoria Moyse CSci, Commendation
Victoria Moyse is a laboratory training & organisational development manager at HCA Healthcare UK.
Victoria reacted to the news of her commendation on Twitter:
Thrilled to have been recognised for my CPD by @Science_Council - it's something that is always going, but it's lovely to have some of it recognised! https://t.co/XMFFHff2Ja

— Vikki Moyse (@vikkimoyse) November 10, 2021
Find out more about Mark & Victoria, including their Top Tips for CPD on the Science Council's Website.
Back to news listing