IBMS Fellow wins Science Council CPD award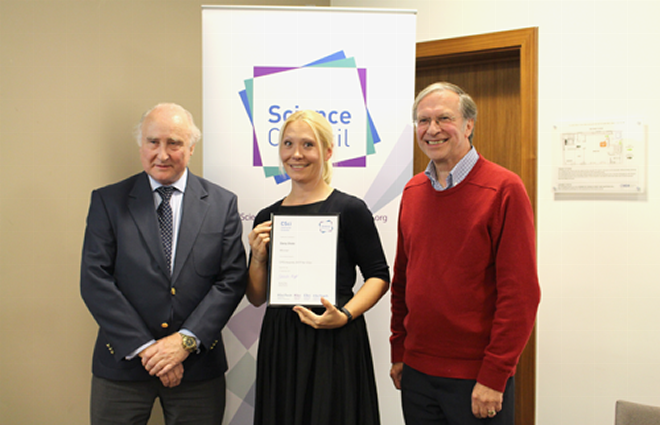 22 September 2017
Daisy Shale FIBMS receives honour by the Science Council at awards ceremony
On 21 September, winners of the Science Council's CPD Awards were invited to a ceremony in London to celebrate their achievements.
The annual CPD Awards are designed to celebrate the continuing professional development (CPD) efforts and achievements of registrants from across the registers: Registered Science Technician (RSciTech), Registered Scientist (RSci), Chartered Scientist (CSci) and Chartered Science Teacher (CSciTeach).
To be a winner or to be awarded a commendation for the CPD Awards demonstrates an individual's commitment to undertaking work-based learning and self-directed learning at a high, exemplary standard in order to benefit the quality of their practice and to benefit colleagues, patients, clients or any other users of the service they provide.
The IBMS were delighted that member, Daisy Shale was honoured for having the best CPD return across all of the Licensed Bodies at CSci level.
A biomedical scientist at Northern General Hospital, Daisy specialises in clinical chemistry and has been seconded as a Medical Examiner. When asked about her award-winning application, she said,
"It is an honour to be recognised for my CPD. Being a registered professional makes me proud of the work I do and the knowledge and skills I have acquired along my career journey.
Taking ownership for my CPD & my personal development has made me realise that there is always something new to learn and that you can't develop professionally if you don't develop personally. Having a standard of Chartered Scientist to work towards ensures that I constantly aim to be the best I can be."
Christian Burt, IBMS Professional Support Services Manager, commented,
"The IBMS assessment team nominated Daisy for her outstanding CPD review return and in particular noted the secondment as a Medical Examiner. She demonstrated an ability to work effectively in a non-traditional area for a biomedical scientist, as well as maintaining a CPD portfolio containing clear future planning and model reflection upon the activities she undertook."
As we look forward to the CPD Awards 2018 next year, IBMS members who would be interested in submitting a nomination are recommended to start working on evidence for their CPD record right away, ensuring that reflection against activities is well demonstrated, to be able to submit the best possible nomination.
As part of the CPD review annual process, the IBMS assessment team also identifies excellent CPD returns. We hope if you have been selected for a CPD review at CSci level you may view Daisy's achievement as an inspiration to submit your return.
Back to news listing