IBMS Fellows commended by Science Council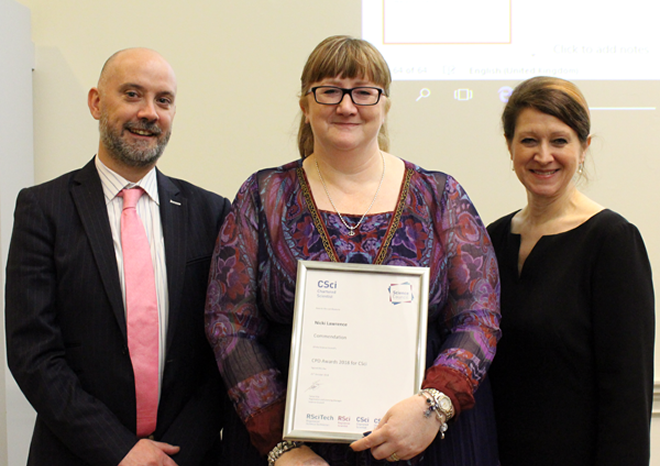 6 November 2018
Carol Ainley and Nicki Lawrence received commendations at this year's Science Council CPD awards
The 4th annual Science Council CPD awards took place on Tuesday 30th October. Hosted at the Royal Society of Chemistry, these awards recognised the outstanding CPD achievements of Science Council registrants across CSci, CSciTeach, RSci and RSciTech award levels.
Among the scientists awarded were Carol Ainley CSci FIBMS and Nicki Lawrence CSci FIBMS, who both received commendations for their excellent CPD submissions this year. Whilst Carol was unable to attend the ceremony, Nicki said,
"I'm one of those people who wants to stay one step ahead, which is why receiving this commendation from the Science Council for CPD means so much to me. I fell in love with science in primary school and although I originally wanted to be a radiographer I found my way into biomedical science. The moment I stepped into a haematology laboratory I felt at home.
Completing my CPD is a pleasure, not a chore. I want to be a mentor and help people just starting out in the lab. I hope that they will pass on the same knowledge and enthusiasm about biomedical science that I have."
Christian Burt, Professional Support Services Manager at the IBMS, commented,
"Nichola should be extremely proud of her achievement in being commended for her Chartered Scientist CPD review. As a licensed body of the Science Council, the IBMS must audit 2.5% of the register each year and it can seem a daunting experience to receive that email.
Nichola delivered an excellent submission; demonstrating the standards clearly and placing the CPD undertaken into a sharp context for her job role. Nichola is an inspiration to all Chartered Scientist registrants and I do hope IBMS Fellows, in particular, who are yet to apply for the Chartered Scientist award, will apply and follow a similar successful CPD path.
Although Carol, our other winner, was unable to attend the ceremony today, I'm really delighted that the Science Council also commended her comprehensive and succinct CPD return. Carol sent a CPD review that clearly identified future learning and also had a strong emphasis on engaging with the IBMS and influencing other biomedical scientists. Well done Carol!"
If you are struggling with CPD, why not read our guide on how to make reflective practice easy. And if you'd like to read more about the Science Council professional registers, with a view to making an application, please visit our dedicated section of the IBMS website.
On behalf of the Institute, we congratulate Carol and Nicki on their achievements. Pictured above is Christian Burt (L), Nicki Lawrence (C) and Jocelyn Pryce (R), Deputy Executive Head of Education at the IBMS.
Back to news listing