IBMS Fellows receive Queen's Award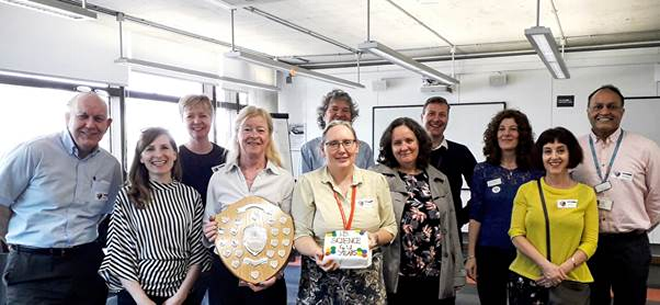 18 June 2020
IBMS Fellows Sue Alexander, Manfred Almeida and Mike Carter have been honoured with the Queen's Award for Voluntary Service, the highest award a voluntary group can receive in the UK.
The prestigious awards (the MBE for volunteers) are given to volunteer groups across the UK to recognise outstanding work done in the local community.
Sue, Mike and Manfred won the award as part of a group of London-based scientists, who organise the annual science4u event. Now in its 17th year, the event aims to inspire less advantaged school pupils from across London into science.
Science4u highlights scientific careers with a focus on the range of disciplines the NHS and other public and private sector organisations can offer, from cardiac physiologists to microbiologists. The event also highlights scientific careers with a focus on the range of disciplines the NHS and other public and private sector organisations can offer. Pupils get to experience a fun-filled interactive educational day which is curriculum related with a careers and personal development session for teachers.
IBMS Chief Executive Jill Rodney commented:

"I would like to extend my warmest congratulations to Sue, Manfred, Mike and all the volunteers who have been awarded this exceptional honour. It is especially commendable, that in addition to their incredible work supporting patients and the NHS as biomedical scientists, they generously dedicate their free time to this fantastic project ".
IBMS Fellow and Principal Biomedical Scientist & Pathology Services Manager at The Royal Marsden NHS Foundation Trust, Sue, has been running the event since its inception in 2004.
Sue said:

"As a founder member of the group and its secretary, I am really pleased that we have been recognised with this award. We have been running the events for 16 years with hundreds of school students attending, keynote speakers, a wide variety of hands on activities and many volunteers giving up time on the day to man stands.

This year we did a virtual event and have had an online presence for a number of years at science4u.info. There are other Biomedical Scientists in the group as well plus other Healthcare Scientists and representatives from Public Health England, the Royal College of Pathologists and the University of Westminster which very generously allows us to use its main site to hold the event".
Representatives of science4u will receive the award from Mr B Sethia and Lord Lieutenant of Greater London later this summer. Furthermore, two volunteers from science4u.info will attend a garden party at Buckingham Palace in May 2021, along with other recipients of this year's Award.
Co-Chairs of science4, Dr Kimberly Gilmour and Dr Stuart Adams, co-chairs for science4u added:

"It is an honour and a pleasure to receive this prestigious award on behalf of all the organising committee, our enthusiastic volunteers, our partners, sponsors and the University of Westminster. This award is very much a recognition of all the parties involved who give their time to ensuring such a successful and worthwhile event and to the schools that support this event. We hope it will enable us to continue running this event for many years to come ".
science4u is one of 230 charities, social enterprises and voluntary groups to receive the prestigious award this year. The Queen's Award for Voluntary Service aims to recognise outstanding work by volunteer groups to benefit their local communities. It was created in 2002 to celebrate the Queen's Golden Jubilee. Recipients are announced each year on the 2nd June, the anniversary of the Queen's Coronation.
Back to news listing