IBMS member scoops BBC NHS 70 award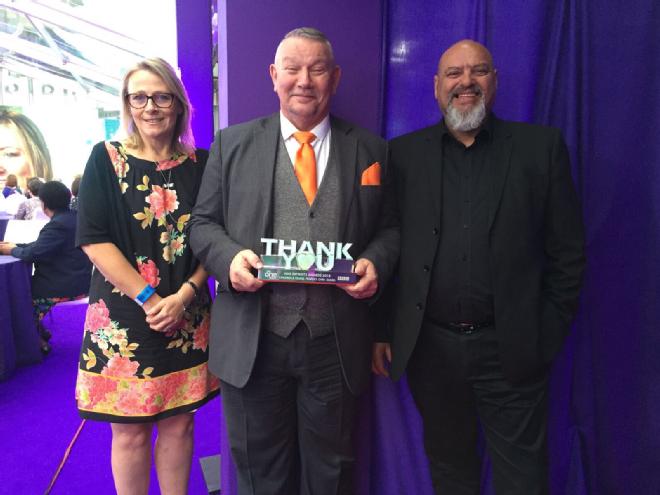 11 May 2018
Chief Biomedical Scientist honoured for his charity work with Harvey's Gang young patients initiative
Congratulations to Malcolm Robinson who has won the BBC The One Show Children and Young People's Care Award, He was presented with the award live on TV as part of special BBC celebrations for the NHS 70th anniversary this year.
As well as The One Show presenters Alex Jones and Matt Baker on the show was Welsh actor and Holywood star Michael Sheen who read out what the judges said in awarding Malcolm with the prize.
"That Malcolm has gone out of his way to bring some joy to as many children that are going through tough times as he can. To come out of the laboratory and spend time making things for the child and making them feel comfortable and making sure that every hospital trip was as positive and unscary of an experience as possible is just above and beyond. He is phenomenal in what he has achieved."
Malcolm was nominated for the award by Claire Baldwin, whose son Harvey was seriously ill with leukaemia in 2014. Harvey was curious to know what was happening with his blood samples and the children's ward arranged for him to visit Malcolm's laboratory at Worthing Hospital. The laboratory tour was to have a lasting effect on Harvey and his parents.
Sadly, Harvey passed away a year later and it was at his funeral that Malcolm became aware just how much the tour had meant to Harvey when seeing a photo of them together on screen. To honour Harvey, Malcolm decided to set up more tours for young patients and established Harvey's Gang as a charity, that he would promote to other hospitals throughout the UK.
On nominating Malcolm, Claire said:
"I nominated Malcolm for going the extra mile for my son Harvey, and our whole family when he was undergoing treatment. Harvey didn't like getting transfusions but seeing inside the laboratory made him less fearful about what was going to happen. Knowing where the blood had come from, the fridge it was in, watching the machines whirling, helped him. He could understand and visualise, rather than just being told by a grown up 'this is what's going to happen.' It allowed him to ask questions and took away a lot of the fear.

It was also a trip to the hospital he wasn't prodded or poked – it was a fun trip, where no one wanted anything from him, which was really positive. One day we found a note from Malcolm on Harvey's blood bag, which I still have. It said 'Sorry you're back in with us mate – don't worry – we'll look after you.' Having someone behind the scenes thinking about Harvey and reaching out to him meant a lot.

Malcolm's drive to keep Harvey's Gang going amazes me. The more children he helps, the more inspired he is. It takes a special type of person to go that extra mile – and Malcolm is one. Harvey would have been bursting with pride too."
IBMS Chief Executive Jill Rodney attended Worthing Hospital earlier this week to be interviewed for a celebratory film on Malcolm's work.
Jill commented:
"Malcolm works tirelessly to promote the work of Harvey's Gang so it is fantastic to see him recognised for this, it is so well deserved. Well done Malcolm."
The IBMS wishes to congratulate Malcolm on this award, it is a fantastic achievement and highlights the hard work he has put into Harvey's Gang. Congratulations. We encourage our members to consider offering Harvey's Gang tours, for Biomedical Science Day 2018, to highlight the vital role of biomedical science in a patient's healthcare and to help Malcolm achieve his goal this year in reaching 70 NHS sites across the UK.
If you would like more details on how your laboratory can sign up for Harvey's Gang tours please email website@ibms.org
Back to news listing