IBMS member completes prestigious NHS leadership programme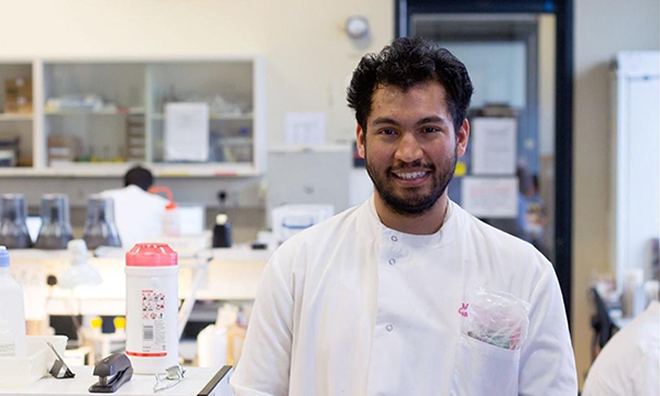 27 November 2019
IBMS Member Francis Yongblah completes the NHS leadership Academy's Elizabeth Garrett Anderson Programme
Francis began the NHS leadership Academy's Elizabeth Garrett Anderson Programme in 2017, which over a 24 month period helps middle level leaders develop their leadership skills as they connect with colleagues across other healthcare networks. This accredited programme leads to an NHS Leadership Academy Award in Senior Healthcare Leadership and a master's in healthcare leadership.
This month Francis was honoured with the other graduates of the course at an awards ceremony.
Francis shared his experience of the programme:
"At a time where resources are limited, leadership can work to encourage positive change. New ideas and new ways of working ensure that the NHS is able to provide a gold standard of service to patients.

There are a number of different NHS courses for different levels and grades of staff. Having read through all the different material available, I decided to embark on the Elizabeth Garrett Anderson programme (EGA).
I was over the moon to find out that I was awarded a place on the programme particularly as it is highly competitive. It was even greater to find out that I was awarded an NHS Leadership Bursary for the course.
The course looks to develop skills within middle level leaders, so they are able to take on a senior leadership role. There is a key focus on helping individuals become more resilient and able to meet the demands of working in high-pressure healthcare environments so that patients see improved outcomes and experiences.
Most of the work is online learning with an additional residential in Leeds where you work closely with other participants from all over the country. Initially I dreaded this; however, the activities and workshops really boosted my confidence. It also offered me a large amount of exposure to a wider NHS network and this gave me a new perspective on all the different jobs and roles that contribute to the web of care which facilitates patient treatment and management. Not only patient facing roles but individuals working in finance, HR etc.
The course provided the opportunity to mix with other members of my cohorts from different services in different Trusts and it gave a bigger picture of how each service contributes towards patient care.
The programme presented information to people on the course about the role of biomedical scientists and gave me the chance to see perspectives outside the laboratory. It gave me the opportunity to connect with other hospital staff and services, engage with patients, and look at patient-centred care. I also got to meet the medical director to discuss advanced healthcare careers in microbiology and how we could ensure good succession planning.
Overall, it's been a challenging but rewarding experience. The programme has been a crucial part of my leadership development. Learning about using engagement and leadership as tools to change culture has allowed me to begin the process of making changes within my department and my organisation.
For instance, I was able to engage with senior management to get support to get a trainee Consultant Clinical Scientist post. I also engaged with the medical director to enquire how will these roles be brought into our trust in the future. I am now beginning to contribute to workforce planning groups so that our organisation can remain sustainable.
My leadership has developed by being on the EGA programme, which was evident when I was nominated and shortlisted for my organisations award of "Leader of the year" and my team were nominated and shortlisted for "Team of the year" in 2018. The programme has given me the tools required for strong leadership as I commence a new journey as a Trainee Consultant Clinical Scientist."
Dr Sandie Dunne, Cohort Director said,
"It's wonderful to see thoughtful, compassionate team leadership and innovation applied by Francis in everything he does, he is an asset to the NHS and his Anderson tutor group".
Francis tweeted:
The final residential!!! It's been a challenging journey however, so very rewarding. Tonight we have our award dinner where we receive the NHS Leadership Academy award in Senior Healthcare Leadership. I can not recommend the Elizabeth Garrett Anderson Programme enough. #nhs pic.twitter.com/k4n08HLerf

— Francis Yongblah (@TheHealthcareS1) November 26, 2019
For more information about the Elizabeth Garrett Anderson programme, see the NHS Leadership Academy website.
On behalf of the Institute, we are delighted Francis's hard work has been acknowledged in this way. Congratulations Francis!
Back to news listing