Member wins "I'm a Scientist..."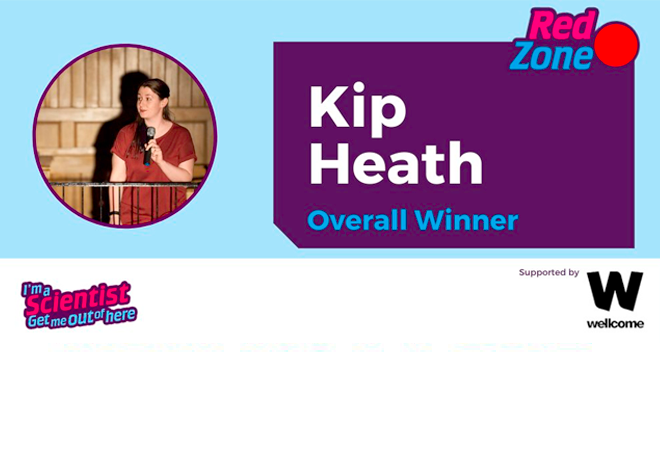 12 May 2021
Congratulations to IBMS Member Victoria 'Kip' Heath on winning the Wellcome funded public engagement competition, "I'm a Scientist get me out of here".
Im a Scientist... is a public engagement competition which hosts scientists to answer questions from students across the UK. Kip was featured along with 27 other scientists working in a variety of fields - from neuroscience, to pharmacology, to condensed matter physics. Kip is currently Lead Quality and Risk Assurance Manager for Physiological Sciences at Great Ormond Street Hospital for Children NHS Foundation Trust and working towards a PhD in Microbiology at University College London.
Over the three-week-long competition, 725 students logged on to connect with the scientists - asking questions about their work or anything they'd like. In the end, students voted for Kip as their favourite scientist! As the I'm a Scientist... April 2021 Red Zone winner, Kip will receive £500 to spend on further public engagement projects.
Kip said to the IBMS on her win:
We have careers in a relatively unknown area and public engagement is one of the best ways to raise awareness of healthcare science and the work that involves. Whether it's I'm a Scientist or not, outreach work is a great way to support the future of our workforce. In my team at work we talk a lot about 'bringing your whole self' to the occasion and this holds especially true for public engagement. Yes, students want to see what it's like to be a scientist but engagement is about more than that. It's good to show them that scientists are real people and that can help students imagine being a scientist themselves.

The IBMS congratulates Kip on her I'm a Scientist... victory and thanks her for engaging with what may well be the next generation of biomedical scientists.
See some of the fun Kip and the students got up to on the I'm a Scientist... message-boards in the tweets below.
The scientist's work can often make a real impact in the world and this is often particularly evident in clinical applications. Student's in the #RedZone live chats at #IASUK learned a bit about how NHS virologist Kip's work is particularly topical at the moment! ?? pic.twitter.com/v4JZ8EwDmN

— I'm a Scientist Team (@imascientist) April 30, 2021
??? If our students in the #RedZone become scientists, perhaps antimicrobial resistance is one problem they could help solve? For now, they learned that it is one of the things that scares virologist Kip about her job. Take a look at what else scares the scientists at #IASUK. pic.twitter.com/ZdcqHOVrBZ

— I'm a Scientist Team (@imascientist) April 30, 2021
?? Today in the live chats, the students at #IASUK found out that #RedZone scientist Kip, not only worked as a virus detector for the NHS throughout the pandemic but also finds the time to do science-related stand-up comedy routines!
SO many ways to work in science!???? pic.twitter.com/S7DODCJLFy

— I'm a Scientist Team (@imascientist) April 28, 2021
Visit here for more information on I'm a Scientist...
Back to news listing