IBMS members shortlisted for 2019 AHAwards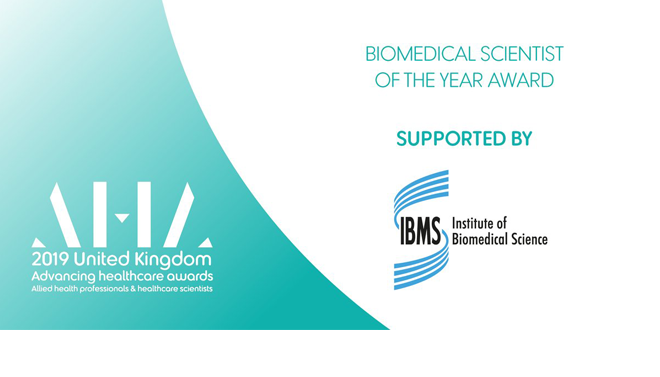 11 February 2019
Six IBMS members are on the Advancing Healthcare Awards (AHAwards)' shortlist
Now in its fourteenth year, the Advancing Healthcare Awards recognise and celebrate the achievements of allied health professionals and healthcare scientists. For the second year in a row, the IBMS has been a proud sponsor of these awards. This year the IBMS sponsored the Biomedical Scientist of the Year award.
After receiving over 100 entries, the AHAwards announced the shortlist, which includes IBMS members.
Rising Stars award, sponsored by the College of Podiatry
Danny Gaskin
Chloe Lockwood
IBMS Award for Biomedical Scientist of the Year
Sarah Bronsteen
Jo Horne
Shauna McAuley
Academy of Healthcare Science Award (AHCS) for Inspiring the healthcare science workforce of the future
Bamidele Farinre
Sarah, Biomedical Scientist in histology at Cheltenham General Hospital commented,
"I am delighted and honoured to be nominated for this award. Developing new processes and pathways to enable patient participation in the 100,000 Genomes Project has been an exciting and rewarding opportunity. I am proud of the work I have done to ready the lab for future fresh tissue sampling.
This work has developed me professionally and being nominated for this award has helped me with my self-confidence. I hope I can inspire others to get involved in innovative projects, to develop both themselves and the service we provide."
Jo, Advanced Practitioner Healthcare Scientist in Histopathology at University Hospital Southampton said, "I feel very proud and humbled to have been nominated and shortlisted as Biomedical Scientist of the Year at the UK Advancing Healthcare Awards. The progress that the profession is making, especially in areas of advanced practice and promotion of our work and careers is gaining momentum, and the future has never been brighter for those of us working in Biomedical Science. I am privileged to be a part of it."
Shauna, Biomedical Scientist at Belfast HSC Trust, said, "I am delighted to be shortlisted for such a prestigious award and honoured to be recognised by my peers and especially to be considered alongside all other outstanding nominees."
Bamidele, Biomedical Scientist at Great Ormond Street Hospital, said, "I am truly honoured and thrilled to be shortlisted for this prestigious AHAward 2019 for inspiring the biomedical workforce of the future.
Being nominated for the award was exciting in itself. It is a humbling experience to be recognised by your peers for your contribution to raising the future STEM professionals. This will motivate me to do even bigger and better work."
Last year Malcolm Robinson was awarded Biomedical Scientist of the Year and was the overall winner of the 2018 awards. He said,
"I am truly amazed and honoured to be Biomedical Scientist of the Year; this means so much to me and will help a huge amount for the continued growth of Harvey's Gang.

Then to be named overall winner reduced me to tears. I was overwhelmed. There are such amazing things happening in healthcare, especially by Allied Professionals and to be recognised as their overall winner is truly magnificent."
The shortlisted candidates will attend a judging day on 26 February in London, and be invited to the awards ceremony on 12 April.
We congratulate all the shortlisted nominees, and are delighted to see so many of our members recognised.
Back to news listing